I don't know if anyone else has seen it, but Avenue Q is one of my favorite Broadway shows. The idea of rude puppets singing adult-themed songs really appeals to my love of farce and parody. The last song of the show is titled "For Now," and that just about sums up my feelings in making a bullish call on Netflix (NASDAQ:NFLX).
A Brief History of Netflix
For those of you that have been hiding under a rock for the last year, Netflix has been a roller coaster of a stock. Driven up to $300 last summer on market hopes and analyst dreams, the stock cratered to $62 once the bubble was popped.
Many attribute the collapse to deteriorating fundamentals in the balance sheet or the price increase/Qwikster debacle. Regardless of either reason, the story was forced to change and as with all story stocks -- that's right, I'm looking at you, Amazon (NASDAQ:AMZN) -- people rush for the exits until a new narrative is established. Since hitting the lows in November 2011, the story has been retold with the same basic premise but lowered expectations.
One of the keys to identifying why a stock is trading in a given way is to determine what operating metrics matter for the stock and how those are trending. Stocks have all sorts of operating metrics, but only a few tend to really drive them higher or lower. Amazon trades based on top-line growth, as does salesforce.com (NYSE:CRM). Since earnings are almost non-existent for either, revenue growth with the hope of future profits determine their direction. Oil stocks tend to trade on wells dug or exploitable reserves. Apple (NASDAQ:AAPL) is influenced by reported iPhone and iPad shipments. For Netflix, it is all about subscriber growth.
Don't believe me? Take a look at how Netflix performed after its first-quarter earnings report.
Click to enlarge image.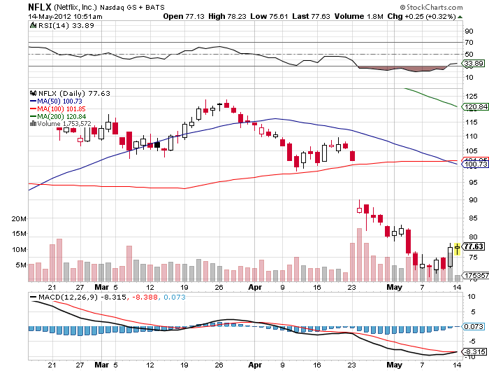 By the look of that drop off, Netflix disappointed shareholders significantly even as the top and bottom lines were reported as significantly higher than what the market was expecting. The disappointment that initiated this recent collapse was found in its guidance for subscriber growth. The Netflix business model depends on constant subscriber growth to keep up with growth in content expenses in the streaming product. If subscriber growth slows or reverses, the fundamentals will do the same -- hence the focus on subscriber growth over other operating metrics.
Where's the Beef?
So, with subscriber growth in question, where does the bull call come from? An oversold bounce for one, fundamental setups another and bad news exhaustion for dessert.
Netflix dropped from $102 to $71 in just over two weeks. After breaking $75 on May 6, the stock started trading in intraday ranges between $71 and $75, only recently breaking out. This breakout could be the oversold bounce that has been overdue, and we could be seeing higher prices in the near term.
Looking at the three-month chart above, we have a few technical indicators that are saying Netflix is a good buy on weakness. At 33, the daily RSI (relative strength index) is still oversold. While not at the lows of 20 we saw a few days ago, there is still room for an up move toward equilibrium around RSI 50. The daily MACD (moving average convergence divergence) is showing a bullish crossover as well, which will further support an up move. These are just two rough indicators that can be helpful in justifying or timing a particular trade. For the purposes of this bullish call, they provide support to the idea buying on weakness.
The final point to justify a buy here is simply bad news exhaustion. The fact that Dish Network (NASDAQ:DISH), Verizon (NYSE:VZ) and Comcast (NASDAQ:CMCSA) are entering the market is by now fully digested. The potential for Apple to enter as a competitor has at least been brought up and likely only partially priced in as confirmation has not been obtained. The fragility of content deals has been exposed and the vast off balance sheet expenses are already well known in the marketplace.
The bad news vs. good news seesaw currently has a rather portly fellow sitting on the bad news end. At a certain point, bad news is digested and good news has the potential to shift sentiment quickly in the other direction. We have already seen that with some recent insider buys, an improved customer opinion survey, and a new content deal in Latin America. Any additional good news could combine with the technical setups to provide upward momentum.
All Is Not Well in Denmark, I Mean Netflix
While short-term technicals and news flow favor a move up, the fundamentals of the company and its competition have not changed. The story still does not necessarily have a happy ending.
Netflix is getting into original programming and has signed exclusive content deals to replace the ones that it has lost in the last year. The problem is the majority of these do not come online until 2013. From now until then there could be significant subscriber erosion due to churn and increased competition, causing the stock to suffer accordingly. With the Verizon/Red Box streaming offering moving from press release to the market and the possibility of Apple releasing a competing streaming service, there is more than enough uncertainty to question the longer term viability of a Netflix position.
In addition to all of this you have a board of directors that is facing a financial picture that is even more daunting than when they made the price increase/Qwikster decisions that annihilated shareholder equity. To believe that the same board will be able to face more competition in a more precarious financial backdrop after having fumbled so horribly last year is to put a lot of faith in them, indeed.
Now For the Fun Part -- Trade Ideas
So if I can't justify a long-term position, what do I think some good trades would be?
Well, for the aggressive traders I would focus on weekly call options whenever Netflix moves from green to red and back to green intraday. Netflix has a tendency to run once it has shown strength, and for those with the resolve, using weekly calls to ride such strength has proven to be a profitable strategy.
I don't recommend holding the calls overnight, but in the last few days using the green/red/green setup to time an entry has proven profitable. Set stops at breakeven once you reach it and know your loss limit if does not move in your favor.
For the non-options jockeys in the room, the short-term technicals support a move into the $80s. Once the RSI hits 50 or so, I would reduce the position, if not close it out entirely. Netflix is a battleground stock and moves with extreme beta to the market. While it could always run higher, the fundamentals are still too murky in my estimation to justify a longer-term hold. If in the next few days Netflix made a new low with a higher RSI, I would think that the move up would be soon in coming as the company makes outsized moves that catch many off guard.
For now, I am bullish on Netflix. For now, the market agrees with me. For now, these trade setups have proven successful. For now, but only for now.
Disclosure: I have no positions in any stocks mentioned, but may initiate a long position in NFLX over the next 72 hours.