True to its word, Temple-Inland did the spin-off of its Guaranty Financial (GFG-OLD) and Forestar (NYSE:FOR) real estate units by year-end. The deal, completed December 31, barely accomplished the goal of creating the sum of parts that were worth more than the whole. The day before the deal, Temple-Inland closed at $29.97. After the deal, the three were trading at a total of $59.
But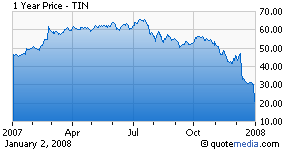 adjusted for the fractional shares a Temple-Inland investor would have received in the new companies, the sum of the parts is closer to around $32. Furthermore, as I pointed out in a recent story, as is often the case with spin-offs, many new holders of Guaranty and Forestar are likely to dump shares.
That's especially true with these two companies, which are closely tied to the worst parts of the real estate industries. Current valuations, it could be argued, suggest otherwise.