Shares of discount retailer Dollar Tree Inc (NASDAQ:DLTR) are up 67% over the past year. While the move has been impressive, there are now three reasons to avoid DLTR.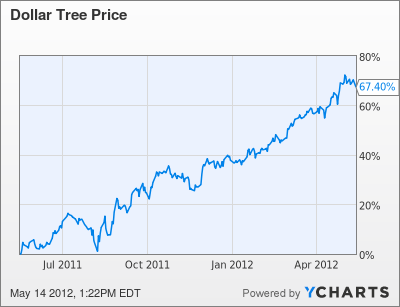 Options Activity
Option Monster reported on the high level of bearish options activity recently; 3,100 June 100 puts were purchased against open interest of just 205 contracts. Overall, put volume outnumbered call volume by 11-1. The large block trade of June puts likely represents institutional money. Institutional money is usually smarter, thus worth following. In summary, the recent options activity points to downside ahead for DLTR over the short term.
Valuation
As shown by the chart below, DLTR is currently trading at a significantly higher PE ratio than it has traded at in the past. While things may be going well for the company, the price reflects that.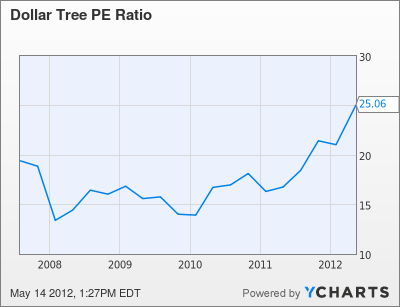 Competition
The competition in the discount retail/ dollar store space continues to grow. Companies such as Family Dollar (NYSE:FDO), Dollar General (NYSE:DG), Wal-Mart (NYSE:WMT), and Target (NYSE:TGT) are all competing for the same customers. Ultimately, it is likely that the competition for lowest price leads to margin compression for DLTR.
Conclusion
While DLTR has done very well over the past year, there are now reasons to be cautious. The bearish options activity, rich valuation, and competition are all reasons to avoid DLTR.
Disclosure: I have no positions in any stocks mentioned, and no plans to initiate any positions within the next 72 hours.