Here's a dilemma. In trying to find investable situations, one should look for fundamental trends that will largely determine your investment target's financials in the future. And when you look at housing today, those fundamental trends are now broadly favorable. You have a growing population, growing household formation, low housing inventories, tight rental markets, significant pent-up demand and low housing starts.
It's no wonder that the correct positioning regarding housing has to be being positive on it. It's thus no surprise that some analysts are doing just that, and turning positive on the sector. Just today you had Guggenheim upgrading a throng of homebuilders to Buy: Toll Bros (NYSE:TOL), DR Horton (NYSE:DHI), Lennar (NYSE:LEN), Pulte (NYSE:PHM), M/I Homes (NYSE:MHO), MDC Holdings (NYSE:MDC), Ryland (NYSE:RYL), Meritage Homes (NYSE:MTH) and NVR (NYSE:NVR).
So, if it's so obvious that the environment is now positive, why am I writing this? Unfortunately, many of these stocks have already discounted several housing recoveries. For instance, TOL trades at a TTM P/E of 134, and even its 2013 forward P/E, including a lot of improvement in revenues and earnings, is already 35. So it's not like one is getting in on the ground floor. There's already a lot of happiness in the numbers. Just pull a 5-year TOL chart (source: Yahoo Finance):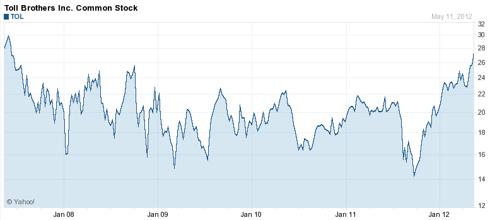 What we see in this chart is that even as housing plunged more and more in the last 5 years, TOL is basically unchanged and near the top of its range. This is the reason why I say that TOL and other stocks have already discounted several housing recoveries. Indeed, what these stocks spent the last 5 years doing, was mostly discounting housing recovery after housing recovery that never came. So now that indeed we are in the middle of a housing recovery, these stocks are nowhere near cheap, having discounted it multiple times already.
So, you think, maybe we can play the housing recovery some other way? I thought the same as well - so I ended up looking at timber companies. Timber is still in the tank, so maybe we could get some cyclical cheapness there to play the housing recovery, I thought. I took a look at several timber companies, namely Plum Creek Timber (NYSE:PCL), Rayonier (NYSE:RYN), Potlatch (NASDAQ:PCH) and Pope Resources (NASDAQ:POPE). What did I see? I saw that these companies discounted even more of a housing recovery than the homebuilders! Indeed, Rayonier already trades well above 2007/2008, and those were the peak years of a giant real estate bubble (chart source: Yahoo Finance):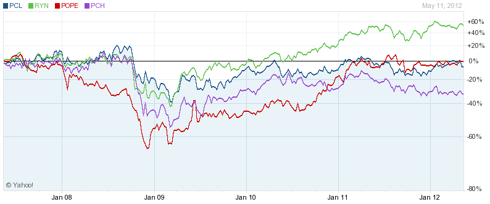 I took a look at Plum Creek Timber's 2007 10-K to have a feel for top-of-cycle earnings. These were around $1.97, achieved during 2004. So the stock is trading today at 19.5 times its top-of-cycle earnings - that's quite amazing for an industry that's supposed to still be in the doldrums.
I think one of the reasons these timber companies performed so well has to do with their dividend yields. These are quite high, ranging from 3.1% for POPE to 4.3% for PCL. Besides being high, they have another characteristic in common - except for RYN they all seem to present a payout over 100%. This means the dividend payout is higher than the TTM earnings per share on all the other companies. Such might change in the future with a better fundamental environment, but for now this means those dividend yields are somewhat at risk of being cut - as POPE has already done.
Conclusion
I am positive on housing, but can't recommend homebuilders or timber stocks as a way to play this housing recovery, because the stocks making up those sectors have discounted multiple housing recoveries in the last few years.
Can these stocks go up? Surely they can; they should have favorable news for quite a while and a speculative frenzy can certainly take them higher. But since we didn't get low cyclical valuations to form a bottom in these sectors, owning them carries undue risk of them falling substantially if faced with any setback, even a mild one.
Disclosure: I have no positions in any stocks mentioned, and no plans to initiate any positions within the next 72 hours.