Growth stocks sure get hit hard when these company's earnings reports disappoint the street. Indeed, while Baidu (NASDAQ:BIDU) recently reported a strong quarter showing over 50% sales growth, the company's year-over-year growth rates slowed, and management gave weak guidance as well.
BIDU shares have been range bound between $120-140 a share over the last several months, but the stock has sold-off hard on the recent earnings report, and the stock has underperformed many of the broader indexes such as the S&P 500 and its tracking exchange traded fund SPY (NYSEARCA:SPY), as well as the Shanghai composite, by a fairly wide margin in the last month.
Baidu shares topped out around $150 a share in April, and sold-off hard since then on the company's disappointing earnings report. Baidu is estimated to have around 80% of the search engine market in China, and the company has grown its market share significantly in this space since Google's (NASDAQ:GOOG) dispute with the Central government several years ago. Still, Baidu's market share in the equally important and fast growing mobile internet space is less than half the company's market share in search, at around 35%.
Click to enlarge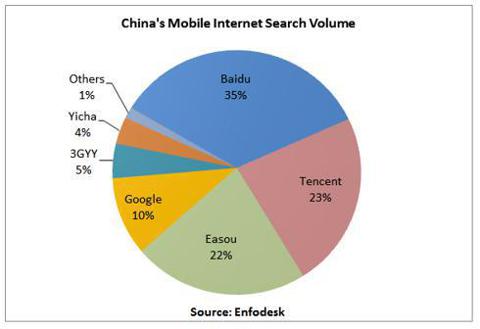 Click to enlarge
Easou ran China's first mobile search application. The company gets nearly 70% of its revenues from advertising, and it works with thousands of small and medium sized businesses. Tencent (OTCPK:TCEHY) is the largest instant messaging service used in China, and the company's chat rooms, avatars, and games make its services uniquely appealing for social networking and younger users. Many Chinese internet users also access online games and social networks through internet cafes and smart phones, since computer ownership rates are much lower in this country.
What is interesting about the Chinese search space is the market is comprised of a number of companies who each specialize in a particularly popular service, as opposed to several competing companies with similar products.
Baidu's future growth likely will depend on the company's ability to grow its market in the mobile space, since Chinese users enjoy online gaming and social networking a lot, and internet users may find smartphones or other mobile devices such as the tablet to be the best way to engage in these activities. Baidu's recent understanding with Apple (NASDAQ:AAPL) and its smartphone launch are likely an effort to consolidate the mobile space, as well as an obvious attempt to increase the company market share within this space.
While I-- like many people-- was bullish on Apple's (AAPL) recent announcement that the iPhone 5 launch would include the option to switch from the default browser of Google to Baidu, Apple's future success in China is still a question. Apple has impressive sales in China today, but Asia still makes up just 10% of the company's revenues, and the recent iPhone launches were not as successful as analysts expected.
Most Chinese cell phone and smartphone users use pay as you go plans, and did not want to lock into Apple's year long service contract.
To conclude, with Baidu facing stiff competition in the mobile space from several well-established companies each specializing in generally different product offerings an services, it is unlikely that a simple smartphone offering will enable the company to increase its market share significantly.
Today, Baidu shares trade at around 19x -- a very reasonable estimate of next year's likely earnings. Still, with the company's market share in China at nearly 80%, Baidu will likely need a new and better strategy in the mobile space for long-term growth targets to begin to rise again.
Disclosure: I have no positions in any stocks mentioned, and no plans to initiate any positions within the next 72 hours.