Dividend stocks are a retiree's lifeblood for earning investment income. Mortgage real estate investment trusts (mREITs) offer retirees 15% dividends. The mREITs' balance sheet possess U.S. Federal Government implicitly guaranteed Treasury Bonds. I ask retirees to consider investing a small allocation in this sector for their high yield.
In this article I'll articulate why I believe this is the one place investors should be for the remainder of 2012. For this article I would welcome retirees to think outside the box, and think for themselves. Then, and only then, confer with your Certified Financial Advisor to confirm the documented mREITs returns based upon SEC filings.
Euro Debt Crisis
I learned a long time ago that whenever someone says "it's not about the money", then it's about the money. Greece, Spain, and Italy are the problem sovereign debt issues of the day. As investors can note, today's credit default swaps have core problem areas: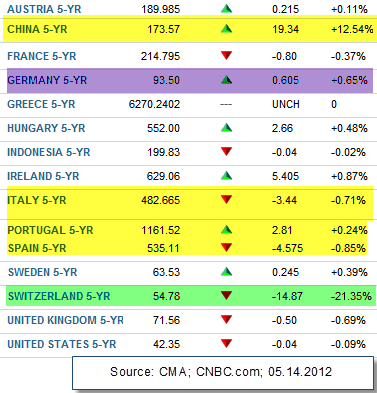 The one country of the 17 Euro countries showing growth is Germany. I have highlighted Germany as the "God Forbid" country to watch.
Spain, Greece, Spain, Portugal, and France are key countries to watch in terms of credit default swaps. Spain has recently nationalized some banks. The credit default swap prices represent the cost to insure $10,000,000 in debt for 5 years. The prices are quoted in thousands. Per the above data, China's credit default swaps (CDS) increased by 12.54% today.
If Germany's growth turns south, all bets are off. Europe will truly be in despair if Germany's economy is falling apart.
One Perceived Safe Debt Country
The United States has the lowest CDS per the above table. Currencies are flocking to the safety of the U.S. debt and this is placing pressure on U.S. Treasury Bond yields.
Agency mREITs own Government Sponsored Entity (GSE) Mortgage Backed Securities (MBS), which have an implicit U.S. Federal Government guarantee. As the below government table shows, U.S. Treasury yields have continued to decrease over recent weeks: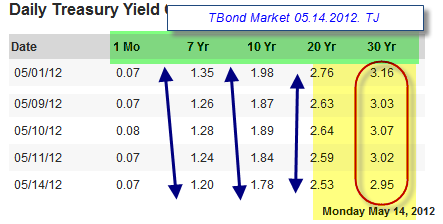 American Capital Mortgage Investment Corp. (NASDAQ:MTGE)
Very rarely does an opportunity come along to invest in a near exact clone of another highly successful company, but that opportunity may be presenting itself in the form of American Capital Mortgage Investment. Thus far, less than 1 year after its IPO, all indications are that American Capital Mortgage will live up to the heady expectations established by its older sibling, American Capital Agency Corp (NASDAQ:AGNC), which, in less than five years catapulted to the top tier of mREITs. If there is any doubt whether American Capital Mortgage can repeat American Capital Agency's uncommon growth feat, one just has to look at the company's management which shares the same President and CIO, Gary Kain, and Chief Risk Officer, Peter Fererico.

After several years of riding a steep growth curve, a growing chorus of analysts has begun to question whether American Capital Agency Corp has finally passed its peak to where it must now settle in to manage its $50 billion portfolio just to maintain its dividend. American Capital Agency Corp did, due to the flattening yield spread, cut its dividend to $1.25 per share, however, its share price yields 15.5%. Society won't hear too many complaints from retirees who have enjoyed the American Capital Agency Corp ride over the last couple of years; however, many of them are happy to see its younger sibling come along right about now.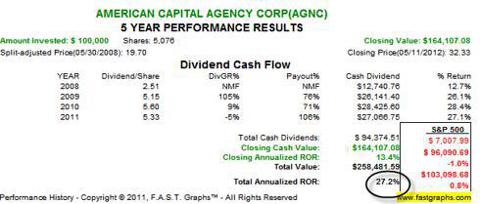 Meeting and Surpassing High Expectations
In May, American Capital Mortgage announced its first full quarter of earnings since its IPO. For the three months ending on March 31st, it reported earnings of $1.82 per share; impressive numbers considering the headwinds facing the industry in the latter part of 2011. More impressive is its reported net book value of $21.78 In fact, the company recently announced a 12% dividend increase to 90 cents per share payable on April 23.
The early success of American Capital Mortgage is no surprise to those who follow the management of American Capital Agency. To a great extent, American Capital Mortgage is following almost directly in the footsteps of its older sibling right down to the structure of its portfolio and its risk management methods. Of great concern among investors is the possibility of accelerated prepayments due to the Home Affordable Refinance Program (HARP) which is in its second iteration. American Capital Mortgage has structured its HARP securities much in the same way as American Capital Agency with an emphasis on low balance and high LTV loans. Also, by opening its portfolio to non-agency securities, American Capital Mortgage increases its capacity to add higher risk-adjusted returns while achieving greater diversification.
Now, American Capital Agency investors can only reminisce over the company's high growth days. The climb to $50 billion was meteoric. Those days are likely behind American Capital Agency, which is why many of its investors are turning to American Capital Mortgage to relive those glory days. Thus far, American Capital Mortgage has not disappointed investors
American Capital Mortgage presents a remarkable opportunity for any mREIT investor to participate in a repeat of one of the best investment performances of the last five years. Considering all that the management of American Capital Agency have learned and overcome during a fairly volatile period in the financial markets, the chance to start from scratch is not often afforded to investors. Although past performance is no indication of future results, American Capital Mortgage has a pedigree that almost ensures success.
Apollo Residential Mortgage (NYSE:AMTG)
The recent spate of dividend cuts and the flattening growth curves of many of the larger mREITs have done little to curb the appetite of income investors seeking to add yield to their portfolios; nor has the volatility that enveloped the sector over the last couple of quarters in 2011. While investors may be willing to shrug off the dividend reductions, they may be less inclined to increase their holdings of mREITs that appear more vulnerable in the current environment of narrowing spreads and accelerating prepayment rates. Instead, they may be more likely to favor mREITs with solid track records of managing adversity or newer mREITs for the opportunity to invest into newer, risk-adjusted portfolios. In the end, investors want the yield without the volatility, and mREITs that are less susceptible to future dividend cuts are best positioned to deliver.

At one end of the spectrum are mREITs such as American Capital Agency Corp, with $50 billion in assets, that has aggressively pursued risk mitigation strategies that will inoculate its portfolio against prepayment or interest rate risk. On the other end are some brand new mREITs, less than a year old, that are building fresh portfolios with risk mitigation strategies. Recent IPOs have been able to achieve dividend yields comparable to the most established mREITs, yet their portfolios are better positioned to weather current risks.
Apollo Residential Management declared its first full quarter dividend of 70 cents on a portfolio of less than $200 million for a yield of 17%. With one full quarter under its belt, it managed to exceed earnings expectations reporting 51 cents per share through December 31, 2011. And, it's just getting started.
The principle issue for mREIT investors is management and its ability to navigate an MBS portfolio through difficult or uncertain economic times. Although Apollo Residential Mortgage is less than a year old, it is externally managed and advised by ARM Manager, LLC, an indirect subsidiary of Apollo Global Management, LLC with over $67 billion in assets and an extensive track record in residential real estate investing. The management of Apollo has taken a deliberately slow and methodical approach to deploying it assets reaching 100% deployment in the 1st quarter of 2012. At only $200 million, Apollo is dwarfed by the $1.8 billion portfolio of American Capital Mortgage which IPO'd at about the same time, yet achieved full deployment well before year-end. Both are well-managed mREITs, just different investment approaches.
Unlike Apollo Residential Management which currently sells at a premium to net book value, Apollo is selling at a slight discount to its $20 net book value, which is not unusual by historical standards. It could be that the market is waiting to see how well Apollo will digest its secondary offering
As to near term risks, Apollo can expect some help from the continuation of a steep yield curve thanks to an accommodative Federal Reserve. It should be able to navigate the interest rate spread better than mREITs with larger, more highly leveraged portfolios. If it can keep its CPR under 10% (currently 5%), it is more than sufficiently braced for any acceleration in prepayments as a result of HARP II. The prudent investment approach adopted by management should be able to steer the upstart Apollo through choppy seas over the next couple of years.

Annaly (NYSE:NLY) is the largest agency mREIT. Annaly has decreased their leverage in a flattening yield curve environment. This will decrease the total yield and potential increase in book value. This is based upon the current trend for decreasing GSE MBS yields.
Dynex Capital (NYSE:DX) is a hybrid mREIT. This means management can invest in agency GSE MBS and non agency MBS. Dynex is trading under book value and remains a solid value hybrid mREIT proposition .
Action
Retirees should seek a Certified Financial Advisor they trust. Identify the risks versus rewards of owing mREITs. Examine why they pay such a high yield. I argue they yield 15% plus yields due to the Federal Reserve Chairman Bernanke's zero interest (ZIRP) rate through 2014 program, and the 'Operation Twist' plan to sell short term bonds to buy long term Treasury Bonds.
I don't claim to know the answers. I only claim to know how to make money. Buy mREITs at solid prices compared to book values per share.
Collect the 15% Plus Annual Dividends
I recommend investors buy American Capital Mortgage Investment, American Capital Agency, Apollo Residential Mortgage, and Dynex Capital. The yields average are 15% and up. The reason is because Fed Chairman Bernanke wants low interest rates to boost housing refinancing. Retirees have a finite lifespan and need a high income - in at least a portion of their income - which should be verified by a Certified Financial Advisor.