Now that McAfee Inc. (MFE) has completed its financial restatement, and with no more changes to management expected at the security technology company, analysts are looking to the future.
Since McAfee's previous share buyback authorization of $246-million expired in October, Robert Breza at RBC Capital Markets expects the company will announce a new repurchase program on, or after it releases fourth quarter results for 2007 in February.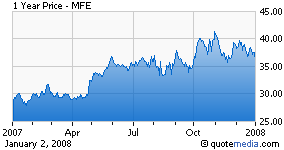 The analyst said McAfee should remain a core holding, and has a $42 price target and "outperform" rating on the share.
"We believe McAfee is tracking in-line with strength in consumer AV and several large deals in Europe," Mr. Breza told clients in a note.
He expects upward revisions to the Street's revenue estimates since many analyts have not factored in the SafeBoot acquisition, which could add $75-million in fiscal 2008.