Could emerging markets be too hot?
The table below is one reason why I have a short position in emerging markets.
click to enlarge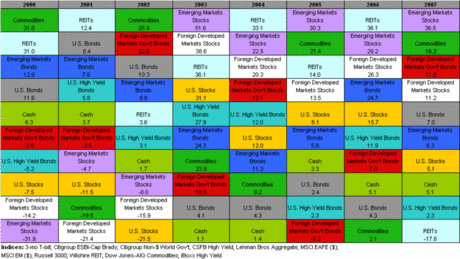 Emerging markets have been either the best or second best performing asset class over the past five years.
Now, that does not mean it cannot be over six or seven or eight years. Markets can do anything.
However, reversion to the mean is a powerful force in financial markets. Usually, the top performing asset class over a time period often lags thereafter.
There are structural long-term reasons to be bullish emerging markets. However, a slowing economy, extended valuations, dramatic out-performance, and stress in the credit markets are all reasons to be wary of high beta asset classes, of which emerging markets remains one.