Sirius (NASDAQ:SIRI) (currently trading at 3.05) has made an approximately 4.57 billion dollar offer to buy rival satellite radio company XM Satellite (XMSR) (currently trading at 12.25). This proposed merger is a fantastic move for both companies as the two companies have both been hurt by stiff competition against one another since they began operations. A successful merger would make it considerably easier for SIRI to thrive in the marketplace without the XM competition, and XM would obviously benefit as the company being purchased.
What's the Holdup?
Some feel that the merger would constitute a violation of Anti-trust laws. In fact, the Department of Justice 'DOJ' is currently examining the proposed merger to determine if said merger would amount to a violation of Federal Anti-trust laws (see Sherman Act, Clayton Act). Once a decision has been made, both SIRI & XMSR stocks will react dramatically.
Restraint of Trade?
Essentially, the question the DOJ will answer is whether the SIRI/ XMSR merger is a restraint of trade…or more importantly if there are enough competitors such that the merger would not be harmful to consumers. Opponents (namely the National Association of Broadcasters) argue that there would be no viable competitors in the satellite radio industry leading to increased prices for consumers and less innovation in the industry.
Benefits of Successful Merger:
Licensing costs will be lowered as the companies will no longer be bidding against one another.
Combing programming will give customers more listening options.
Combined satellite constellations lead to decreased costs in operations.
Will the Merger Be Allowed?
As previously noted, the heart of the matter is whether there would be enough competitors to a merged SIRI/XM to protect consumers. From a distance, it would appear that XM and Sirius are the only companies in the industry, and therefore, an antitrust violation would seem imminent. It is my opinion, however, that terrestrial radio, i-pods, high definition radio and other forms of in-car entertainment satellite radio provide sufficient competition to allow the merger. At the end of the day, satellite radio is not a necessity and consumers are not forced to utilize their services. Past antitrust violations have included necessity items that consumers generally use on a daily basis. (ie. price-fixing violation of milk in the state of Florida).
Additionally, since both companies have had cumulative losses since inception, and both may fail if the merger is not allowed (presumptively something that the NAB is rooting for), the Department of Justice is less not likely to quash the merger knowing that the entire satellite radio industry would likely fail if the merger is not allowed. Abolishment of an entire industry is certainly not the intended purpose of Anti-trust legislation.
Since the chances of the approved merger are strong, both XMSR and SIRI make for great buying opportunities. Both companies have sizable short interests currently (XMSR- 7.2% short; SIRI- 8.4% short) so an approved merger would force the short sellers to cover pushing the stocks higher. While the underlying fundamentals for both companies are not as strong as I'd typically like to see, an approved merger would certainly get Wall Street's attention and both companies would likely see an increase of around 20% in a very short period of time.
SIRI/XMSR 1-yr chart comparison chart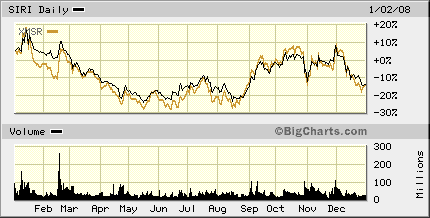 Disclosure: none