Recently, I scanned through the various REITs that are positioned within sectors I favor for growth going forward. I noticed a REIT that stuck out like a sore thumb due to its dividend yield. CommonWealth REIT's (NYSE:CWH) 10% dividend yield is not something investors typically see with an investment grade-rated REIT, and as a result, it warrants further investigation.
As most of my readers know, I am typically a fan of REITs across the capital structure. This does not, however, make me a fan of all REITs. When I begin my analysis of any REIT (as with any company/sector), I start out with a cynical view and have to be convinced that the company is worthy of investment. (That's from my jaded fixed income/credit background.) From there I decide what parts of the capital structure might have value. If the company isn't fundamentally sound, yield can be the cheese on the mousetrap.
Okay, let's dig deeper into this REIT.

Company Description:
CommonWealth is an office and industrial real estate investment trust, or REIT. As of December 31, 2011, the company owned $7.8 billion of office and industrial properties with approximately 72.3 million square feet located in 32 states, Washington, D.C. and Australia.
CWH owned (as of 12/31/11) 516 properties which includes 317 office properties with 40.0 million square feet and 199 industrial & other properties with 32.3 million square feet. The 199 industrial & other properties include 17.9 million square feet of leased industrial and commercial lands in Oahu, Hawaii. Also, 11 of its total properties with 1.8 million square feet are located in Australia. CWH also owns 21.1% of the common shares of Government Properties Income Trust (NYSE:GOV), a former subsidiary which owns properties that are majority leased to government tenants.
The office and industrial markets are two areas I favor for growth going forward, after relative underperformance since the initial shock of the financial crisis. These two sectors should also be beneficiaries of stronger economic growth as it occurs.
Company History
The company description above is a description of CommonWealth in its current form. But it hasn't always looked like this, what we see now is the product of spin-offs.
Over the last seventeen years, CommonWealth has formed four subsidiary REITs: Hospitality Properties Trust (NYSE:HPT), a REIT that owns hotels and travel centers; Senior Housing Properties Trust (NYSE:SNH), a REIT that primarily owns healthcare properties; Government Properties Income Trust (GOV), a REIT that primarily owns and leases office buildings that are majority leased to government tenants and Select Income REIT (NYSE:SIR), a REIT that is focused on owning and investing in net leased, single tenant properties. HPT, SNH, GOV and SIR became separate public companies in 1995, 1999, 2009 and 2012, respectively.
On March 12, 2012, Select Income REIT completed an initial public offering of 9,200,000 of its common shares. SIR owns substantially all of CommonWealth's commercial and industrial properties located on Oahu, HI as well as 23 suburban office and industrial properties located throughout the mainland United States. After the SIR IPO, CommonWealth continues to own 22,000,000 SIR common shares, or approximately 70.5% of SIR's outstanding common shares, and SIR remains a consolidated subsidiary.
Essentially, CommonWealth has been an incubator of sorts for various specialty-focused REITs. While this operating style is similar to many non-traded REITs, it makes me somewhat apprehensive as it appears that assets are monetized through IPOs in order to "unlock value". The concern I have with this approach is the company that remains. If the "higher value" businesses or properties are "IPOed", what is left are those businesses/properties that are not as "valuable". This may ensure mediocre performance by the REIT that was originally purchased by investors.
This leads me to my next concern - the reason these IPO activities occur: The REIT is NOT self managed, it is managed by an outside management company, Reit Management & Research LLC (RMR). As the company describes the relationship in its most recent 10-Q:
We have no employees. Personnel and various services we require to operate our business are provided to us by RMR. We have two agreements with RMR to provide management and administrative services to us: (1) a business management agreement and (2) a property management agreement. Management and administrative services to SIR and its subsidiaries are provided by RMR under separate business management and property management agreements with SIR, described below. Under our business management agreement with RMR, we acknowledge that RMR also provides management services to other companies, which include SNH, GOV and SIR. One of our Managing Trustees, Mr. Barry Portnoy, is Chairman, majority owner and an employee of RMR. Our other Managing Trustee, Mr. Adam Portnoy, who is also our President, is the son of Mr. Barry Portnoy, and an owner, President, Chief Executive Officer and a director of RMR. Each of our other executive officers is also an officer of RMR. SNH's, GOV's and SIR's executive officers are officers of RMR and SNH's President and Chief Operating Officer is also a director of RMR. Our Independent Trustees also serve as independent directors or independent trustees of other public companies to which RMR provides management services. Mr. Barry Portnoy serves as a managing director or managing trustee of those companies and Mr. Adam Portnoy serves as a managing trustee of a majority of those companies.

In 2009, GOV completed the GOV IPO pursuant to which GOV ceased to be a majority owned subsidiary of ours. In connection with the GOV IPO, we and GOV entered into a transaction agreement which governs our separation from and relationship with GOV. Pursuant to this transaction agreement, among other things, we granted GOV the right of first refusal to acquire any property owned by us that we determine to divest, if the property is then majority leased to a government tenant, including 15 properties we sold to GOV during 2010.
So much for playing in the DC office market.
We, RMR, SNH, GOV and three other companies to which RMR provides management services each currently own approximately 14.3% of AIC, an Indiana insurance company. All of our Trustees, all of the trustees and directors of the other publicly held AIC shareholders and nearly all of the directors of RMR currently serve on the board of directors of AIC. RMR provides management and administrative services to AIC pursuant to a management and administrative services agreement with AIC. Although we own less than 20% of AIC, we use the equity method to account for this investment because we believe that we have significant influence over AIC because all of our Trustees are also directors of AIC. We may invest additional amounts in AIC in the future if the expansion of this insurance business requires additional capital, but we are not obligated to do so. In June 2010, we and the other shareholders of AIC purchased property insurance providing $500,000 of coverage pursuant to an insurance program arranged by AIC and with respect to which AIC is a reinsurer of certain coverage amounts.
This is why I don't like REITs that are not self-managed and self-administered. There is always the possibility of a conflict of interest or the perception of the conflicts of interest. Note: I am by no means saying that there is a conflict of interests in this arrangement or that anything underhanded is going on. Simply, the intertwined nature of all of the former properties and cross ownership, in my opinion, does not add value to the REIT or (more importantly) to the investor.
Back to the analysis.
Diversity
CommonWealth REIT breaks out its geographic diversity along six defined areas: Metro Washington DC, Metro Philladelphia, PA, Metro Denver CO, Metro Chicago, IL, Oahu, HI and all other. On a net operating income basis, the diversity by geography looks like this: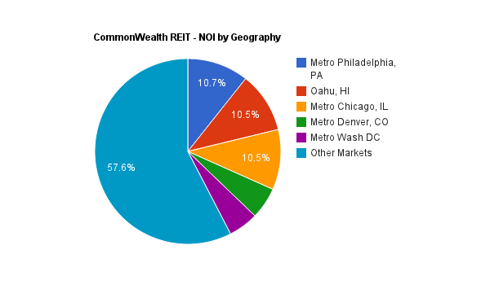 The company is pretty well diversified in terms of end markets with focuses on the East coast, the mid-west, Hawaii and twenty six other states and Australia.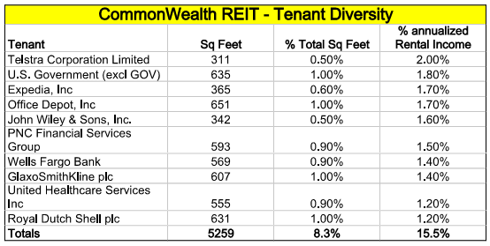 CommonWealth REIT is well-diversified by tenant, with the top ten tenants accounting for only 15.5% of annualized rental income and 8.3% of total square feet. As well, the top ten tenants are strong companies which are well placed within their respective industries.
Lease Maturities
For the most part, CommonWealth REITs lease maturities are well laddered, with 2015 and 2016 having the largest percentage maturities (10.8% and 10.4% respectively).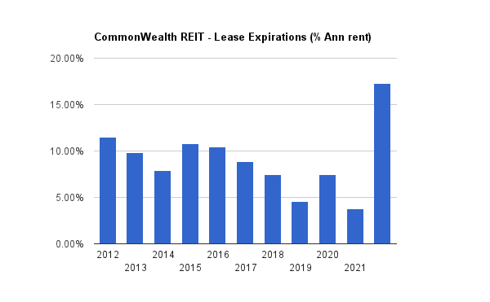 Debt Maturities
Debt maturities are well laddered, but during 2015 - 2017, the company has a significant amount of debt due relative to FFO and as a percent of total debt due (percent maturities RHS).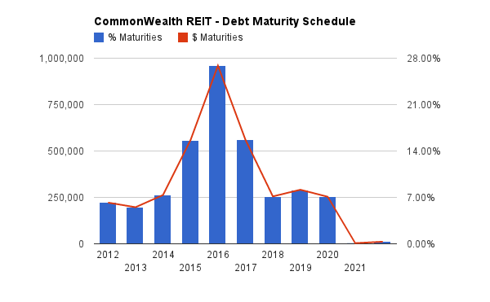 Unfortunately, the REITs largest years of debt maturities coincides with its larger years of lease expirations. Should leases terminate and, worst case scenario, properties be vacant, there will be less cash available for debt repayment (although most REITs simply refinance their debt).
As with most REITs, CommonWealth has both secured and unsecured banks debt as well as senior notes. Its debt mixture is typical of the space and conservative.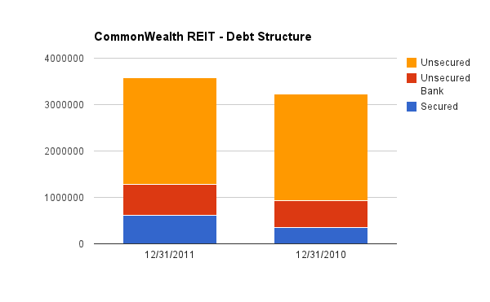 Importantly, its debt is well within covenant limits, providing CommonWealth with flexibility should the REIT require it.
Funds from Operations
This is where I have a concern with the REIT.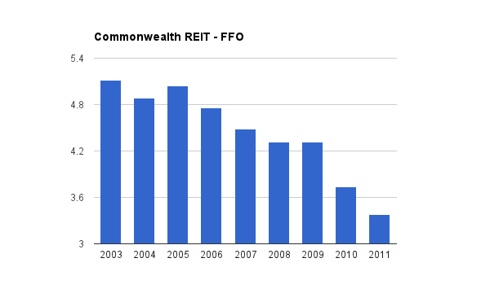 At the end of the day, if your metrics (debt, leases, tenant mix, geographical diversification) don't translate into performance, there is a problem. For the most part and except for the constant spin-offs, the REIT appears to be a plain vanilla office/industrial REIT - but it just can't get the job done when it comes to funds from operations.
While dividends as a percent of FFO range between 55% and 65%, they are over 100% of cash available for distribution. The continued decline in FFO also has the ability to make the current dividend rate suspect.

Comparison to Peers
Based on the portfolio and balance sheet metrics, an investor might expect this REIT to be valued similar to the sector. The FFO decline, however, calls for a discount to peers, in this case Mack-Cali (NYSE:CLI), Boston Properties (NYSE:BXP) and Alexandria Real Estate Equities (NYSE:ARE).

As expected, the company trades at a discount to their peers, which it should.
Bottom Line: CommonWealth REIT is one of the bigger players (by assets) within its peer group, its balance sheet and portfolio metric are sound, if uninspiring, but the REIT can't seem to make it translate into funds from operations. Funds from operations is the life blood of REITs. If it is declining when it should be turning around and increasing, there is an issue. I see no catalyst which will turn this trend around in the near-term and therefore, no reason to invest as the yield indeed seems like the cheese in the mousetrap.
For those that disagree with my assessment, or want to further investigate this REIT as a potential value play, the company's capital structure is exchange traded (not all senior debt, just one issue) and consists of the following:

Just an observation - if I were a preferred holder, I would swap into the senior debt to pick up yield and increase my position within the capital structure.
Disclosure: I have no positions in any stocks mentioned, and no plans to initiate any positions within the next 72 hours.
Disclaimer: This article is for informational purposes only, it is not a recommendation to buy or sell any security and is strictly the opinion of Rubicon Associates LLC. Every investor is strongly encouraged to do their own research prior to investing.