So much for that bottoming process in ProShares UltraShort 20+ Year Treasury (NYSEARCA:TBT) that I noted two months ago (see "Looking Like A Bottom For TBT"). Interest rates are headed lower again on U.S. Treasurys. This has occurred despite common and often-stated expectations earlier this year that stronger economic data in the U.S. would slowly but surely lead to higher rates. It was against this backdrop I blithely assumed the bottom was finally in for TBT. Now, TBT is breaking down, and iShares Barclays 20+ Year Treasury Bond (NYSEARCA:TLT) is breaking out.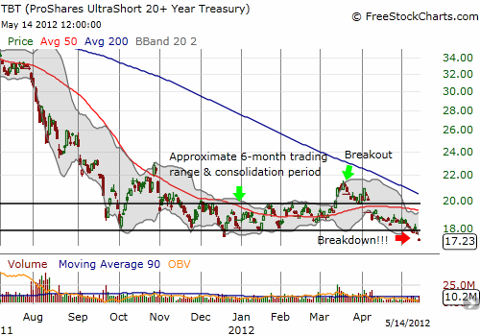 Click to enlarge
TBT breaks down as Treasury yields decline again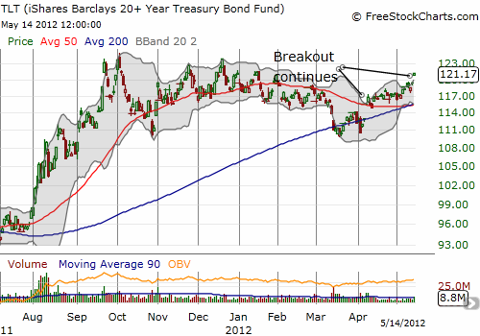 Click to enlarge
Since TBT is breaking down, TLT is of course breaking out
The prospects for reversing these moves seem relatively dim as a steadily rising U.S. dollar index accompanied by a sinking S&P 500 seem to both confirm the growing momentum in fear. The resulting flight should send more investors and traders running for cover under Treasurys. The dollar index's move to the upside has unfolded in slow motion supported now by the euro sinking to four-month lows against the U.S. dollar (NYSEARCA:FXE). The dollar index is now breaking out from a recent downtrend and seems ready to pass 2012′s high. In parallel, the S&P 500 is sinking under the weight of a failed retest of the multi-year highs set in early April and a breakdown from a critical area of support.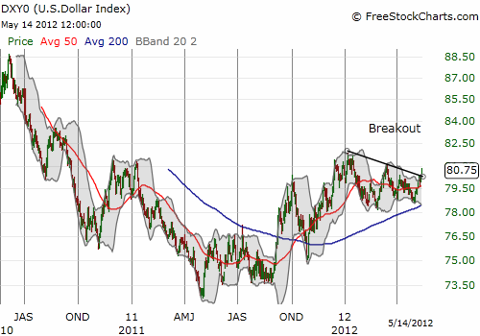 Click to enlarge
U.S. dollar index slowly creeps higher and breaks out from recent downtrend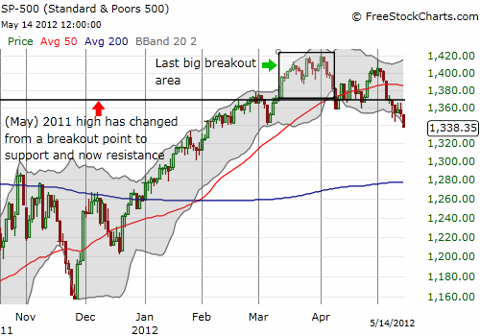 Click to enlarge
The S&P 500 has that sinking feeling
Finally, it seems increasingly clear that munis will NOT be the rock of choice for fearful investors to use for hiding. At least the iShares S&P National AMT-Free Muni Bond Fund (NYSEARCA:MUB) topped out back in February and another deep plunge (a 0.88% drop) on Monday, May 14, likely confirms that the strong rally form the lows in early 2011 is coming to an end. A break to new lows for the year should serve as the final confirmation.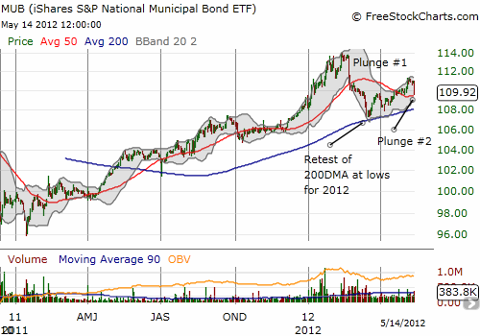 Click to enlarge
The upward trend seems to be ending for the iShares S&P National AMT-Free Muni Bond Fund
Source for charts: FreeStockCharts.com
Unless some positive catalyst unexpectedly arrives at the eleventh hour, all these charts suggest the markets are in for another rough summer. It makes sense then to end soon the TBT trade and re-enter only when TLT starts to break down again.
Be careful out there!
Disclosure: I am long TBT, SDS.
Additional disclosure: Also long SSO calls and short EUR/USD