Gammon Gold Inc. (GRS) shares made waves on Wednesday, rising as much as 9% in the wake of rising gold prices that broke through $855 earlier in the day to set a record high.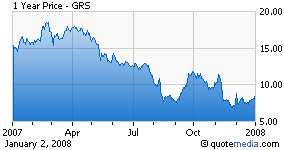 As investors chewed up the positive implications of higher gold prices, they washed it down with Gammon's announcement, made after market close on Monday, that it anticipates achieving over a 6% increase in fourth quarter production over third quarter levels.
Gammon had been on target to meet a 10-15% production increase in fourth quarter until a temporary labor interruption was experienced between Christmas and New Years at its Ocampo mine in Chihuahua, Mexico that impacted production.