Selling Cirrus Logic (NASDAQ:CRUS) was a very difficult decision for me. I have held this stock through thick and thin for at least 15 years. I saw this stock soar from the $8 range up to $60 only to fall again to $10 and take another swing up to $40. In the old days I knew many of the people that worked at the company personally. These were the top engineering minds. The company was run by engineers, too. Their products were top notch designs easily manufacturable on current "state of the mass production" equipment at reasonable cost, giving CRUS a sizable advantage over even larger competitors like SSI. Back then CRUS was in the data storage business. I was in the data storage business. You might say I was married to this stock and we were in love... well at least I was!
When Hemant Thapar of IBM founded DataPath in 1994 (in July 2000 DataPath merged with LSI Logic Corporation) taking IBM's best signal processing minds with him, I soon started working closely with Hemant, Jim Rae, Shih-Ming Shih and the others to develop a chip for NEC Electronics. I was thoroughly impressed by their innovative approach, but ignored the facts and held on to CRUS. When Marvell Semiconductor was formed in 1995 and soon came out with their low cost mass producible read channel design applicable to data storage and communications, I got concerned. Their first EPRML chip was a cheaper and simpler, yet elegant and powerful implementation of the next generation technology similar to Qualcom's, DataPath's and IBM's. In the meantime CRUS was still the leader and their stock soared beyond reason, expectation and belief – I was ecstatic. Though I knew what was on the horizon from the competition, I trusted Cirrus to keep pace, and regardless of the fact that I saw nothing on their horizon I did not sell. Than there was a steep multiyear decent, followed by another peak and another decent…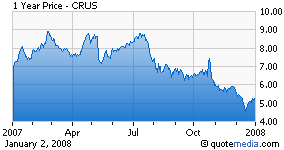 In the meantime, CRUS got out of the data storage business, no longer able to compete. And they never got into communications in a big way, which was always my hope for them. CRUS also lost most of their very talented and very young engineering talent, margins shrank, profitability suffered. They got into trouble, like so many other technology companies backdating stock options.
Now, CRUS is an entirely different company, mostly in the dying audio chip business. Yes, they are priced accordingly and yes they still have the potential to transform into something bigger and better and yes, they do have George Soros as a major stockholder now and several analysts giving them thumbs up, but I, for one, am no longer married to this stock and am not willing to keep my eyes closed to the reality of their situation. There are many more challenges that they will face on their path to recovery. If they do make it back up the mountain, the road is certain to be much more difficult than it was 12 years ago.
Bottom line: I sold my entire position in Cirrus Logic (CRUS) in the last trading hours of the last trading day of the year 2007 at $5.21 / share in order to be able to take a tax loss.
Mental note: Learn from your mistakes, don't get emotionally attached to any stocks and sell them once the value proposition changes.
Disclosure: none