Equity markets got off to a poor start to 2008, with the Dow 30 falling 1.67% on the day. Quite a few stocks fell significantly and already have to work out of a big hole if they want to see gains in '08.
Below we highlight the 25 stocks in the Russell 3,000 that had the biggest declines on the day. As shown, NCMI fell 17.22%, followed by CLAY (-15.5%), PAY (-14.8%) and CITP (-14.6%).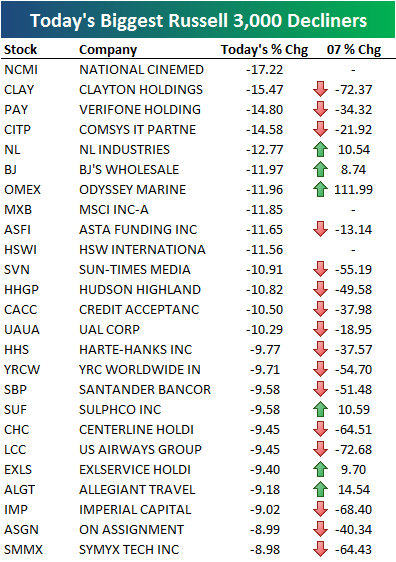 We also looked to see if the same stocks that fell last year followed through to the first day of 2008. We broke the Russell 3,000 stocks into deciles (each decile represents 10% of the index) by their 2007 percentage change and calculated the average percent change of each decile Wednesday.
As shown below, the decile of the top performing stocks in 2007 held up the best Wednesday, while the two deciles of the worst performing stocks in 2007 led the declines. It looks like Wednesday was a continuation of the negativity that ended 2007.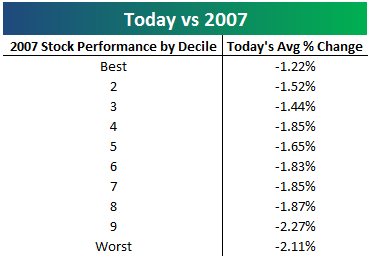 As we wrote in the middle of the trading day yesterday, a bad start to the trading year does not indicate more declines over the rest of year. Of the ten times that the Dow has closed down 1% or more on the first trading day of the year, the index has averaged a gain of 10.26% for the entire year, with up years 60% of the time. These average gains are better than the average one-year change of 8.47% for all years since 1945.
It would still have been nicer if the index closed up more than 1%. When that happens, the Dow has averaged a full-year gain of 12.81%.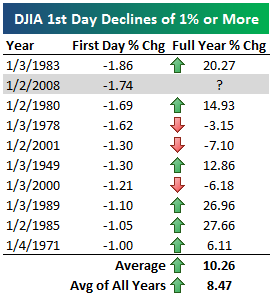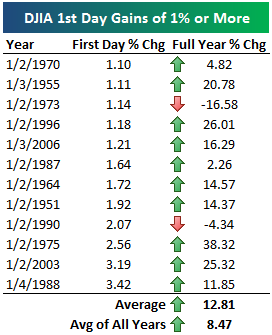 Editor's Note: Yesterday's DJIA decline of 1.74% was as of mid-day trading. The index closed down 1.67%.