In this short feature article, I will focus on a stock that is selling for $13.29 a share, which is a stock that is a little higher price than what I usually cover. However, the market is very low, coming in at $174.92M, which makes the following company undervalued in my strong opinion: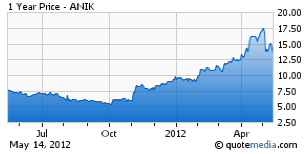 Anika Therapeutics (NASDAQ:ANIK) develops, manufactures and commercializes therapeutic products for tissue protection, healing, and repair. These products are based on hyaluronic acid (HA), a naturally occurring, biocompatible polymer found throughout the body. The company offers aesthetic dermal fillers for the correction of facial wrinkles, advanced wound treatments, and regenerative tissue technology. The dermatological products are a small part of ANIK's revenue, as it mostly comes from treatments for osteoarthritis of the knee and other surgical aids. Today, let's look more at what ANIK does; successes, challenges, and the future for this company.
Before going more in depth, I want to immediately speak about the structure of this company which is one reason I feel like Anika has great prospects. Usually, I dig into developmental companies that have great products in the clinical trial pipeline or ones who have potential catalysts upcoming. This company is much further along than the developmental process.
Every quarter since Q3 2003, ANIK has reported profits on their financial statements. How many small cap pharmaceutical companies can we find with a track record producing over eight straight years of quarterly profit without one hiccup? Let's look at the revenue growth numbers:
| | |
| --- | --- |
| 2007 | 30.8 Million |
| 2008 | 35.7 Million |
| 2009 | 40.1 Million |
| 2010 | 55.5 Million |
| 2011 | 64.7 Million |
*Income Statement
Revenue (TTM):
67.40M
Revenue Per Share :
5.11
Qtrly Revenue Growth (yoy):
22.30%
Gross Profit :
37.99M
EBITDA :
20.56M
Net Income Avl to Common:
10.05M
Diluted EPS :
0.74
Qtrly Earnings Growth (yoy):
489.40%
MRQ net profit margin (yoy): 15.62% vs. 9.17%.
MRQ sales/assets (yoy): 0.139 vs. 0.114.
MRQ assets/equity (yoy): 1.402 vs. 1.514.
This company has the best of both worlds; great revenue and profitability coming in the door and a pipeline of products that can produce speculative value. Some people tell me, "I don't have enough money to buy a stock that is around $13/share." My response is pretty simple. If you gain 50% on a stock that is $13/share, how is it different than when you gain 50% on a stock that is $2? If you invest the same amount of money in either scenario, your profits are the same.
Worrying about how many shares you purchased shouldn't be your focus but rather, what value are you getting. Even though this company has had a great run over the past few months, I still find it supremely undervalued. With the dip from their recent $18 peak, I think it is a nice time to buy ANIK.
One thing I usually find attractive in a smaller cap stock is when they demonstrate sound cash management. Anika Therapeutics has both low shares outstanding and a price around $13. So even though their price is higher than many companies I cover, it still can move quickly. One thing nice about a stock price north of $10 per share is it can draw much more institutional interest compared to a smaller priced stock. The infatuation with simply looking at price per share has never made sense to me because the true value of a public company is their market capitalization. I have a friend who used to invest in Sirius XM Radio (NASDAQ:SIRI); Sirius produces incredible revenue and has been anywhere from $0.06 to $2.20 in the past four years.
What do you have when you own one share of SIRI stock? You have one of approximately 3 BILLION shares outstanding. Owning ANIK stock is a far different proposition with only about 13.8 million shares outstanding. It is my opinion that monetary opportunity exists in things that are rare as they have the potential to become extremely valuable.
Current products creating the most revenue:
ORTHOVISC is the only FDA-approved treatment made from ultra-pure hyaluronan, a naturally occurring lubricant found in healthy knee joints. ORTHOVISC is approved for use in the knee in the United States, and for use in all synovial joints in the European Economic Area. In the final quarter of 2011, sales of this drug increased 27% year over year in the U.S. and 44% internationally.
In addition to ORTHOVISC, MONOVISC is another joint medication. MONOVISC is made from highly purified, non-animal, natural hyaluronan. Hyaluronan occurs naturally throughout the body, especially in articular cartilage, synovial fluid in joints and in the skin.
Joints affected by osteoarthritis typically have lower concentrations of hyaluronic acid in the synovial fluid. As a result, the synovial fluid also has lower viscosity and elasticity than healthy synovial fluid, decreasing its ability to lubricate the joint and absorb shocks. Viscosupplements such as MONOVISC are designed to replace the body's natural hyaluronic acid, providing significant pain relief from the symptoms of osteoarthritis.
MONOVISC has been approved in Europe but has not yet received FDA approval. Anika feels the product should be approved based on clinical data sent. Very recently, a request for a hearing was granted by the FDA. This hearing will take place in next two months. With a fast response from the FDA on granting this hearing, the management seemed confident about this meetings potential during the Q1 conference call. Even while waiting for approval in U.S., this drug combined with ORTHOVISC is doing just fine combining for $10.1 million in sales in the first quarter of this year.
People who do not use Anika's joint lubricating drugs may have a far more significant issue such as knee replacement.
In relation to Anika and this segment, companies such as Stryker Corp. (SYK), Zimmer Holdings (ZMH), and Smith and Nephew (SNN) provide products for total knee replacements which are really a last resort when other treatments, such as which Anika provides, are not presented as a first option and/or fail.
In addition to these products, Anika has several other product lines producing revenue such as in their Dermal division. This includes their first HA -based dermal filler, ELEVESS, which was approved in the U.S., EU, and Canada in 2007 for use in correcting nasolabial folds ("smile lines"). In the first quarter, this area of Anika produced half a million in revenue. Other areas and their 1st quarter production include: Ophthalmic- $1.3M, Surgical- $1M, and Veterinary- $0.7M.
Supply chain issues in Q1:
In the first quarter on 2012, Anika had a swift and alert reaction to order and supply chain issues with their Italian supplier. They have made this transition to work with another supplier so this big change is complete and now the positive benefits can start. It is always a lesser issue and sometimes beneficial to have greater demand than you can accommodate versus not enough demand, although obviously it is better when everything runs smoothly.
One thing that was a consistent theme throughout the Q1 conference call was that this supplier change has created a backlog of orders that will be spread out over this quarter and the rest of this year. I was encouraged how they referred to these order; these shipments are not cancelled, but only delayed. The management made several references to the fact that this product will be still be shipped and strongly hinted that they will have a great second quarter and rest of the year. They additionally commented how this issue is combined with the fact that Q1 is notoriously the weakest quarter of the year.
What did they do in what will very likely be the worst quarter of the year? They produced net profit of almost $2 million or $0.14 a share. They had a tremendous profit of $8.4 million in the year 2011, and in my opinion the company should crush those numbers in 2012. I expect a very big second quarter which I feel is a great reason to hang on to this investment at least through this time period.
The future of Anika:
Company consolidation - Anika is close to making a full transition of their main operations into the Bedford, Massachusetts location. With this consolidation, they feel the operational savings will be about $1 million per year. This should equate to an even better bottom line than they are currently producing for shareholders.
Asia initiatives - Anika is looking to create a presence in Asia, South America, and the Middle East. But they are doing so in a responsible manner by solidifying their portfolio of products first versus jumping into one area with both feet. Partners in some of these locations have been identified and I expect further growth around the world imminently.
Another thing that I like about the position of this company is the pure demographics of at least the situation in the U.S. The majority of people in the U.S. who want to improve their appearance or are in need of joint pain relief are aging baby boomers. Anika is poised to benefit from these facts.
I have tried to review the positives, opportunities, and future for Anika Therapeutics as best as possible here for this article. As always, please do you own due diligence and let me know if you agree with the value I see in this company.
*Data sourced from Yahoo Finance.
Disclosure: I have no positions in any stocks mentioned, and no plans to initiate any positions within the next 72 hours.