Summary
Nokia's (NYSE:NOK) share price suggests that their choice of Windows over Android will consign them to becoming a minor player in the global mobile phone market, and potentially never to be profitable again. This is reflected in Nokia's valuation, as Nokia is currently trading on 0.18x EV/Sales, which is cheaper than RIM (RIMM) at 0.31x and Motorola (NYSE:MMI) at 0.64x (Motorola is being acquired by Google (NASDAQ:GOOG)).
On a sum-of-the-parts basis Nokia is extremely cheap, as Nokia's net cash and patent portfolio are worth as much as today's market value. This implies that the operating businesses are free, and that the market does not appreciate Nokia's potential to regain share through its strategic partnership with Microsoft (NASDAQ:MSFT) and the launch of Windows 8. Nokia's shares can easily appreciate 50%+ with a year (after the successful launch of Windows 8), and possibly to 2-3x today's share price by 2014 if the Windows-Nokia partnership is successful.
Note that throughout this piece the prices I quote are in Euros, and the share price is of NOK1V, in Euros. The conversion rate to NOK is to multiply by the Euro rate, or approximately 1.29.
Why I believe the market is wrong
There are three strategic issues that the market does not fully appreciate:
First, Nokia made the right choice with Microsoft, as they are now a strategic partner of their software provider, rather than one of many Android-based hardware vendors. One of Apple's (NASDAQ:AAPL) key competitive advantages is that it designs an integrated system of software, hardware and services (like iTunes), and therefore offers a much better user experience. The Microsoft-Nokia partnership will allow them to get some of the same benefits and put Nokia in a position to produce the best Windows phones, and therefore to make higher revenues and margins than if they were purely a handset maker. So by choosing Windows over Android, Nokia has changed the rules of the game and avoided a straight race with Samsung (005930 KS) - which they may have lost.
Second, I believe the potential of the Windows 8 ecosystem is enormously underestimated by the market. Unlike previous versions of Windows Mobile, Windows 8 will be one system across all devices, which will give an almost seamless user experience. In this sense they are ahead of even Apple, which has two operating systems, and well ahead of Android whose tablets are less popular and who has no viable offering for laptops/desktops. I expect users to migrate to one ecosystem for all of their devices (phone, tablets and PCs), so given Microsoft's huge user base and that many business programs only work on a Windows system, the Windows ecosystem has an enormous competitive advantage. Further, Microsoft has Office, Skype, Xbox and Kinect that will enhance the offering, and Nokia will also add their mapping and drive services to this mix.
Third, other industry participants will help Microsoft/Nokia, as they want a third viable ecosystem. Mobile phone carriers want a third ecosystem as that gives them greater bargaining power relative to the hardware vendors (see Verizon (NYSE:VZ) CFO's comments here). Developer interest for Windows is growing, and this will continue and get stronger as Windows 8 addresses many of the issues that they have with Android. First, the Windows ecosystem will be more homogenous, and will not require the developers to program their apps to allow for so many different combinations of Android software and Android devices. As Microsoft's partner, Nokia gets to set the standard for Windows 8 hardware. Second, the demographic that runs Windows is much more likely to pay for apps than those that run Android. These apps are more likely to be business oriented rather than consumer oriented, but they will be profitable nonetheless (see developer survey here).
Valuing Nokia
Given that the future is so uncertain I have created three scenarios of what the future could look like for Nokia's Devices & Services division.
Mild recovery (central case): Nokia establishes a stable number 3 position in smartphones, with 7% share in 2013 and 10% in 2015. Operating margin only recovers to 3%, before adding in patent revenues. This implies gross margins of 19% and operating expenses of 16% of sales.
Stronger recovery: Windows 8 is a real success and the Nokia/Microsoft partnership blossoms. Nokia introduces a tablet in Q3 12, and over time establishes a strong number 3 position in smartphones, with share of 9% in 2013 and 12% in 2015. Operating margin recovers to 7%, with gross margins of 21%, and operating expenses 14% of sales.
No real recovery/failure: Nokia fails to gain new traction with products, and purchasers move to Apple, Samsung and other Android vendors. Nokia's market share in smartphones doesn't rise above 6%, and the division remains loss-making. Nokia's value falls to patents and harvesting the rump of the mobile business.
My first two scenarios imply much lower SG&A spend. Nokia's D&S division had operating expenses of 26% of sales in Q1 12, which is obviously not compatible with Q1 smartphone gross margins of 16%. Part of this was due to the sudden deterioration in Nokia's business in Q1, but there is also an enormous opportunity for Nokia to cut wasteful R&D spending. Nokia spent 2.6x Apple's level of R&D spending in 2011, and this ratio was 7x in 2006-08. This money has clearly not been well spent! While Nokia does need to invest to create the right products for the future, this money must be spent wisely. Now that Nokia does not need to develop their own software, and Symbian maintenance has been outsourced to Accenture (NYSE:ACN), Nokia should cut their R&D spend from the 13% of sales that it was in 2011 (this is a group level number). If they do this well and trim spending in other areas, Nokia's D&S operating expenses can be reduced from 21% of sales in 2011 to 16% of sales under the central scenario, and 14% under the stronger recovery scenario. I have valued the failure scenario on an asset basis, so R&D spend is less relevant.
Value of Devices & Services division
Central and upside scenarios
I have valued the central and upside scenarios based on 2015E earnings, added incremental cash earned by the business during the year 2013-15, and then discounted the value back to Q4 2012. I used 9x and 11x P/E multiples as Dell (NASDAQ:DELL) is currently on 9x and Samsung is on 15x. Note that these numbers include corporate costs, which I have bundled in with the D&S division.
Please note that all historical numbers come from Nokia earnings releases, and can be accessed here. All projections are my own.

Downside scenarios
Under the downside cases the Devices & Services business does not return to profit. For these instances I have valued the business on a salvage value basis, using a low EV/Sales multiple and then adding estimates of the value of Nokia's patent portfolio.
I use an EV/Sales multiple of 0.15x for this scenario. This is low, and I apply it to the ex "other sales," which is mainly IPR royalties. I have taken this conservative approach because there isn't a clear buyer for a failing hardware business (excluding the patents) that is using the wrong platform. However the main value is in the patent portfolio. This is extremely difficult to value, but we do know that:
The current IP royalty run rate is E500mn per year (per Q1 12 earnings release). Much of this comes from Apple, under the terms of the agreement announced in Q2 2011, and it may be 0.5% of iPhone and iPad revenues. We have limited information about the deal, but as they are secure payments I have valued them at E4bn. One nice aspect of these royalties is that they are a natural hedge - if Nokia does poorly then Apple is probably doing even better, and so Nokia benefits indirectly through additional royalties.
Other patents will have additional value. Nokia has just launched patent lawsuits against HTC (2498 TW), RIM and Viewsonic (VIEW, a US TV and tablet maker). Use of 45 patents is at stake. In addition to this Nokia has one of the best LTE patent portfolios. It is very difficult to value these assets, but I have conservatively assumed a value of E2bn for the patent portfolio, ex Apple. It could be worth several times that, but at this stage we just don't know.

Value of other assets
Nokia Siemens Networks
In the Q4 11 earnings release Nokia estimated that NSN's long term non-IFRS operating margin will be 5-10%. Since then Nokia may have backed away from that prediction, as it was not repeated in the Q1 report. I have estimated the value of the business based on a range of margins around 5%, and applying a 10x P/E multiple to the business. This is based on the fact that the business should be relatively stable, as >50% of the revenue is from services to network operators, rather than network hardware. The valuation I get ranges from E1.5bn to E3.5bn for Nokia's share.

Location & Commerce business
This is a very difficult business to value, as its future is so uncertain. Nokia paid E8.1bn for Navteq in 2007, and re-valued the Location & Commerce division at E4.1bn at the end of 2011. There are reasons to believe that Nokia would want to get a lot of bad news out of the way early, so this could be a conservative valuation. However I have continued with conservatism, and valued it at E2.0 - E4.0bn for my 3 scenarios.
Net cash
Nokia had net cash and liquid assets of E4.9bn at the end of Q1 12. Based on the analysis below I do not expect net cash to fall below E4.0bn by the end of 2012 (under my central case). This translates to E4.4bn cash under my upside scenario, and E3.8bn cash under my downside scenario, due to differences in profitability of D&S during 2012. For the downside case I then subtract a further US$500mn (E400mn), to allow for Nokia to not meet the minimum level of software demand under their agreement with Microsoft.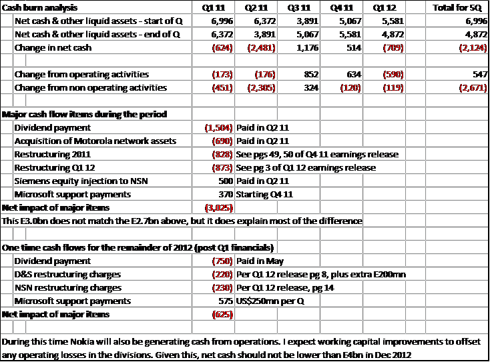 Valuation conclusion

Nokia is very cheap. I expect that even if the Windows transition is a failure, Nokia shares are worth over E4.00, >50% above where they trade today. To show this in very simple terms, if one agrees that Nokia will have E3.4bn of net cash at year end, and the patents are worth E6bn, then this covers the entire E8.9bn market cap. All of the operating businesses are free upside. Nokia has enormous potential that the market is ascribing little value to: Nokia was until recently the best mobile phone device maker, Windows is the most popular computer software in the world, and Microsoft and Nokia are working together to launch a series of ground breaking devices by the end of the year. It is a leap of faith, but given the margin of safety offered by the patent portfolio and Microsoft and Nokia's track records over the past 20 years, I believe it is an excellent investment opportunity.
How does this play out?
Nokia's share price will probably continue to linger for the next few months, in absence of any concrete news on the launch of Windows 8 and associated Nokia products. Nokia's financial results will probably deteriorate for Q2 and Q3 as Nokia transitions their product portfolio from Symbian to Windows. However I have already bought most of my stake, as there is a non-negligible chance that someone buys them (or at least attempts to), or Nokia surprises with an earlier than expected product launch. Given that the stock is so cheap and I can hold through the volatility I prefer to have most of my position locked away now.
Disclosure: I am long NOK. (I am actually long NOK1V, which is the European listing, not the US ADR.)