It is time to update valuations and analysis for AT&T (NYSE:T) LG (NYSE:LPL) and Apple (NASDAQ:AAPL). The ratings remain the same while Apple and LG have gotten cheaper, and AT&T more expensive. Additionally, a product update is provided for AT&T and Apple.
AT&T - Sell
Wireless-centric Home Security and Automation Services
AT&T today announced plans for a new portfolio of all-digital, IP-based home security monitoring and automation services. Called AT&T Digital LifeTM, , the services will give users unparalleled control and security of their homes using any web-enabled device, PCs, tablets and smartphones, regardless of wireless carrier.
AT&T plans to begin trials in Atlanta and Dallas this summer.
Managed by a newly created Digital Life group, the remote monitoring and automation portfolio will feature web-based access to automation, energy and water controls, as well as professionally monitored security services.
AT&T Digital Life will feature a robust lineup of connected devices like:
Cameras
Window/door sensors
Smoke, carbon monoxide, motion and glass break sensors
Door locks
Thermostats
Moisture detection
Appliance power controls
The devices will be wirelessly enabled to connect to the IP-based AT&T Digital Life platform inside the home.
AT&T Digital Life is an excellent move by AT&T and should grow revenue as the company takes market share from firms in other industries by integrating services.
Industry & Valuation
AT&T is in a strong competitive position in the US wireless phone industry. There are few substitutes for wireless telephone service and few competitors in the industry. The US wireless phone industry is mature and the growth rate is low to negative; industry barriers to entry are high. Historically, the telecommunications industry hasn't created significant value for investors.
Revenue is not strongly correlated with US economic growth. A significant portion of the employees are union members. Relative to the risk-free rate of interest bearing US Treasury securities, the dividend yield is high and stable.
Revenue-per-share is stable; operating income-per-share is declining. Second quarter revenue is forecasted to grow to US $32.2B, a 2.2 percent increase from the year-ago quarter.
Valuation are near peaks and could decline on macro or micro economic headwinds. Common equity shares are trading above the rising 50-day simple moving average.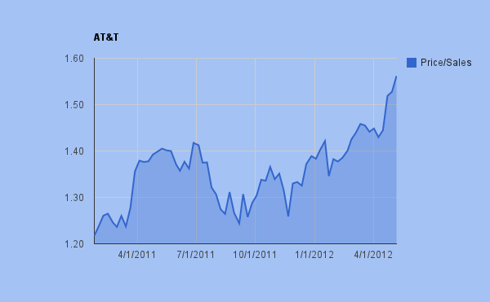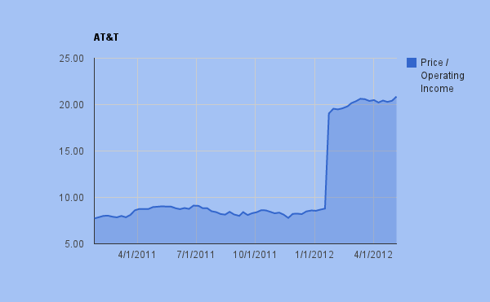 LG - Buy
Consumer electronics is a concentrated industry with weak pricing power. Barriers to entering the industry are high as some products of the industry are in a mature phase and others are experiencing a growth phase.
Smart phone sales are growing quickly while high-definition televisions aren't growing as fast. LG sales growth is lagging competitors Apple and Samsung.
Technology will play an increasing role in economic and productivity growth.
Sales-per-share has been flat (revenue isn't growing), cash flow from operations-per-share declined, price-to-sales is near a trough and price-to-cash flow from operations is near a peak.
Given the recent pull-back, downside to valuation is limited. Shares are trading below the declining 50-day simple moving average; the share of the enterprise are in the decline phase, and the accumulation phase is next.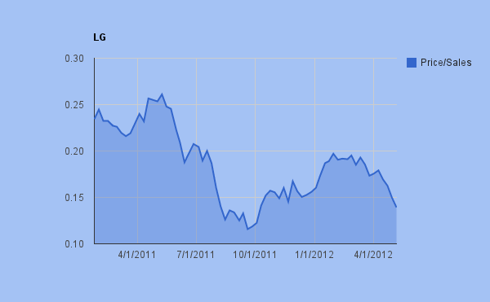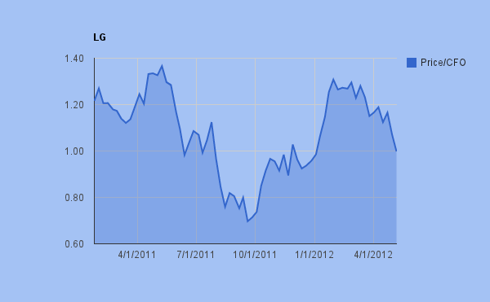 Apple - Buy
The introduction of the new iPad, in several countries around the world, in the current quarter, should translate into revenue growth, since product quality, innovation and consumer loyalty are enterprise hallmarks.
Apple is expanding global sales, particularly in high growth regions. So much so that product supply is constrained by production capacity.
Revenue-per-share and book value-per-share are expanding. The current decline in price-sales and price-book value is a buying opportunities.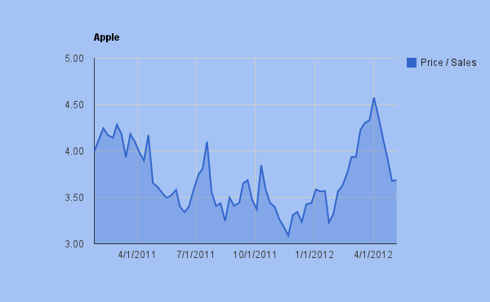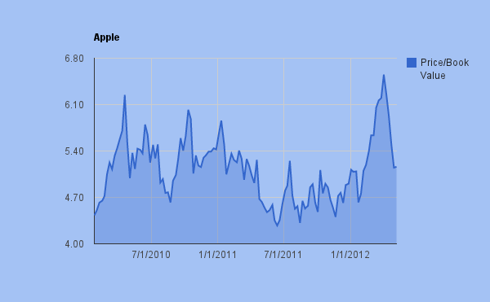 Disclosure: I have no positions in any stocks mentioned, and no plans to initiate any positions within the next 72 hours.