There are certain industries a fund manager would reject if he were to market his fund as socially responsible investing: tobacco, alcohol and firearms are obvious examples. The harm from these products, inflicted though misuse, is straightforward and well documented. A more sanctimonious SRI investment manager might even exclude the industry that serves as the backdrop to this Small Cap Spotlight — life settlements.
Life settlements (formerly viatical settlements) are financial transactions where someone with an unneeded or unwanted life insurance policy sells the policy to a third party for a price that exceeds the cash value offered by the life insurance company. Sounds innocuous enough, but here's the rub: these financial transactions usually involve the policies of the terminally ill or the elderly.
It's all legal and above board, of course, though inquisitive readers might furrow a brow. After all, prohibitions against stranger-initiated life insurance date back to medieval England. But the sale of insurance policies to third parties returned to favor in the 1980s as a way for AIDS patients to receive cash from their life insurance policies before they died. Those transactions were deemed legal because the policies were not bought with the intent of flipping them.
Life settlements is the fastest growing segment of the life insurance industry, with $200 million face value transacted in 2001 having increased to an estimated $12 billion to $15 billion in face value transacted in 2006. Bernstein Research expects the exponential trend to continue into the relevant future, with transactions growing to $160 billion in face value life insurance over the next 10 years.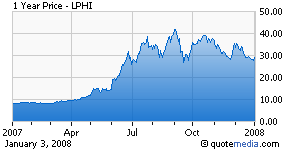 As the life settlement scale increases, so does the opportunity, at least for the largest, most-established player in the field, Life Partners Holdings, Inc. (Nasdaq: LPHI). Since its incorporation in 1991, Life Partners has completed over 50,000 transactions for its client base of over 15,000 high-net-worth individuals and institutions in connection with 5,700 policies totaling over $850 million.
Life Partners matches life settlers (the sellers) with purchasers. It finds the former through a network of brokers, insurance, financial and estate planning professionals, through personal referrals and through Internet and print media advertising. The brokers are typically compensated based on a percentage of the face value of the policy sold, which is paid upon the closing of a settlement. Life Partners' revenues are derived from fees for facilitating the transaction.
Life Partners has proven that it is a superior matchmaker. The company reported second-quarter (ended Aug. 31) revenue of $17.6 million, a 267% increase over the $6.6 million posted in the same quarter in 2006. Net income rose to $4.3 million, or $0.46 a share, a nearly 20-fold increase compared to net income of $220,000, or $0.02 a share, posted in the year-ago period. Management credited the increased revenues to "the company's steady trend toward closing policies with higher face values and the increase in both demand for and supply of qualified life settlement policies."
Management recently proffered expectations for the third-quarter of 2007 (expected to be reported in mid-January). On that front, Life Partners expects to report third-quarter earnings of approximately $0.44 per share, compared to earnings of $0.07 per share for last year's quarter. Revenue is expected to post at $19 million, a 260% increase over 2006's $7.3 million.
So what does Wall Street think about a company that produces such exponential growth rates? Well, not much; coverage on Life Partners' is sparse. Zacks rates Life Partners as a "moderate buy." Taglich Brothers issued a "speculative buy" rating in October, with a 12-month price target of $61 a share. Estimates are for full fiscal-year 2007 (ending February 2008) for revenue of $80.2 million and EPS of $1.79. For FY2008, estimates are for revenue of $117 million and EPS of $2.80, which leads to a very reasonable forward P/E ratio of 10.7, and an even more reasonable (and enticing) price-to-earnings-growth ratio of 0.19. The stock closed at $27.70 on Monday, with shares ranging between $6.48 and $42.32 over the last 52 weeks.
And did we mention the dividend? It's currently being paid at the annual rate of $0.24 per share to yield 0.80%.
If you are feeling a little socially irresponsible investing in a company that facilitates taking a flyer on someone else's demise, don't. Although life settlements developed a shady reputation in the investing community (unscrupulous salesmen pining for mammoth commission), regulation has purged the industry of its unsavory elements.
Focus instead on economic reality: Life settlements (and therefore Life Partners) satisfy a legitimate, perfectly logical need. Over a trillion dollars worth of life insurance policies either lapse or are surrendered annually. One study produced by the Wharton School, titled "The Benefits of a Secondary Market For Life Insurance," found, among other things, that life settlement providers paid approximately $340 million to consumers for their underperforming life insurance policies, an opportunity that was not available to them just a few years ago.
In other words, Grandpa's not being exploited, he's simply acting in his own best interest. What's so socially irresponsible about investing in a company that facilitates that act while producing exceptional returns at the same time?
Disclosure: none