The price of gold may be at an all time high, but gold equities in South Africa are far from it. Weak operational factors such as rising costs and disappointing volumes are to blame, according to UBS Securities' Simon Kendall.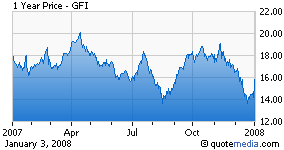 One of those companies is Johannesburg-based Gold Fields Ltd. (NYSE:GFI). On December 20, the miner guided down 3.5% for overall attributable production and up 8% for group unit cash costs (US$), or 3% in rand [R] terms, the analyst told clients in a note.
While cutting his price target to R120 from R125 (using an average gold price of $800 per ounce), Mr. Kendall hiked his recommendation to "buy" from "neutral" on recent share price weakness.
He also noted the elevated short interest in Gold Fields' U.S. ADRs, which implies the potential for short covering in a strong gold price environment.