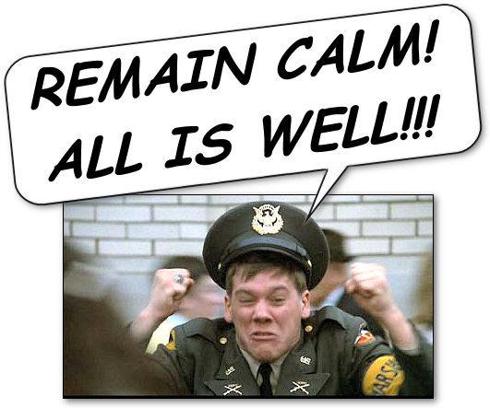 On top of all the bad news from Europe, we find out that JPMorgan's (NYSE:JPM) announcement that it got its butt handed to it with over $2 billion in trading losses is eerily reminiscent of what happened about 6 months before the last national election, when Bear Stearns shocked the world with a similar announcement. This time it is the Fed's stimulus that is being used to gamble to generate earnings to offset loan losses and lack of new loan revenues.Is this an isolated instance or a major cyclical turn?
No matter what you believe, the warning bells are a-ringing. Overall, I still believe the market will stay strong through the election. The system is still awash with liquidity, rates will be staying low until the calves of the cows come home and Bernanke and company stand ready with another QE program. However, the warning signs that a market top are ever present.
The bull market is 40 months old - the average age of a bull market is usually 39 months.
The market usually peaks in the 4th year of a presidential cycle, then turns down in the first year bottoming in October of the 2nd year, 2014.
Banks have millions of homes to foreclose on and flood the market, so housing still has another 20-30% to drop.
And that by the end of this year every baby-boomer will be over 50 and past their peak spending years.
It is crystal clear that slow global growth and rapidly rising budget deficits are creating an insurmountable challenge for the economy and the markets. As I mention in Facing Goliath - How to Triumph in the Dangerous Market Ahead: "The stock market continues to rise from government stimulus programs which are simply delaying the natural deleveraging process that needs to happen. All we are doing is creating another bubble…and we all know what happens to bubbles …" The trump card is of course QE3.
Investor Strategy
A QE3 will push stocks to new highs, where as if we do not get additional stimulus we are likely in a topping pattern. The current correction will likely continue for several more weeks, followed by new highs around election time, very likely with a news stimulus program. At that point, we will look to rotate into more defensive positions and gravitate towards investments that provide stability, income and a guarantee of principle where possible. We must remember that nearly half of the stock markets return for over a hundred years has come from dividends, so focus on income investments. Most importantly, stand ready with an exit strategy.
For the next rally phase, our favorite plays for growth investors are the SPDR S & P 500 (NYSEARCA:SPY), SPDR Select Sector Fund - Financial (NYSEARCA:XLF), iShares MSCI Emerging Index Fund (NYSEARCA:EEM), Emerging Markets Consumer ETF (NYSEARCA:ECON), Brazil (NYSEARCA:EWZ), PowerShares QQQ Trust, Series 1 (NASDAQ:QQQ), iShares Russell 2000 (NYSEARCA:IWM) and iShares FTSE China 25 Index Fund (NYSEARCA:FXI). For the very nimble investor trader types, stay with the movers of Apple (NASDAQ:AAPL), which will benefit from new products coming out in a few months as well other leading companies that will continue to rise the innovation wave like Google (NASDAQ:GOOG), Intel Corporation (NASDAQ:INTC), Qualcomm (NASDAQ:QCOM), Microsoft (NASDAQ:MSFT), Cisco Systems (NASDAQ:CSCO), Dell (NASDAQ:DELL), Caterpillar (NYSE:CAT), General Electric (NYSE:GE) and Yahoo (NASDAQ:YHOO), Red Hat Inc. (NYSE:RHT), Schlumberger (NYSE:SLB), VMware Inc. (NYSE:VMW). Earnings for these stocks should remain strong as corporation continue to replace workers with technology. Safer style investors can buy REIT's related to the aging baby boomers such as Healthcare Properties (NYSE:HCP), Senior Housing (NYSE:SNH) and IShares Healthcare (NYSEARCA:IYH).
A QE 3 or a by whatever name they give it will make commodities scream higher aggressive investors can buy Barrick Gold Corp (NYSE:ABX), SPDR Gold Shares (NYSEARCA:GLD), Power Shares Double Gold (NYSEARCA:DGP), Market Vectors Gold Miners ETF (NYSEARCA:GDX), Newmont Mining Corp. (NYSE:NEM), Goldcorp. (NYSE:GG), Freeport-McMoRan Copper & Gold Inc. (NYSE:FCX), PowerShares DB Gold Double Long ETN for the not so faint of heart, plus Silver Wheaton Corp. (NYSE:SLW) and ProShares Ultra Silver (NYSEARCA:AGQ) and Fortuna Silver Mines (NYSE:FSM).
Managing money, especially your own, is a daunting task. There are plenty of ways to make money in this market and in the dangerous market ahead, but the key is to do it without all the risk.
Disclosure:
I have no positions in any stocks mentioned, and no plans to initiate any positions within the next 72 hours.