High yield bonds have been a market darling this year, attracting capital from yield starved fixed income investors and as an alternative to equities by income investors. Drive-by deals are getting done as are issues of the lowest rated (non-default) companies.
Meanwhile, equities have come under pressure due to mounting concerns about global growth and increased pressure on the European union and its financial system. Interestingly, high yield debt and equities typically move in the same direction, as high yield has more in common with equities (economic growth, corporate health and growth) than rates or rate based fixed income.
Recently, we have started to see a divergence between high yield and equities in what began as equities outpacing high yield and what is currently high yield holding its ground while equities falter. The question this raises is: are equities falling back to meet high yield, or has high yield lagged equities' downward momentum.
(Click to enlarge)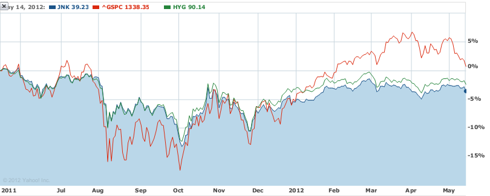 Over a one year time-frame, a strong relationship can be seen between high yield - as measured by the SPDR Barclays Capital High Yield Bnd ETF (NYSEARCA:JNK) and the iShares iBoxx $ High Yid Corp Bond ETF (NYSEARCA:HYG) - and equities. This relationship began to dissolve earlier this year as high yield went sideways and equities followed a more significant upward trend.
(Click to enlarge)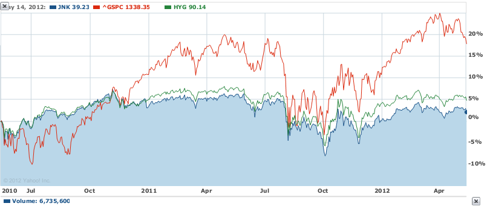 Over a two year time-frame, we can see the relative outperformance of equities relative to fixed income. Note as well, however, that when equities have taken a turn for the worse, high yield follows suit.
And yet, when we look at the last month, high yield has not fallen even half the amount equities have from the highs.
(Click to enlarge)

This leads us down one of two roads:
High yield will maintain current levels and shrug off increased risk (real or perceived - real in my opinion), or
High yield is going to correct to the downside.
It is my belief that high yield is fundamentally sound as corporate balance sheets are still in good shape, default rates are low and they are expected to remain low for the near future and there are few viable alternatives for either fixed income or income investors.
That said, I do not think the high yield market will continue to avoid the downward trend we have seen in equities and other risk assets. Looking at the options market for signs of investor sentiment, we have seen put volumes and open interest at multiples of call volumes in both the SPDR Barclays Capital High Yield Bnd ETF ...
(Click to enlarge)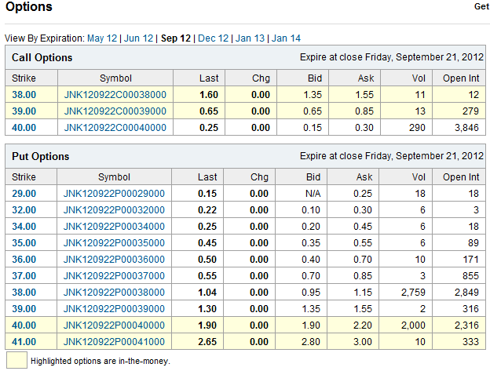 (Source: Yahoo)
... and in the iShares iBoxx $ High Yid Corp Bond (ETF) (Sept puts shown below).
(Click to enlarge)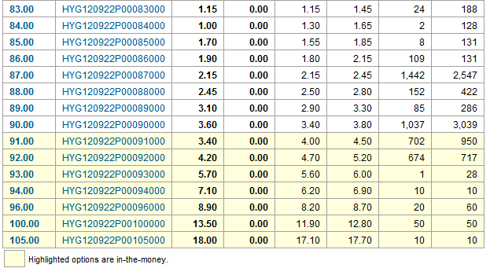 (Source: Yahoo)
Looking at the options market, we are seeing a decent amount of hedging activity or outright bets against the high yield ETFs (and hence the high yield market).
Bottom Line: The high yield market has been resilient thus far as equities and other risk assets have declined. Despite the decent fundamentals of the high yield market and the (attractive, kind of) yield available within the market, the sector/asset class is due to sell off as part of a greater risk aversion (or risks unknown) trade.
Disclosure: I have no positions in any stocks mentioned, and no plans to initiate any positions within the next 72 hours.
Additional disclosure: This article is for informational purposes only, it is not a recommendation to buy or sell any security and is strictly the opinion of Rubicon Associates LLC. Every investor is strongly encouraged to do their own research prior to investing.