ABB (NYSE:ABB) is a $37.77 billion large cap global leader in power and automation technologies that works to improve the performance of utility and industry customers while being environmentally responsible. The company operates in about 100 countries in five main regions: The Americas, Europe, Asia, The Middle East, and Africa.
The stock has taken a hit recently after it missed earnings estimates for Q1 2012. Earnings per share for Q1 were 0.30 compared to estimates of 0.38. This makes three straight quarters of earnings misses for the company.
Click to enlarge.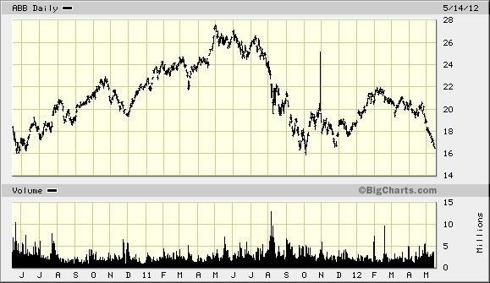 One issue has been weaker performance in China and mixed results in Europe. China order growth decreased 35% for Q1 2012 over Q1 2011. Power decreased by 56% and Automation decreased by 14% in China. Europe's weak spot was Italy where orders decreased by 26%. However, Sweden saw an increase of 21%, Germany had a 14% order increase, and the U.K. experienced a 12% rise in order growth.
Positive order growth results were seen in other parts of the world: Saudi Arabia had the largest increase with 104%, the U.S. had an increase of 16%, Canada +48%, Brazil +26%, and India +18%. So, really China and Italy were the only sore spots for order growth.
I think that there will be a point where the selling in the stock tapers off. However, it is difficult to determine the bottom. The stock is currently oversold, but it could stay that way for a while. ABB needs some positive catalysts to reverse course. This could be positive monthly figures followed by a Q2 earnings beat.
With three straight quarters of earnings misses, I think that the stock is at risk of falling further, perhaps closer to $10 or even slightly lower. Personally, I would like to see two straight quarters of earnings beats before investing in the stock.
ABB has good things going for it. It is undervalued with a forward PE ratio of 9.47, a PEG of 0.99, and a price to book ratio of 2.28. However, these could fall further, so I would wait for a bottoming and reversal in the stock before investing. ABB's dividend is now 4.1%, which is a compelling yield. The company is expected to grow earnings at 11.6% for the next five years. This should provide a CAGR of 15.7%, which if achieved should make a great long-term investment.
I think that the stock is getting an unfair punishment that will be overdone to the downside. Although, I don't know when the stock will bottom, I do think that the company will be a good pick for the long term. Wait for those positive earnings reports and a reversal in the stock before jumping in.
Disclosure: I have no positions in any stocks mentioned, and no plans to initiate any positions within the next 72 hours.