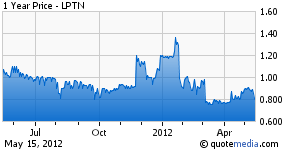 It's time to start tracking Lpath (LPTN.OB) again. The San Diego-based pharmaceutical company is leading a new trend of lipid-based therapies and shares are once again on the rise as speculators begin to watch their drug portfolio and rumors of a takeover by pharmaceutical giant Pfizer (NYSE:PFE) begin to re-surface.
In 2010, Pfizer entered into an exclusive agreement with Lpath for a worldwide license to develop and commercialize Lpath's leading drug iSONEP with the possibility of up to $500M in milestone payments throughout the drug's development.
iSONEP is a drug being developed for the treatment of wet AMD (wet age-related macular degeneration). Wet AMD affects about 1.7 million of the 15 million U.S. residents affected by the disease. Current treatment is limited to laser surgery and VEGF inhibitors (pills that block the creation of new blood vessels in the back of the eye).
VEGF inhibitors have been in the AMD drug market for years, and the drugs Lucentis and Avastin marketed by Novartis (NYSE:NVS) and Roche (OTCQX:RHHBY), respectively, have already saturated any potential in that class of inhibitors. iSONEP would be the first Sphingosine 1 Phosphate inhibitor for AMD (it is a radically different approach that targets a different and more universal pathway). Another gem in Lpath's portfolio is its ImmuneY2 system, which is a proprietary technology that is capable of identifying antibodies that can be used for lipid-based therapies. This makes the company the leader in the field of lipid-based therapies.
I first introduced the company on January 6th, when the stock was trading at $1.19/share and the company's phase II clinical trials (PEDigree and Nexus) were being conducted. A bit of bad luck came on January 27, when Lpath had to suspend the trials due to non-FDA compliant manufacturing standards by Lpath's contractor Formatech. Lpath held a press conference and stated that continuation of the clinical trials would be expected in 4-6 months. We are quickly approaching the end of the expected freeze on the iSONEP clinical trials, and we expect investors to forget about the whole incident and bring the company back to its January levels.
Rumors about Pfizer's potential acquisition of the company have been circulating for quite some time too. The pharmaceutical giant has been slowly reducing R&D spending over subsequent quarters, adopting a more acquisition-focused business model to replace huge gaps from patent expirations (like Lipitor/atorvastatin). If the phase II trials (PEDigree and Nexus) provide more data to support iSONEP's safety profile, the likelihood of an acquisition seem much higher as the drug moves on to phase III trials.
Lpath is an ideal acquisition target for Pfizer for a variety of reasons. Flush with cash, Pfizer is in need of aggressive candidates for its drug portfolio. Lpath is also heavily undervalued given the size of the AMD drug market, and the potential penetration rates that iSONEP could have. The VEGF inhibitor Lucentis yielded just under $3B in revenue in 2010 for Novartis, so why would Pfizer pass up the opportunity to buy a company valued at ~$65M that could generate many times that amount a few years down the line? It would only take a modest penetration rate for iSONEP to make the purchase worthwhile (iSONEP would only need to match one tenth of Lucentis' revenue to make $270M). This isn't factoring in demographics either, which will significantly expand the AMD market in coming years.
Lpath trading anywhere under $1/share with existing prospects offers an incredible value play for patient stockholders, especially if Pfizer pulls the trigger on the acquisition. Sure, we may not know the premium that Pfizer might pay, but no matter how you slice it Lpath should be an enormously profitable investment if iSONEP continues its success in clinical trials. iSONEP alone offers enormous potential in milestone payments and royalties. Then there are other drugs like ASONEP which provided exciting results for cancer treatment in phase I studies.
Disclosure: I have no positions in any stocks mentioned, and no plans to initiate any positions within the next 72 hours.