You are probably thinking: "I don't want to hear about NutriSystem (NASDAQ:NTRI); I lost money the last two quarters they announced!"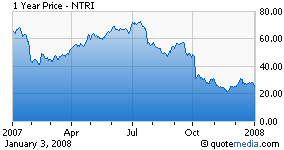 However, here are the reasons I can't wait until NTRI announces 4th quarter preliminary results and next quarter guidance. They will be reporting Q4 results during the week of February 11th and I am expecting them to give preliminary guidance sometime after January 28th.
I have noticed over the past couple of weeks some heavy option trades for the January contract. I assume they are volatility plays or someone trying to accumulate shares because they are straddle trades at the 30 strike. I personally am looking at the NTRI FEB 25 & 30 calls... maybe the 35s for a nice lotto ticket!
The last time NTRI gave guidance, on October 3rd 2007, the stock dropped 35%. They mentioned slower growth, increased competition from Alli (the weight loss drug) and higher marketing costs as catalysts behind the drop.
During this time, short interest has increased to 60% of the float. (That was not a typo; go here and see for yourself.)
They just announced they are expanding into Canada. It isn't the same as if they said they are expanding into China, however I do believe this is a good step in the direction of global expansion.
The company said in their last report that men made up 28% of new customers. Ask Weight Watchers International (NYSE:WTW) how many of their customers are men? Also WTW trades at 17.5 times earnings while NTRI is at 8 times.
There has been some fund buying as well; WS Management picked up 3 million shares on October 4th, the day it collapsed. Citigroup picked up 1.8 million shares on November 9th.
We are in the News Year's resolution season and the phones will be ringing off the hook at NTRI with people looking to sign up for the new advantage program.
NTRI has a market cap of $875 million and their revenue for the last 12 months was $773 million. That means they are trading at 1.13 times revenue! Remember, in Q3 revenue increased 21% even though earnings only went up a penny. They have a net profit margin of 12%.
In October, the board of directors authorized an additional $100 million share repurchase. Their Q3 press release states:
"Although we may pursue acquisitions in adjacent health and wellness categories in the future, with a strong cash position and through the recently announced $200 million credit facility, we believe the best way to return value to our shareholders is through repurchasing our shares at this time," concluded Mr. Hagan.
Disclosure: I am currently Long NTRI calls.