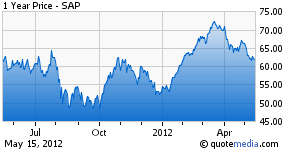 Since announcing in December it would pay $3.4 billion for SuccessFactors a SaaS company involved in human resources (they call them cloud vendors now), SAP (NYSE:SAP) has taken its shareholders on a fairly wild ride.
Optimism about SAP's coming cloud strategy helped the company rise from the low-50s to the low-70s, but questions over performance and execution have since sent it down to the low 60s.
At its annual Sapphire Conference in Florida this week, SAP tried to put those fears to rest. It laid out a full suite of enterprise software based in the cloud, and sold as services - Enterprise Resource Planning (ERP), Human Capital Management (HCM), Customer Relationship Management ((NYSE:CRM)) - all aimed at having its customers through SAP clouds.
It's a tough transition, since SAP has always been considered a direct Oracle competitor, a provider of enterprise systems with licenses sold per-server. Now it not only has to deliver cloud-based solutions but offer cloud-based pricing as well. The company promised that 5,000 people are now working on that, but anyone who studies software knows that the more programmers you have on a job the harder it is to coordinate them and the slower the work can actually go.
The SAP cloud program, called NetWeaver, will be based on VMWare's Cloud Foundry, and will aim for integration with other cloud vendors like IBM. Since cloud doesn't assure mobile, the company said it will be working with CapGemini to develop co-marketed solutions in that area. Until then it will continue offering mobile device management through Amazon's cloud.
The biggest problem analysts see is how it will put so many development eggs in the cloud basket while retaining its revenue streams in ERP, a system it hasn't upgraded since 2009. Will SAP customers wait for the SAP cloud, and follow the SAP strategy into mobile, or will they look elsewhere, like to IBM (NYSE:IBM)?
The real story, however, should be its divergence from Oracle (NASDAQ:ORCL), with which it's usually compared since both began as enterprise-class database vendors. While Oracle bought Sun Microsystems and went into hardware, SAP has stayed strictly in software, and may well be ahead of its rival in delivering customers the cloud, social and mobile solutions they seem to crave. Going back a year, Oracle has lost nearly one-fourth of its market value while SAP has held fairly steady.
Holding things steady, overall, during a major transition is a bit like a sports team that manages to bring up rookies to replace aging stars and remains a contender. Optimists may see SAP as the San Antonio Spurs of software.
Disclosure: I am long IBM.