On May 2, The Dow Chemical Company (NYSE:DOW) and Solazyme (SZYM) signed a contingent commercial offtake agreement in which Dow will buy all of its non-vegetable microbe-based oils for use in dieletric fluids from Solazyme. The agreement is largely seen as a win for Solazyme as the renewable oils innovator further validates its unique technology platform. Dow's purchase order of Solazyme's oils is expected to exceed 8.5 million gallons starting as early as the second half of 2013.
Yet for Dow, the agreement also gives the company a competitive advantage in what has become a $2 - $3 billion market with limited room for innovation. Dielectric fluids are used to insulate transformers that are run for electrical power transmission. The industry is predominantly comprised of petroleum-derived mineral oils, and makes very limited use of renewable vegetable-based oils. While vegetable-based oils provide the advantage of an increased fire safety profile, petroleum mineral oils are cheaper and more stable than their counterparts. However, toxicity remains an issue for the mineral oils whereby the vegetable-based oils are inherently renewable and far less toxic.
Click to enlarge.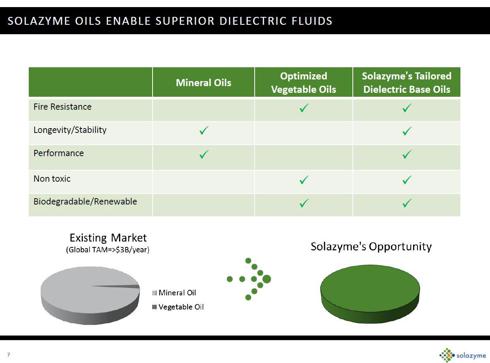 Though far more appealing to the market as a biodegradable product that outperforms when it comes to fire resistance, vegetable oils have had a much more difficult time in penetrating the market. At the end of the day, cost is the key idea surrounding every business decision. Because of a lack of high oxidative stability, vegetable oils can jeopardize the integrity of the transformer itself and require additional replacement at much more frequent intervals. This can be problematic for an industry in which such fluids are expected to last as long as 30 years.
Herein lies the advantage of Solazyme's unique oils, which are able to provide the best of both worlds and outperform existing market capabilities. Addressing the company's shareholders in the latest conference call, Solazyme's CEO states the following:
Solazyme's algal oils provide a unique opportunity to develop and produce the next generation of safe renewable dielectric insulating fluids that meet all of the key criteria of the market. For example our high stability oleic oils when used in this application offer increased fire safety thanks to a significantly higher flash point as compared to mineral oils. Solazyme's renewable tailored oils provide additional functionality that may improve the operating efficiency, extend the useful life of the transformer, and reduce the total system cost of the transformer.... We believe our oils outperform mineral and vegetable oils on every metric. We see an opportunity to change the status quo by using our renewable oil platform, and believe Dow clearly sees this opportunity too.

-Jonathan Wolfson, Solazyme CEO
We see therefore, that as Dow enters into a strong relationship with Solazyme, the company taps into the value-enhanced product capabilities that are able to propel it beyond the technology of existing industry standards. Companies like DuPont (NYSE:DD), Monsanto (NYSE:MON), Syngenta (NYSE:SYT), and even Dow itself remain as some of the largest providers of specialty plant oils. Yet as these companies operate within the confined space of oil-bearing seeds, they face limitations bound by the plant's own capabilities. Solazyme's use of genetically modified algae allows for the company to work around such limitations.
As a result, Dow's partnership with Solazyme gives it a head over the competition. Not only will it be able to compete against mineral oils, but the company will be able to design dielectric fluids that surpass the best efforts of its rivals found in Monsanto or DuPont. Either of these companies would be more than willing to vigorously compete were their products able to surpass the advantage bar set high by existing mineral oils. In the end, by partnering with the one company that is able to provide a high-value product line capable of surpassing the expectations set by mineral oils, Dow is on course to becoming the leading company to set the bar in this evolution of the dielectric fluids market.
Disclosure: I am long SZYM.