Many investors like to invest in equity ETFs with high dividend yields to get income while spreading risk across a number of stocks. We recently screened our list of over 500 ETFs to find the ones with the highest yields. Below we highlight our results.
As shown, REM, DFE, TTH, PGF and KRE have the highest 12-month dividend yields of the ETFs we track. Most of the stocks on the list are US equity ETFs, however, there are a number of high-yielding international equity ETFs as well. DFE, EEW, CVY, DNH, EPP, EWI and EWA all track non-US equity indices.
Investors also like to get their fixed income exposure through ETFs. These fixed income ETFs make their payouts through dividends just like stocks. As shown, LQD, an investment grade corporate bond tracking ETF, has a 12-month yield of 5.39%. LQD is followed by HYG, CFT and AGG.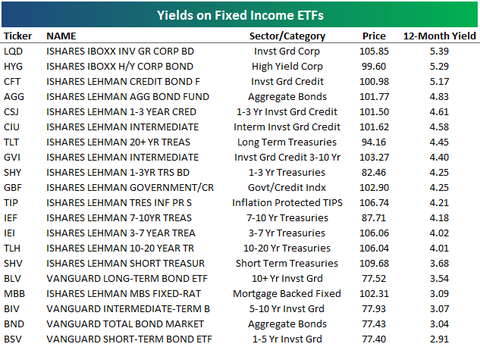 We also screened our list of ETFs for ones with the lowest P/E ratios. The P/E ratio of the ETF is the average P/E ratio of the ETF's holdings. As shown, most ETFs on the list track Financials. WisdomTree has a Low P/E ETF (NYSEARCA:EZY), but it ranks 7th on our list. Powershares has a Deep Value ETF (PVM) that has a P/E ratio of 10.70.