Rackspace (NYSE:RAX) disappointed investors last week by missing EPS on in-line revenue. With the stock trading at ~60x earnings heading into the quarter, investors were looking for an acceleration in revenue growth and an EPS beat. Whoops.
We have long been a fan of the company and the business, proudly calling the company Best-of-Breed. While we still believe this to be the case, we wanted to dissect the quarter with a cold-hearted approach to make sure were weren't being blinded by our own enthusiasm. So here's our analysis:
REVENUE GROWTH WAS O.K. AND SUGGESTS MODEST MARKET SHARE GAINS: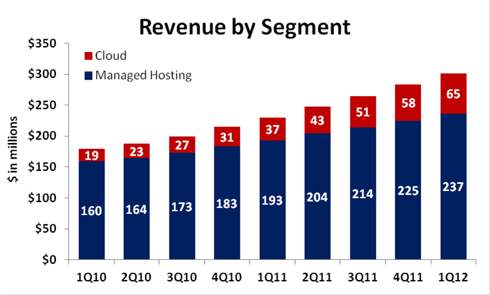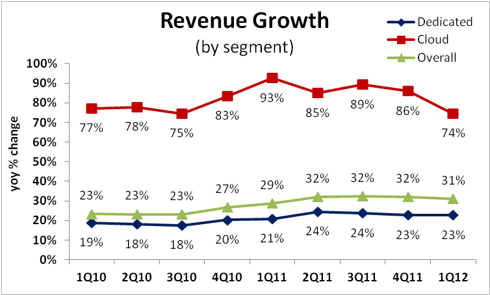 By our analysis, the Managed Hosting / Cloud industry is growing around 25% year-over-year. So Rackspace's 31% growth implies modest market share gains. (Note: Our market growth assumption is based upon comments from Amazon (NASDAQ:AMZN), CentryLink (NYSE:CTL), Equinix (NASDAQ:EQIX), and others). We had expected a slight uptick in growth to +32%, so we were slightly disappointed. But we can't complain too much about 31% revenue growth in a soft global economy!
SLOWING GROWTH IN INSTALLED BASE IS THE BIGGEST WORRY
We believe that the slowdown in installed base caused the most heartburn for investors. Q4 was such a strong quarter and management was so bullish on that call, it's a bit concerning that there was such a sharp deceleration in just 3 months. The company called out a few Enterprise customers spinning down servers as expected, but we don't recall any mention of this previously. One saving grace: churn remains very low.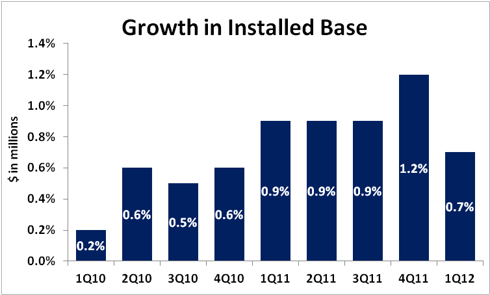 Here is a more detailed look into the Installed Base Growth: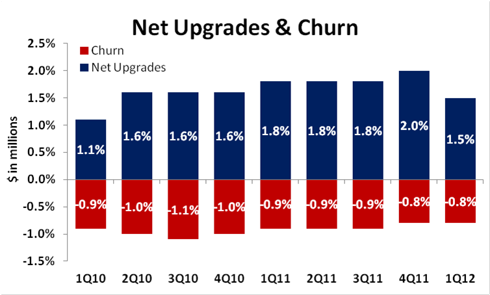 KEY METRICS WERE GENERALLY SOLID:
Before we dig individually into the key metrics, let's take a bird's-eye-view. All metrics posted very solid yoy growth, but of course the market was expecting even more. However, we think it's important to step back and applaud good business performance.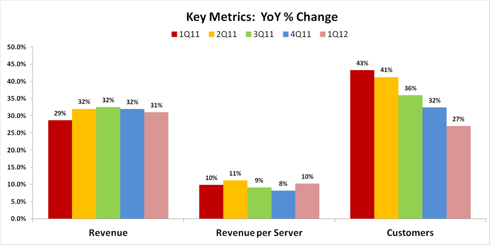 CUSTOMER GROWTH WAS "BLAH" RELATIVE TO EXPECTATIONS:
While customer count exceeded 180k, the sequential growth rate was only +4.8% and a noticeable slowdown from previous quarters. Management hinted that the upcoming transition to OpenStack for its cloud product is preventing RAX from winning large deals from Amazon's AWS service, and may be causing some customers to wait until the cloud is production ready.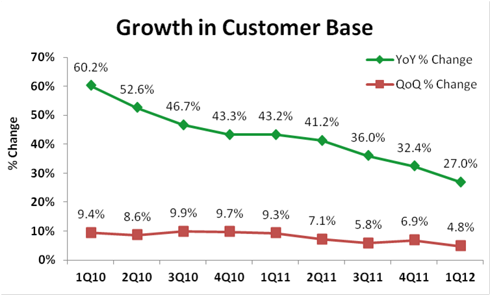 REVENUE PER SERVER CONTINUES TO TICK HIGHER:
As RAX is able to take advantage of virtualization, they will be able to drive more revenue per server. This will have the favorable effect of improving the company's ROIC as the capital intensity of the business declines. For the quarter, revenue per server was +10% yoy and +3.9% sequentially.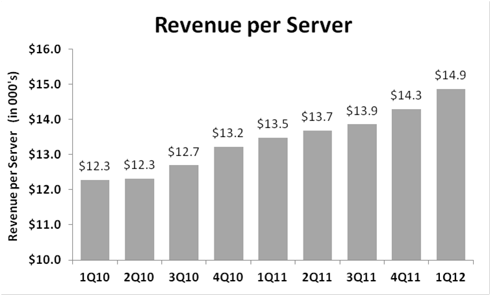 MARGINS REMAINED BROADLY IN-LINE WITH PAST TRENDS:
The market expected a better margin profile, but let's remember that the business is still showing good leverage as the business scales. Versus the previous year, gross, EBITDA, and net margin all improved.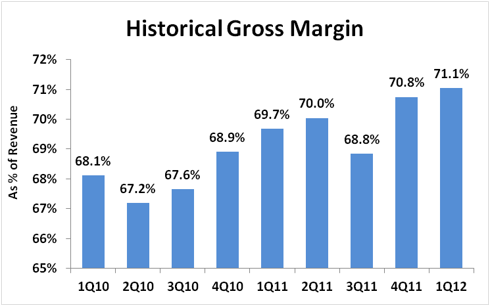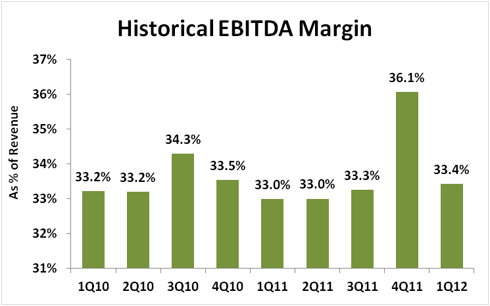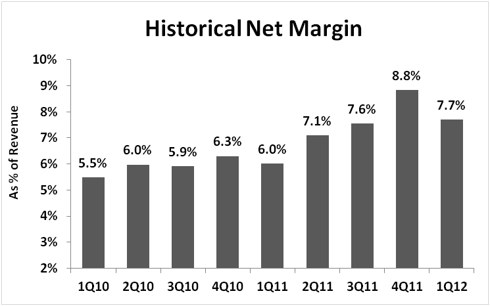 The next chart encapsulates the fact that Rackspace's business model is benefiting from economies of scale as it grows. We expect this to continue until RAX approaches a 35%+ EBITDA margin profile.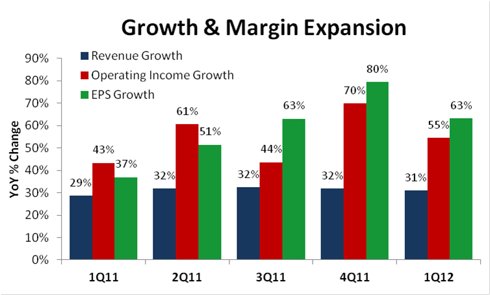 OUR BIGGEST CONCERN IS CASH FLOW -- WHERE IS IT?
We believe that Rackspace is smartly investing for the future, much like Amazon . Management realizes that cloud computing is a huge trend, and they want to be a major player. This requires heavy investment. Hence, we give the company a "pass" for poor cash flow for now as we expect the business model to generate a lot of cash at maturity. For example, the business model is "sticky" (as evidenced by only 0.8% churn) and will require much less capex when growth slows.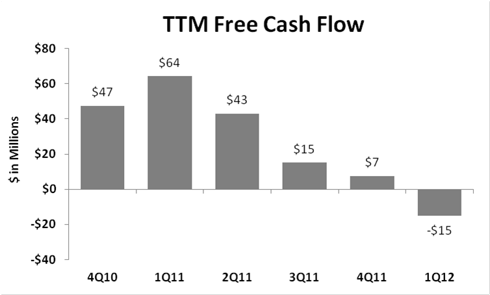 RETURN ON INVESTED CAPITAL IS MOVING HIGHER:
We'll end on a positive note: ROIC is improving nicely, even in the face of such heavy investments. The graph below looks at ROIC on a trailing twelve month basis. If the company continues to drive revenue per server higher, margins and ROIC will follow.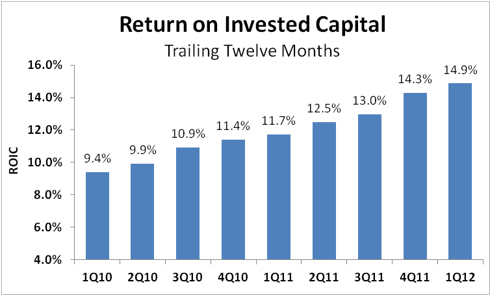 This is our cold-blooded analysis. Overall, our enthusiasm for the business and stock remains high. We are bullish in the managed hosting / cloud cycle, and think Rackspace's intense focus on superior customer service will be a winning strategy. However, the product transition to the OpenStack cloud likely limits the upside over the next quarter as investors wait for signs of revenue growth acceleration.