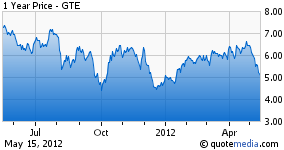 With the oil price dropping over recent weeks due to weakening demand caused by a Chinese economic slowdown and the deepening European economic crisis, investors could be forgiven for believing now is not the time to invest in small cap oil companies operating in Latin America. This concern is further elevated by rising investment risk in the region as governments from Brazil, Argentina and Bolivia pursue increasingly protectionist and interventionist economic policies. Yet many smaller oil companies operating in Latin America have seen their price remain steady or rise, including Canadian oil small-cap Gran Tierra Energy (NYSEMKT:GTE), which has risen by 3% in value since the start of 2012. Gran Tierra presents as an interesting investment opportunity and this article will take a closer look to determine whether the risks associated with investing in a foreign small-cap oil company, operating in Latin America in the current economic environment will deliver value for investors.
Company Overview
Gran Tierra is an independent energy company involved in the exploration, development, and production of oil and gas in Colombia, Argentina, Peru and Brazil. The company has grown rapidly since commencing operations in 2005 and now has proven net reserves of around 34 million barrels of oil equivalent and 18 billion cubic feet of gas. The company relies upon its Colombian operations for the majority of its production and revenue. Gran Tierra's first quarter 2012 results were not particularly impressive when compared to its fourth quarter 2011 results. The company reported a 4% fall in revenue to $155.2 million and a 101% drop in net income to -$300,000 and the company's balance sheet also weakened substantially with cash and equivalents dropping by 35% to $230 million. But more importantly the company's debt position remained unchanged, with no long-term debt.
For the first quarter 2012 Gran Tierra saw operating expenses fall by 3% from the fourth quarter 2011 to $24.5 million, which equals a cost per barrel of oil equivalent of $16.07. Total cost of goods sold (COGS) also fell during the same period by 3% to $24.5 million. However, the average cost per barrel produced rose by 28% in the first quarter 2012 from the equivalent quarter in 2011 primarily due to incorporating the OTA pipeline transport costs in operating costs. Overall, Gran Tierra has a history of maintaining a tight control on costs and this evidenced by a history of COGS increasing in line with operational expansion. This bodes well for the continued control of costs by Gran Tierra through 2012.
Exploration Program
Gran Tierra has a strong exploration program in place with 44 exploration blocks totaling 7 million net acres of land in Colombia, Argentina and Brazil. The company is also waiting for regulatory approval for a further two blocks in Brazil and one in Colombia. The company has planned for 2012 the drilling of a total of nine exploration wells in blocks that through initial geological surveys have been determined to have a high presence of hydrocarbons, with four wells planned in Colombia, one in Peru, two in Brazil and two in Argentina.
Within Colombia two of those exploration wells are being drilled in the Llanos basin in Casanare and the other two wells in the Putumayo basin in Putumayo. The company has also already seen a strong start to this exploration program with new oil reserves being discovered at its Ramiriqui-1 well in the Llanos basin. This new discovery has also successfully completed a 2,525 BOEPD production test. The company has also commenced construction of the La Vega Este-1 oil exploration well in Colombia's Putumayo basin and it is expected to commence drilling in the first half of 2012. The outlook for this exploration is extremely positive because it is targeting the same cretaceous sandstone intervals present in other fields in the Putumayo basin. Gran Tierra has also commenced a frontier exploration program in the Cauca basin in the south-western Andean region in Colombia. The geology is believed to be analogous to the southern Putumayo basin in which Gran Tierra already has proven reserves of 16 million barrels, which initially bodes well for the discovery of further oil reserves.
Gran Tierra is continuing its Peruvian 'Elephant Hunt', which means it is exploring for a billion barrel oil find. There has also been some positive news for the company's Peruvian operations with Gran Tierra's assignment for an additional exploration block in the Marañon basin, being approved by presidential decree. The company also has plans to commence drilling an exploration well in the Ucayalli basin in 2013 with testing showing significant hydrocarbon presence.
In Brazil Gran Tierra has two exploration wells located in the Reconcavo basin situated in close proximity to existing reserves of 3.5 million barrels oil in that location. The company has also embarked in partnership with Petrobras and Statoil on an offshore deep water program in the Almada-Camamu Basin, with drilling expected to commence in 2013.
Gran Tierra, despite recent concerns about overt government intervention in the Argentine oil industry, has continued with its exploration program in Argentina's Rinconada basin, with planning put in place for the drilling of two exploration wells in 2012, as well as the exploration of gas opportunities in the Valle Morado gas field and Santa Victoria shale gas resource.
Production Program
Currently, Gran Tierra derives 86% of its current oil production from Colombia, 13.5% from Argentina and 0.5% from Brazil. The company has set a 2012 oil production target of 20,000 to 21,000 BOEPD. However, for the first quarter 2012 it failed to achieve this target falling short by 25% with total average daily production of 16,742 BOEPD, which was also 4% lower than its further quarter production in 2011. The company has, however, been able to increase production in April 2012 in order to achieve target and lift oil production by 23% to produce on average 20,700 BOEPD. But it remains to be seen whether the company can maintain this level of production throughout the remained of 2012.
Production was substantially below target because for 26 days during that quarter, there were operational limitations placed on the Trans-Andean pipeline's ("OTA pipeline") throughput. The pipeline is operated by the Colombian government controlled Ecopetrol (NYSE:EC) and provides oil producers operating in southern Colombia with the ability to ship their oil to the Pacific port of Tumaco. These restrictions forced Gran Tierra to significantly reduce production, with a portion of the reduced production shipped through trucking and another portion stored, all of which also creates additional costs for the company. Since the pipeline problems have been rectified Gran Tierra has proven that it is capable of meeting its production targets with April 2012 production hitting 20,700 BOEPD.
In Argentina the company is focused on reversing declining production across its wells in the Noroeste and Neuquen Basin's, which between them are pumping 2,856 BOEPD. The company's Brazilian operation is currently only contributing 138 BOEPD at this time.
Gran Tierra's program of increased production depends heavily on the production of its Colombian wells in the Putumayo basin. This in turn is heavily dependent upon access to and the functionality of the OTA pipeline to transport the oil. It is also apparent at this time, that neither the Brazilian nor Argentine operations have the ability to significantly increase production. All of which creates a key dependency for the company on its oil production in the Putumayo basin, which as I will demonstrate later in this article are facing significant operational risks relating to security and infrastructure.
Key Statistics
Despite the company's disappointing first quarter 2012 financial results, it still has respectable performance and valuation ratios. But as the table below highlights, the Colombian government controlled Ecopetrol has stronger measures.
| | | | | | |
| --- | --- | --- | --- | --- | --- |
| Company | PEG | Earnings Yield | Profit Margin | ROE | Debt to Equity Ratio |
| Gran Tierra | 1.02 | 7% | 18% | 10% | 0 |
| Pacific Rubiales Energy(OTC:PEGFF) | 1.3 | 7% | 16% | 22% | 0.79 |
| Petrominerales (OTCPK:PMGLF) | -1.7 | 22% | 39% | 56% | 1.13 |
| Ecopetrol (EC) | 0.81 | 7% | 24% | 38% | 0.16 |
| Petrobras (NYSE:PBR) | 1.85 | 14% | 14% | 10% | 0.47 |
| Chevron (NYSE:CVX) | 0.24 | 13% | 11% | 23% | 0.07 |
Based on its PEG and earnings yield Gran Tierra appears to be fairly priced with a PEG ratio of 1 and an earnings yield of 7%. Its profit margin is at the top of the range in comparison to its competitors, though less than Ecopetrol's and Petrominerales. However, the company's return on equity of 10% is somewhat disappointing and at the bottom of the range in comparison to its competitors. This indicates that management is not deriving a sound return from the business and this doesn't bode well for future profitability or maximizing shareholder value.
One aspect of Gran Tierra that I quite like is its debt free balance sheet. A company's debt to equity ratio is a good basic indicator of the investment risk associated with investing in the company and this is particularly the case for small-caps. In Gran Tierra's case it indicates that the company is funding its operations through equity rather than debt, giving management increased operational flexibility. It is also particularly advantageous in Gran Tierra's case because small-caps are more exposed to downturns in the market or other adverse economic or geo-political news that may trigger a drop in revenues and profitability. This arises because they don't have the more substantial financial resources or the same ability of larger companies to tap debt in order to weather a prolonged economic downturn.
Gran Tierra also doesn't appear to be as cheaply valued as its competitors when its forward 2012 valuation is considered. With a consensus 2012 EPS of $0.55 and current trading price of $5.50 the company has a forward PE of 10. However, this does make it cheaper than Ecopetrol which has a 2012 forward PE of 12, but more expensive than Chevron, which with a consensus 2012 EPS of $13.38 and trading price of $103, has a forward PE of 8. Gran Tierra is also slated by analysts to experience a 40% growth in its earnings per share for 2012, which is higher than the industry average of 13% as well as Ecopetrol's 25%, Chevron's 1.3% and Petrobras' -5%.
Risk Environment
Prior to investing it is essential to gain a firm understanding of the environment in which a company is operating, including the risk events that it may experience as well as the likelihood and impact of these risks. All of these factors will dictate the degree of investment risk associated with investing in a particular company and for Gran Tierra, as I will explain I believe there is significant investment risk.
A key risk for Gran Tierra is the outlook for oil and whether the price will continue to fall due to reduced demand triggered by the combined effects of a Chinese economic slowdown, a deepening European economic crisis and a slower than expected U.S economic recovery. Recent data shows that the Chinese economies GDP growth rate for the first quarter 2012 dropped to 8.1%. Furthermore, for the same period Chinese industrial output slowed to 9.3%, which is the slowest rate since 2009. We are also seeing oil demand from Europe drop as the economic and political crises in Greece and Spain deepen. Europe alone accounts for 18% of global oil demand, so further austerity measures leading to increased economic contraction is likely to trigger a further fall in demand. Finally, there are concerns that the U.S is likely to see another recession in 2012 based upon analysis conducted by the Economics Cycle Research Institute.
However, it is also expected that despite decreasing demand supply-side constraints will support the price for oil, particularly Dated Brent Crude. These supply-side constraints are being primarily triggered by ongoing tension between Iran, Israel and the U.S as well other non-OPEC supply disruptions in the Sudan, Yemen and Syria.
The price of Dated Brent Crude has fallen by 12% since March 2012 to be currently trading at around $110 per barrel, yet the current price for oil has risen since the end of 2011, as the table below illustrates.
Dated Brent Crude Price
| | | |
| --- | --- | --- |
| Month | Price | Change |
| Oct 2011 | 109.47 | - |
| Nov 2011 | 110.50 | 0.94% |
| Dec 2011 | 107.97 | -2.29% |
| Jan 2012 | 110.99 | 2.80% |
| Feb 2012 | 119.70 | 7.85% |
| Mar 2012 | 124.93 | 4.37% |
| Apr 2012 | 120.59 | -3.47% |
| May 2012 | $110.53* | -8.38% |
*As at 14 May 2012
However, U.S Energy Information Administration (EIUA) has forecast the average cost of crude oil in 2012 to be $110 per barrel. None the less, this forecast average price is 4.4% greater than the average realized oil price that Gran Tierra received in the first quarter 2012 of $105.36 per barrel, which in itself was a 12% increase from the average realized price per barrel in 2011. The EIUA also expects the price of West Texas Intermediate ('WTI') crude oil to average about $104 per barrel in 2012, which is a 1.1% increase on the average price received by Gran Tierra for WTI of $102.89 per barrel.
Despite recent falls in the oil price and barometers of oil demand indicating that the price may fall further, the current oil price and overall outlook is not a significant risk for Gran Tierra. If prices fall to the level predicted by the EIS the company will still be receiving a higher price per barrel than it did for the first quarter 2012.
Another key risk for Gran Tierra is its reliance on its Colombian wells in the Putumayo basin to generate the majority of its production. The overall transport infrastructure in Colombia is poor and in this region even more so, making it difficult to utilize road transport. To travel by road between Colombia's two largest cities Medellin and Bogota, which are only 245kms apart takes 11 hours. To travel the same distance in Putumayo or Cauca by road would in good weather take considerably more time and in poor weather many of those roads are impassable.
This makes Gran Tierra singularly dependent on moving oil by pipeline. Colombia has six major oil pipelines, with only one, Ecopetrol's Trans Andean pipeline connecting the Putumayo basin oilfields to the Colombian coast at the Pacific port of Tumaco. This pipeline runs through the heart of country in which the main two of Colombia's insurgent groups operate, which are the Fuerzas Armadas Revolucionarias de Colombia (FARC) and the Ejército de Liberación Nacional ('ELN').
Both of these groups have stepped up their attacks on oil pipelines in Colombia with the FARC alone attributed with 84 attacks on oil pipelines in 2011. There have also been incidents of attacks by guerrillas on well heads and the kidnapping of oil workers in Colombia's south eastern departments. Both the FARC and ELN have a strong presence in the department of Cauca where Gran Tierra has commenced exploration in then Cauca basin. The FARC and other armed groups; predominantly neo-paramilitary groups also have a strong presence in the lower Magdalena basin and the Llanos basin where Gran Tierra has significant exploration efforts.
These armed groups have also been motivated to attack oil pipelines, well heads and personnel because of Colombian government changes in the collection and allocation of royalty payments from oil. In the past royalties were paid to the local governments in the areas where the oil fields are located. However, in an attempt to decrease corruption and increase accountability royalties are paid to the central government, which circulates them to local governments according to a stricter criterion. This has removed the incentive for armed groups and in particular the FARC to target local mayors and government officials for kidnapping and extortion. It has seen them move to attacking oil infrastructure such as pipelines and well heads as a means of extorting money from oil companies.
This is of particular concern in the case of Gran Tierra because they have a key dependency on the OTA pipeline and any operational outage of this pipeline will act as a significant constraint on production. This would have a significant effect on revenues and profitability as we have already seen with the OTA pipeline outages in first quarter 2012 causing Gran Tierra's production to be 23% lower than its production target.
There has also been increased operational risk in Peru as the Shining Path insurgents recently abducted 36 gas workers near natural gas fields in the Apurimac-Ene valley in the southern region of Cusco. The political risk in Argentina and Brazil for oil companies, as we see increased economic protectionism in both countries. However, I do not believe this poses a significant risk for Gran Tierra at this time, primarily because it is predominantly reliant upon production from its operations in Colombia.
Final Outlook
It is clear that Gran Tierra has a strong exploration program in place and as a result of this well managed and targeted program they have successfully grown their oil reserves to a commercial and profitable level. Furthermore, the current exploration program, particularly in Colombia, has exceptional prospects for discovering new oil reserves. When this is considered in conjunction with the higher oil price it bodes well for Gran Tierra's future profitability. It would also normally indicate that the company at its current price, which is only a 24% premium on its book value, represents a solid value investment opportunity.
However, despite this I have significant concerns regarding the company's ability to maintain production at a profitable level. I believe that the company has developed a key dependency on production in Colombia's Putumayo basin and the ability to maintain this production is subject to significant material risks. There has already been a significant curtailment of production in 2012 because of operational issues with the OTA pipeline. As the company's first quarter financial results have shown this had a significant impact on its profitability.
This pipeline is the only means of transporting oil produced by Gran Tierra to a coastal port for sale and shipment, because of the poor transport infrastructure in southern Colombia. When this is considered in conjunction with the increasing likelihood of pipeline outages due to bombings and sabotage by armed groups within Colombia, it is highly likely that the company will have to curtail future production. In addition, any further reductions in production will have a significant financial impact on the company, particularly as it experiences rising costs from ramping up both production and exploration. This makes it increasingly likely that the company's profitability will be affected and increase the risk of a 2012 net loss.
The company's valuation measures also indicate that at its current price and forecast earnings it is at best, fairly valued by the market. Therefore, I believe that until the company is able to effectively mitigate these production risks, primarily through geographically diversifying a significantly larger portion of its production, the company is unable to deliver consistent and substantial value for investors. All of which indicates that the market will not recognize the company's true potential.
Disclosure: I am long EC.