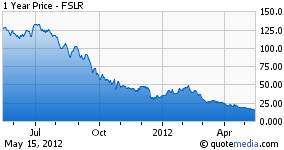 First Solar (NASDAQ:FSLR) is off to a very rocky start this year. Having just been awarded a "Very Aggressive" Accounting Risk rating by GMI Ratings, First Solar's risk profile has been populating red flags since at least 2008. However, with government assistance in the form of legislation and funding, it is the only solar stock with estimated gains this year. What to make of this cloudy picture?
Since 2007, First Solar's sales have grown 53%, even with an anemic economic climate. In 2011, sales reached $2.77 billion. In addition, there are many places around the world, especially in Africa and the Middle East, where solar power is much cheaper than fossil fuel derivatives, making grid parity feasible in many places. Given this good news, it is strange that the company has not yet yielded higher profits or increased stock prices, even if many of the areas where solar power grid parity is possible are located in economically depressed and third world regions. Often due to the company's lack of communication and poor marketing, potential investors are not made to see the opportunity inherent in investing in solar power.
That being said, higher profits and market prices will be awarded to the solar companies that can create the most efficient modules. For First Solar, the bad news begins with its inability to create and use efficient technology and innovation in its products. Many of First Solar's competitors, such as SunPower (NASDAQ:SPWR) and Chinese-run companies Suntech Solar (NYSE:STP) and Trina Solar (NYSE:TSL) operate much more efficient modules. Sunpower operated at $0.50 per watt while First Solar operated around $0.73 per watt in the fourth quarter of 2011. Even though $0.73 per watt is a 3% reduction from 2010, it is still much less efficient than many of the modules offered by competitors. In addition, Suntech and Trina often sell cheaper modules because they are manufactured in China.
Given the lack of cheap, efficient and American-made solar modules, the United States government is doing its part to create a market in which American-made modules sell more quickly. Given the economic climate, many consumers look at the price efficiency ratio without taking into account where or how a module is made, which has deeply depressed sales for American companies such as First Solar. In March the government announced that it would be imposing duties ranging from 2.9 to 4.73% on Chinese solar products, increasing the price of Chinese made solar products. The duties take effect in May.
In the fourth quarter of 2011, First Solar reported a yearly loss from a charge of $500 million. Although S&P estimates that shares will earn $3.93 in 2012 and indicates an earnings yield of 19% per share at its current price of approximately $21, the solar industry as a whole expects to lose money this year. In addition, First Solar is mired in various difficulties that could make these estimates overly positive.
In the fourth quarter 2011 accounts receivable grew by 174% while inventory increased by 164%, indicating that First Solar is having increasing difficulty moving products. While the new duties on Chinese goods may help First Solar sell products more quickly, the situation as it currently stands illustrates the company's inability to do so, which could result in trouble extending credit. This was initially a concern for First Solar's Antelope Project, especially when the Department of Energy announced that it might cancel funding support of the project in February, but the DOE has now committed to funding the project- only after a 10% fall in First Solar stock following the announcement that the funds might be cancelled. The funding is certainly a small ray of sunlight in an otherwise cloudy picture.
A lawsuit alleging that company directors issued false and misleading information was filed in March. Specifically, the lawsuit, filed on behalf of one investor, Mark Smilovits, accuses CEO Mark Ahearn and former CEO Rob Gillette of underreporting the cost of solar panel replacements by covering up flaws in the manufacturing process. While First Solar claims that the suit is specious and says that it will seek to defend itself to its upmost capacity, it is worth noting that in its latest earnings release First Solar claimed a $254 million loss on panel replacement costs along with performance losses for panels working under high temperatures. Not only is the company mired down in a legal mess, it was recently given a "C" grade for ESG issues and GMI estimates a 37% chance of a class action suit against the company. Legal fees and possible fines and other financial ramifications could severely damage the company's profitability and ability to pay margins to investors.
While alternative energy is a sector that has yet to crack open (and when it does, investors will see a huge payoff), this is not the year to invest more. Even with the estimated gains for First Solar, I think that there are too many negative factors that have yet to pan out to make these estimates trustworthy. In addition, First Solar, not even one of the most efficient solar companies out there, has yet to diversify. If anything, my money will go to companies that have their fingers in many pots, such as Solazyme (SZYM), which has diversified its operations to include food and beautify products as well as algal biofuels. This diversification in portfolio will certainly give investors a better payoff in the long run. If I were forced to invest in a purely solar power-focused company this year, I would probably still choose a Chinese company, even with the upcoming duties. First of all, Chinese companies can circumvent the duties if they begin to manufacture units outside of China. Second, Chinese manufacturers have much cleaner, debt-free balance sheets and more efficient units.
First Solar is mired in a variety of difficulties. Keep your eye on First Solar, but don't make any moves yet. I would sit back and wait for a ray of sun to break through first.
Disclosure: I have no positions in any stocks mentioned, and no plans to initiate any positions within the next 72 hours.