By Bill Vlahos
Communicate.com (CMNN.OB) is a completely undiscovered e-commerce company whose assets are conservatively worth 50% more than the current market cap (and might be worth much more over the next 2-3 years). Given the size of the opportunities on the company's plate, the talented new management team which has a proven track record for execution in the space, and the value of its assets we feel that it is currently the best risk/reward idea we own.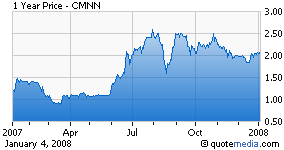 Communicate.com is under the conventional Wall Street radar screen, as the company is in Canada (even worse, it's in Vancouver!) and currently trades on the U.S. OTC exchange and Canadian bulletin board. As management is starting to execute we believe now is the optimal time to own the stock, before it is discovered, as it won't be a secret much longer. The company has applied for an AMEX listing with intentions of ultimately moving to the NASDAQ. They have hired an IR firm to begin to tell their story starting in January. We believe they are also on the radar screen of some analysts who specialize in the space. Also, the company has an unannounced name change which will better describe it and hopefully resonate well with the investment community.
The market for valuable domain properties continues to be very strong, as seen by recent transactions.
Business.com - $350mm (acquired 2007)
Ancestry.com - $300mm (majority interest acquired 2007)
Howstuffworks.com - $250mm (acquired 2007)
Dictionary.com - $100mm (acquired 2007)
In sum, Communicate.com is an Internet retailer which owns over 1100 domain sites. We believe that about 30 of them are valuable; although with the recent strength of the domain resale market we are starting to believe some of the smaller domains may have some economic value as well. The crown jewels are Perfume.com, Cricket.com and a collection of six international sites (including Brazil.com and Vietnam.com). We believe that these three unique verticals could represent a $150mm revenue opportunity for the company over the next 3 years.
We view the portfolio assets of CMNN as follows:

The only site that is currently being operated is Perfume.com. The old management didn't put too much effort into the site, as there was no banner advertising, affiliate programs or even email to existing customers to spur renewed sales. However, the site still managed to generate $10mm in revs last year. With some blocking and tackling it should be relatively easy to improve revenues and gross margins. The company hasn't said much about the other sites–some will simply be licensed (perhaps Boxing.com) and some of the non-core ones will be sold.
In small caps management is always key. The new CEO, Geoff Hampson, is very impressive (the previous CEO and founder decided to step aside and hire the most qualified person to build out the company to its full capacity). Immediately upon being hired Hampson bought $1mm of stock at a slight discount to the market.
Geoff Hampson built Peer 1 Network Enterprises, an Internet infrastructure company from almost nothing to a $150mm market cap company. He has already assembled a strong management team including Jonathan Ehrlich who is the company President and Chief Operating Officer. Ehrlich was most recently Executive Vice President at Indigo Books and Music. He was widely credited with being one of the main drivers in Indigo becoming the largest Canadian seller of books and music online. All of the executives participated in the recent equity transaction buying stock at $2 with no warrants-all interests are aligned.
Communicate.com represents a unique opportunity to own a completely undiscovered growth company at a substantial discount to its assets. A multi-bagger from here is possible if management executes well — if they don't they should be able to liquidate the company for 50% more than the current market cap.
Bill Vlahos is the portfolio manager at Odyssey Value Partners in San Francisco, which is long CMNN.OB