Shares of AspenBio Pharma (APPY) are poised to ascend new heights during 2008 largely on the promise of the Company's innovative blood screening test for appendicitis called AppyScore. In late October, AspenBio reached a high share price in the mid-teens after making a successful transition from bulletin board trading to the Nasdaq in late August. Recent trading around the $8 level provides an excellent entry point within the 52-week range of $2.78 to $15.16 per share for anyone new to the stock or those waiting for a new support level after pullback from the highs. AppyScore is a diagnostic screening test that detects blood markers that indicate both the presence and the severity (AppyGrade classifies results as normal through Grade 4) of appendicitis in patients who present with acute, severe abdominal pain of unknown origin. The Company is now in the process of pursuing 510(k) regulatory clearance from the FDA, which is expected in late 2008. Key benefits of AppyScore include its low cost ($200 versus $1,500 to $3,000 for a CT scan), very low risk of false positive/negative results (99% combined specificity and 98% sensitivity), fast results (45 minutes versus a few hours for CT scans), and a proven ability to decrease both the number of unnecessary surgeries and CT scans.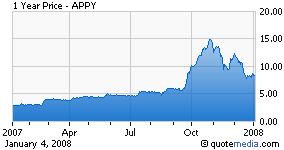 The Company is also developing AppyScreen as a rapid screening test for appendicitis to be used by primary care physicians to help determine if further testing (e.g. AppyScore) and follow-up in an urgent care setting is required. AspenBio has modeled for AppyScore to achieve market share of 20% to 40% among 6 million patients presenting to the ER each year with abdominal pain, which equates to 1.2 to 2.4 million tests sold or $240 to $480 million in revenues. The Company estimates initial revenue from AppyScore/Screen in the US alone of $100 to $200 million, compared to a current market cap of just $230 million.
In late September, the Company reported successful results for AppyScore in a pre-FDA, multi-hospital study designed to assess the sensitivity/specificity of the test and determine optimal testing/sampling methodologies in preparation for upcoming studies to achieve regulatory clearance from the FDA. High sensitivity of 98% was reported for AppyScore, which correctly diagnosed 95 out of 97 pathology-confirmed cases of appendicitis, greatly reducing the possibility for "false negatives" whereby a patient that actually has appendicitis is not detected by the test. Specificity for AppyScore on a stand-alone basis in this study was only 40%, but when combined with a follow-up CT scan for positive results the combined specificity increased to 99%. The 99% combined specificity means there is a very low (1%) chance for "false positive" results whereby a patient is mistakenly diagnosed and unnecessarily treated for appendicitis. Remaining steps for 510(k) regulatory clearance of AppyScore include clinical testing of its final FDA-validated version in a multi-hospital 500-patient study, non-clinical lab-based performance/reproducibility testing, and final submission of its 510(k) data package. The clinical study is estimated to take about five to six months to complete, supporting a complete 510(k) application in mid to late 2008 for a 90-day review by the FDA. AspenBio has guided for regulatory clearance of AppyScore by the FDA before the end of this year.
The Company also has an animal health segment, which faces fewer competitors and requires less investment of time and money in order to receive FDA approval, as compared to the market for their human counterparts. The worldwide market for animal health (including drugs and diagnostics) is expected to grow to just under $20 billion in 2008, representing 26% growth from just under $15 billion in 2003. The top three companies with over $1 billion dollars in annual sales in the animal health segment include Merial ($2 billion), Pfizer (NYSE:PFE) ($1.9 billion), and Intervet ($1.4 billion). AspenBio's unique, recombinant technology for the production of hormones offers a variety of advantages over traditional, animal-derived hormones, including increased stability, no risk of disease transmission, a lower manufacturing cost, and a long duration of patent protection. The Company estimates initial sales potential in the US alone of $20 to $80 million for StayBred, which is given to cows to maintain pregnancy (and milk production) following artificial insemination in the market for dairy cattle. Other animal products in development include BoviPure FSH to enhance fertility and SurBred (a bovine early pregnancy test), with estimated initial sales potential (within two years of launch) of $6 to $16 million and $8 to $10 million, respectively. SurBred is still in the process of field testing and has been licensed to the UK-based animal health company Merial. Licensing deals are anticipated during 2008 for both StayBred and BoviPure, which were filed with the FDA for approval during Q107 and Q307, respectively.
Near the end of last year, AspenBio received net proceeds of $17.1 million from a private placement of 2.5 million shares of common stock with Oppenheimer serving as the placement agent in the deal. Proceeds from this PIPE transaction are expected to support the FDA approval process for the Company's appendicitis screening test as well as other R&D initiatives and to provide additional working capital. At the end of 3Q07, AspenBio reported cash/equivalents of $10.3 million, working capital of $9.2 million, 28 million shares common stock outstanding, and a trailing 12-month loss of $5 million. The successful private placement at a discount of only $1/share to current prices eases concerns over liquidity and allows the Company to fully invest in R&D activities while simultaneously pursuing 510(k) regulatory clearance for AppyScore. AspenBio is poised for a breakout year in 2008, with expected FDA approval for AppyScore, in addition to the likelihood of multiple licensing deals for both human and animal health products expected to take the share price to new heights.
Speculative small-cap investors in the healthcare sector should consider current trading levels around $8/share as a good entry point with potential for a two-bagger over the next year if the Company can ascend to new trading heights based on expected positive news flow during that time frame.
Disclosure: none