The market has been frenetic lately, which has made everyone a bit squeamish. Longs have been eager to find a suitable enough rally to unwind into ahead of the summer seasonal swoon and shorts, who are sitting on profits since the peak in April, are walking the fear and greed tightrope.
With Facebook's (NASDAQ:FB) IPO - the biggest profile IPO since Google (NASDAQ:GOOG) - this week, I took a look at the SPX (NYSEARCA:SPY) action before and after the two most highly hyped and facebook-y like IPO's of the past year: Linkedin (NYSE:LNKD) and Groupon (NASDAQ:GRPN).
In both cases, investors raised cash ahead of the IPO.
Ahead of Linkedin, which went public on May 19, 2011, the SPX fell 2% between May 10th and May 17th. The market rebounded the day prior to the IPO, rising 0.88%.
(Click to enlarge)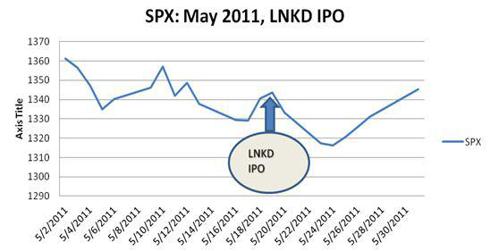 Ahead of Groupon's IPO on November 4th, 2011, the SPX fell 5.2% from October 27th to the low on November 2nd. The day before the IPO, the market jumped 1.88%.
(Click to enlarge)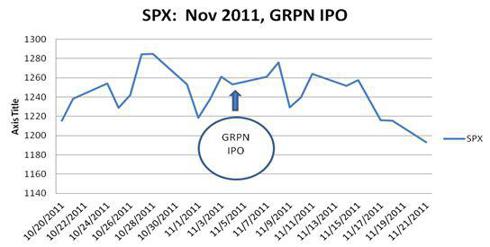 The two instances remind us it's common to see markets fall ahead of high profile IPO's - regardless of the time of year.
Unfortunately, other than suggesting strong markets the day before over-subscribed IPOs, the two provide little market insight for post IPO direction. At a minimum, shorts shouldn't be surprised of Mr. Market puts on a rally - even if it is short term.
Disclosure: I am long LNKD.