Listening to CNBC and looking at your screens, one might surmise that the world is coming to an end. Specifically, for you Intel Corp. (Nasdaq: INTC) owners out there, it appears as if PC demand in the back half of December has collapsed, inventories are burgeoning, the economy is falling into recession, and no one will ever buy another PC again. From our perspective this couldn't be further from the truth! We see strong sell-through of processors through distribution; we see little to no price concessions in Q4 of last year, and we enter Q1 with relatively low inventories for both Advanced Micro Devices Inc. (NYSE: AMD) and INTC. More importantly, we can say the same not only for processors but also for disk drives and flat panels as well.
By way of background for those of you not familiar with my firm, Avian Securities, Avian is an independent brokerage research boutique serving institutional investors, which earns a living monitoring pricing and inventory levels of technology components in an effort to analyze the direction of technology stocks. Our primary area of expertise is in and around the PC sector including disk drives, flat panels, memory chips, and processors. Allow me to share with you some of our thoughts and our data.
Typical seasonal weakness in the tech sector begins in late December and lasts through Q1. For flat panel displays, this weakness has yet to materialize. We have seen unusually stable pricing in both the IT (notebooks & monitors) and TV segments attributing the strength to stronger than anticipated notebook demand. Some monitors were still on allocation in the last week of December.
Disk drive pricing and availability has been tight all through Q4 as evidenced by Western Digital Corp.'s (NYSE: WDC) positive pre-announcement in early December. Our work shows desktop drive inventories in distribution exiting the New Year at the lowest levels since 2003 with some notebook manufacturers still struggling to meet customer requirements at the end of December and early OEM projections for notebook drive demand to come in flat to higher for the New Year. Strong pricing also helps Q1 as year-end pricing is part of the formula used to calculate Q1 initial contract levels and as drive manufacturers can continue to sell into the channel to rebuild inventory to more normal levels.
Processor inventories are also very lean in distribution for both AMD and INTC. In Q4, we saw a large amount of product flow through the channel for INTC, a sign of good overall demand and their success winning back lost AMD market share. AMD product flow was lower at the end of '07, having lost the war against INTC, but at least AMD exited the year with no inventory overhang – again a good sign for overall demand. Even DRAM, where pricing has been in a tailspin for the last 5 months, showed strong unit demand versus last year. Contacts at both dealers and manufacturers relayed healthy trends albeit in the face of unprecedented supply.
We are not the only ones talking so positively on the PC vertical. If you recall, Hewlett-Packard Co. (NYSE: HPQ) made very bullish comments in December when talking to analysts as did Seagate Technology (NYSE: STX). We expect STX to reiterate these comments on Monday at their CES analyst event. So where is the bad news?
Over the past few weeks several negative data points emerged from European electronics retailer DSG, Acer (4th largest PC OEM), and some Taiwanese ODM's - data that has spooked the markets as everyone shoots first for fear of being the last one left on the burning bus. DSG is a European retailer that pre-announced and blamed its shortfall on weak holiday notebook sales. Acer (possibly related to DSG) also noted weaker European Q4 sales in December. Both of these negative data points can probably be explained by accelerating market share gains for megastores and internet sales at the expense of an underperforming European retail channel similar to what we saw happen to Circuit City Stores Inc. (NYSE: CC) in late 2006. Although we believe it's an isolated stock specific event, the Street exclaims "where there is smoke there is fire!"
The weaker ODM numbers, we admit, are more concerning. Although we are not elated by this data point, we are surprised by its negative impact. The ODM's had a much better then expected November, so a weaker December should be less alarming if you average out the two months. Compal is loosing some market share to Winstron Corporation, again reducing the alarm level. Also this news isn't all that new with both Goldman and Citibank cutting Compal's December numbers approximately 20% M/M almost a month ago.
PC Component stocks have been under relentless pressure for several weeks. Including Friday's move, much of our coverage list in this space now appears to have an implied 30%+ haircut to '08 EPS baked into valuations. For instance, WDC and STX are trading at approximately 8x and 7x our CY'08 estimates respectively. This compares to more typical valuations in the 10x to 12x range.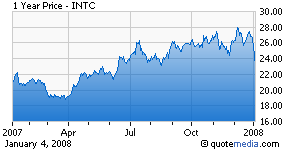 The argument for owning INTC at these levels is even more compelling. INTC is trading at levels commensurate with those of a year ago when PC sales had fallen to the bottom of a multi-year cycle at below 10% Y/Y growth, AMD appeared to have trumped INTC with its Barcelona product, and INTC margins were on the wane towards a sub 40% level. Today INTC is gaining back the market share lost to AMD over the last two years. We believe this gain will only accelerate as AMD's financial woes and uncertain future becomes more evident. INTC arguably will be able to extract better terms and pricing from OEMs, which should improve margins, earnings, and even offers the potential for multiple improvement. Apple Inc. (Nasdaq: AAPL) and Mac sales were very strong in Q4 and although this still makes up a fraction of INTC sales, every little bit helps.
INTC has slowed down its 45nm push (simply no need to push so hard with AMD dead in the water) which will benefit Gross Margins especially as product lifecycles times are expanded (similar to what we saw 4 years ago). Inventories in the channel are very low exiting '07. Oh yeah, and Q4 sales were very good. Given this backdrop, I would argue that INTC should be valued at a healthy premium to where it was early last year.
I admit buying INTC now might take 6 to 9 months to pay off as investors will probably look through the good Q4 numbers we expect INTC, WDC, and STX to report. But we are convinced that all the bad news is already priced into INTC and any surprise will be on the upside not downside. Besides, I can't recall when investors have lost money buying into a new monopoly or in this case a newly reborn monopoly. Take a look at INTC on the long side.
Disclosure: none