Biostar Pharmaceuticals (NASDAQ:BSPM) is a China based, vertically integrated developer, manufacturer and marketer of pharmaceutical and health supplement products for a variety of diseases and conditions.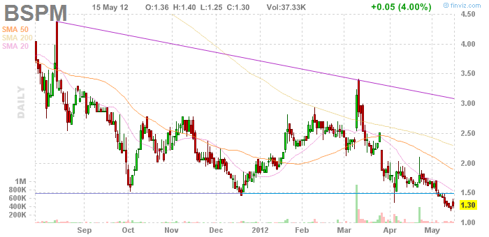 I see at least 5 reasons to buy the stock currently
1. The stock is currently trading below its net cash
Biostar has net cash of $21 million as of March 31st 2012. The company has 9.4 million shares outstanding. That creates total cash of $2.23 per share.
2. The company is highly profitable
For full year 2011 the company had income of 1.32 per share. The company has not provided revenue guidance for 2012 yet but is expected to do so at second quarter earnings report. For the first quarter 2012 the company reported earnings of $0.23 per share.
3. The company won a major supplier contract
The company announced on April 23rd, 2012 that its Shaanxi Weinan subsidiary, acquired in October 2011, won a bid and has been selected as the exclusive supplier of Huangyangning Tablets, a prescription drug used for the treatment of cardiovascular disease, to all hospitals based in the provinces of Liaoning, Hebei and Shandong for up to three years. Biostar will supply Huangyangning Tablets to these hospitals based on patient needs in each hospital.
Ronghua Wang, Biostar's Chairman of the Board and Chief Executive Officer noted, "Bidding on and winning this contract are very important milestones for Biostar. After the acquisition of Shaanxi Weinan, we expanded our product portfolio with seven prescription drugs, bringing our total number of prescription drugs to nine. Following the completion of the acquisition, we focused marketing efforts for prescription drugs on expanding sales to hospitals which entails contract bidding. Of note, historically we have sold our products to local pharmacies and pharmaceutical distributors, but with this win we have penetrated the hospital prescription drug market. This win will provide us with guaranteed sales for Huangyangning Tablets, a drug used to treat cardiovascular symptoms such as chest pain and arrhythmia embolism. The product is widely used by cardiovascular patients all over China."

Mr. Wang added, "The cardiovascular disease drug market in China has been increasing by 18% annually, reaching over RMB 135 billion in 2011, and is the largest segment of pharmaceutical market in China. According to research conducted by the Chinese Center for Disease Control and Prevention, patients with cardiovascular disease have one of the highest mortality rates. Recent studies show that one person suffers a stroke or myocardial infarction every 12 seconds; deaths from cardiovascular diseases account for approximately 40% of total deaths in China."

Mr. Wang concluded, "We have submitted bids and plan to submit more to sell Huangyangning Tablets in other provinces and we plan to do the same for our other prescription drugs. These types of hospital contracts will provide Biostar with a good foundation for continued growth in sales and profits for the years to come. Our focus has always been to increase shareholder value and we are pleased that the acquisition of Shaanxi Weinan in late 2011 is proving to be a good investment for Biostar."
4. New major product coming this year
Biostar is introducing a new OTC product later this year which the company believes has the potential to become another flagship product, similar to Xin Aoxing which accounted for 65% of the sales during first quarter 2012. Based upon company's research, this product addresses a large underserved market and the company therefore expects it to become a growth catalyst for Biostar.
5. Cash balance has been verified
Biostar's cash balance at year-end 2011 held in financial institutions in China has been verified by its independent registered public accounting firm. This independent verification was completed in March of 2012, prior to the issuance of 2011 full year results and was done by members of the auditing firm visiting each of the institutions and physically observed bank employees printing or otherwise preparing or completing documentation which substantiated the cash balance for the accounts. Because of the internal controls the company has in place, such costly independent on-site verification, as part of the audit procedures, will only be done once a year.
Conclusion
I believe the company is well positioned for future growth with the new product coming to market later this year. I would be looking to accumulate this stock under its cash balance of $2.23 per share.
Disclosure: I am long BSPM.