It comes as no surprise that Spain (NYSEARCA:EWP) and Italy (NYSEARCA:EWI) are potential candidates for bottom feeding investors, and to some degree France (NYSEARCA:EWQ) is in a similar position. Using a reversion-to-the-mean analysis, India (NYSEARCA:EPI), Austria (NYSEARCA:EWO) and Finland (BATS:EFNL) are also candidates for further analysis.
The "Delta Factor" is a probability projection model used to identify which investments have the possibility of outperforming the broad international market as represented by iShares international ETF, EFA. The model uses historical data as well as future projections for growth. That difference, Delta, is compared with a reference standard, EFA in this case, to come up with a probability projection of what might happen over the next six to 12 months.
In the following analysis, three years of historical data was used to come up with the "Delta Factor" (DF) projections. Note that EFNL does not have three years of data, so one needs to temper enthusiasm for the Finland ETF, but not neglect it entirely. Within the DF model, the calculations are set to generate a Hold position except in extreme cases. Recent market volatility is creating a number of Buy and Sell signals.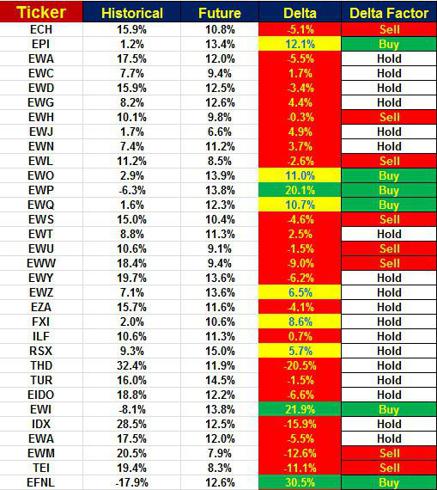 It is not unusual for the DF screen to provide early signals. Early indicators can be from one to several months early with either a buy or sell signal. For this reason, I use six other technical indicators as aids in knowing if the odds are in favor of a purchase, hold or sell. In the above link, these international ETFs of interest are not analyzed as investors need to do their own research. While EWP, EPI, EWO, EWQ, EWI and EFNL are of significant interest, considering the conditions of the international markets, it is likely early to make any critical decisions.
Disclosure: I have no positions in any stocks mentioned, and no plans to initiate any positions within the next 72 hours.