When you can't decide where to invest, think about a product line that everyone in the world buys, and you will think of Consumer Goods - Personal Products. One of the world wide leaders in this field has always been Colgate-Palmolive (NYSE:CL). Although you might think this is a US-focused company, 80% of its revenue is from overseas and 50% of that is from emerging markets. The stock has been on a steady rise over the last 6 months, as this chart provided by Barchart illustrates:
Click to enlarge.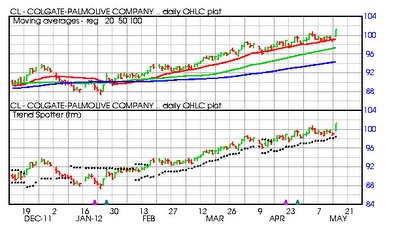 In the past 50 trading sessions the market as measured by the Value Line Index was down about 1% while CL is up 8.50%: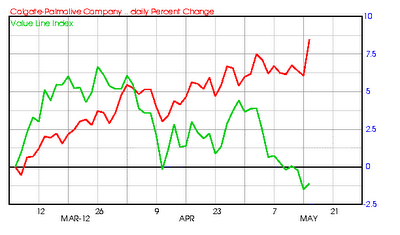 Colgate-Palmolive Company, together with its subsidiaries, manufactures and markets consumer products worldwide. It offers oral care products, including toothpaste, toothbrushes, and mouth rinses, as well as dental floss and pharmaceutical products for dentists and other oral health professionals; personal care products comprising liquid hand soaps, shower gels, bar soaps, deodorants, antiperspirants, shampoos, and conditioners; and home care products, such as laundry and dishwashing detergents, dishwashing liquids, household cleaners, oil soaps, and fabric conditioners.

The company provides its oral, personal, and home care products primarily under the Colgate Total, Colgate Sensitive Pro-Relief, Colgate Max Fresh, Colgate 360°, Colgate Plax, Palmolive, Protex, Softsoap, Sanex, Irish Spring, Speed Stick, Lady Speed Stick, Caprice, Ajax, Axion, Fabuloso, Murphy's, Suavitel, Soupline, Sorriso, Kolynos, elmex, Tom's of Maine, and Mennen brand names to wholesale and retail distributors.

It also offers pet nutrition products for dogs and cats. The company markets its pet foods through pet supply retailers and veterinarians for everyday nutritional needs under the Hill's Science Diet brand name; and a range of therapeutic products through veterinarians and pet supply retailers to manage disease conditions in dogs and cats under the Hill's Prescription Diet brand name. Colgate-Palmolive Company was founded in 1806 and is headquartered in New York City, New York. [Yahoo Finance profile]
Factors to consider:
Barchart technical indicators:
100% Barchart technical buy signal
Trend Spotter buy signal
Above its 20, 50 and 100 day moving average
10 new highs and up 4.30% in the last month
Relative Strength Index is 65.48%
Barchart computes a technical support level at 98.45
Recently traded at 101.42 with a 50 day moving average of 97.46
Fundamental factors:
This stock has always been popular with Wall Street where 16 brokerage firms have assigned 24 analysts to watch the numbers
Analysts predict the revenue will rise 3.80% this year and another 4.80% next year
Earnings are estimated to increase by 7.60% this year, an additional 9.80% next year and continue at an annual rate of 10.30% for at least 5 years out
These consensus numbers resulted in firms issuing 2 strong buy, 3 buy, 18 hold, 1 under perform and no sell recommendations to their clients
If the numbers hold analysts forecast a 15% - 17% total annual return over the next 5 years
How good are the numbers? The stock enjoys a 100 earning predictability rating and a 100 stock price stability rating so the numbers look solid to me
The P/E ratio of 19.43 is slightly higher than the market's P/E of 15.30
The dividend rate of 2.50% is about 45% of projected earnings and higher than the market dividend rate of 2.30%
The company has an A++ financial strength rating
Some trivia: The company has 44% market share of the world wide tooth paste market and a 32% world wide market share of the tooth brush market
General investor interest:
Very well thought of by the readers of Motley Fool where 1,326 readers follow the stock
Readers have voted 96% that the stock will beat the market
The more experienced All Stars also vote 98% for the same result
Although Barclays has an under perform rating other firms such as Deutsche Securities, Credit Suiss and Wells Fargo like this stock. George Soros has it in his portfolio too
The final vote is the market's and it votes Colgate a winner. Over the past year Colgate-Palmolive is up 17%, Kimberly Clark (NYSE:KMB) up 16% while Clorox (NYSE:CLX) is down 2% and Procter & Gamble (NYSE:PG) is down 5%: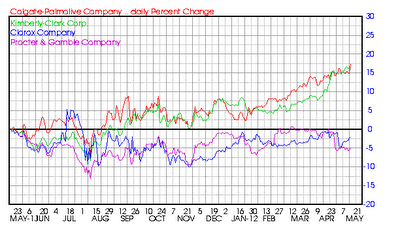 Summary: Colgate-Palmolive is a world class leader. This is an income and growth stock. The Board of Directors keeps raising the dividend and keeps buying back shares. What else do you need? I think this is an excellent stock to put in your IRA and reinvest the dividends through a Dividend Reinvestment Plan - DRIP. Just look imagine what the principle of dollar cost averaging will do with a stock that has a chart like this one: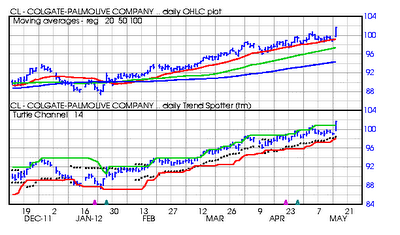 Disclosure: I have no positions in any stocks mentioned, and no plans to initiate any positions within the next 72 hours.