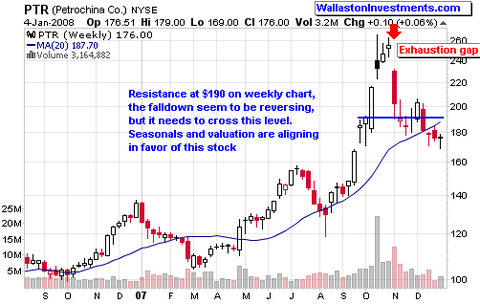 Following a 31% share price pullback from their peak in November, PetroChina (NYSE:PTR) now seems attractively valued. Goldman last week upgraded the firm to Buy from Neutral and believes the company will reach $217, implying 25% upside potential for its H shares (see below for the difference between Chinese H and A shares).
PetroChina was Warren Buffett's darling for the past few years. He sold his entire PetroChina stake for $3.5 bill on initial investment of $500 mill, and apparently sold not because of human-rights concerns in Sudan, but because the stock's price had gone up so much. Now, after the shares came down again, he might be thinking of going back in.
There are two potential positive catalysts for PetroChina's stock over the next 12 months:
Disclosure of the size of the Longgang gas discovery;
Potential overseas E&P asset injection from its parent CNPC;
Likely announcement of further product price hikes by NDRC within the next 6 months.
RISK: Downside risk for both PetroChina and Exxon Mobil (NYSE:XOM) is a major economic slowdown leading to a sharp drop in the price of oil. The stock has returned 62% annually for the past 5 years. You should definitely learn more about investing in China and the best book on the Chinese economy is Bull on China
, by ex-Soros legendary fund manager Jim Rodgers.
------------------------------------------------------------------------------------
The Difference between Chinese A and H shares
A shares: companies incorporated in mainland China and are traded in the mainland A-share markets. The prices of A shares are quoted in Renminbi, and currently only mainlanders and selected foreign institutional investors are allowed to trade A shares.
H shares: companies incorporated in mainland China and are listed on the Hong Kong Stock Exchange and other foreign stock exchanges.