Excerpt from full interview in Israel Opportunity Investor:
• • •
Hi, Yossi. Can you tell us about your company?

Yossi Ben Shalom, Chairman: Pointer Telocation (Nasdaq: PNTR) develops and supplies location based technologies and provides numerous value-added services to car dealers, auto manufacturers, insurance companies, and fleet managers, including road-side assistance, vehicle towing, stolen vehicle retrieval, and fleet management.
We accomplish this through 3 major sets of technologies:
Radio Frequency [RF] systems: These are technologies that communicate and locate an automobile. It's basic technology that was invented around WWII but we've developed it into a low-cost system, consisting of bay stations and network management tools. With all of our experience we have created a complete system, and it would be complicated and expensive for someone to come along and try to duplicate our system.

Cellular units: We've combined GPS and GPRS together in a box with embedded software. We've developed our technology with a high sensitivity to both power and air time consumption. We have more than 100,000 units that we've sold into the automotive aftermarket, making us a serious player. We have developed an expertise through our experience with different customers, different demands, and working across numerous countries.

Command and Control: We've invested heavily in developing a very sophisticated system used for fleet management and stolen vehicle recovery [SVR]. We can sell our products to car owners, insurance companies, dealers, auto manufacturers, and even to the authorities.
We feel that the market for our products is not yet mature, so we need to offer services to promote consumer uptake. Having our own technology allows us to win new markets for our services. Our main competitors, Lo-Jack (Nasdaq: LOJN) and Ituran (Nasdaq: ITRN), both have similar models.
What's the difference between Pointer and a company we are more familiar with, AAA?
YBS: First of all, AAA is a U.S.-based service and in 2007, we did no business in the U.S.
From what I know about AAA, there are 3 differences:
AAA only does road assistance. The word on the Street is that AAA is currently looking to bundle other services (including SVR) via partnering with third parties.
Pointer typically sells its services to insurance companies via a rider on top of insurance policies. The insurer is a key player in our sales model. AAA sells directly to customers as a service.
Our roadside assistance services are supplied by our own fleet of service vehicles, whereas AAA farms out this work to local garages. We believe insurance firms and the people they cover get better service in our model.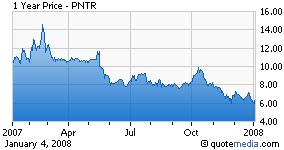 You just mentioned that you have no sales in the U.S. Why is that?
YBS: We're focused on Europe and Emerging Markets (U.K., Germany). The U.S. market is large and certainly tempting, but to do a good job in this market you need more resources. In 2008, we may rethink our U.S. strategy and decide to go at it alone, partner with another firm, or make an investment to penetrate the U.S. market.
There are a couple of trends taking hold in the U.S. We are definitely seeing more products sold for fleet management, SVR and a new insurance initiative, called "Pay as You Go."
What is "Pay as You Go?"
YBS: It's an aggressive project that would revolutionize the auto insurance industry, and would mean very good things for Pointer. Some people in the industry are talking about a discount or incentive program to build insurance policies on a multitude of parameters. Instead of just selling a policy based on the collective risk profile of the insured, "Pay as You Go" would calibrate premiums on a month-to-month basis based on specific data such as how, and who drove the car. Imagine a policy that didn't charge a family with a 16-year old driver when he didn't drive the car that month. Which roads did the insured drive on, who drove the car, when was the car was driven – all of this data can be supplied via Pointer equipment to an insurance firm. There are some small pilot tests currently going on which we are involved in. Right now, we're talking about a very small percentage of the overall market, but this could be a big driver for Pointer in the future because you need our technology for this.
Speaking of growth drivers, what do you think are growth drivers for the stock?
YBS: I took over the company five years ago. The company was worth about $5 million and was only focused on tech. We didn't give revenue projections for 2008 but we'll be around 10x what we were doing five years ago. This growth was both organic and through acquisition. We act as an operator in Israel, Argentina and Mexico. We'll probably see another one or two situations in 2008 where we enter a foreign market as an operator. We sell equipment in 20+ countries, with a focus on Latin America and Europe. We're very optimistic from a technology point of view.
We've had a great couple of years. Whether it's SVR, fleet management, or "Pay as You Go," we have 40 clients making repeat purchases and are looking to add new customers. Emerging market growth for us should continue to be strong, as international markets are nowhere near saturated. Our business in Israel is not growing as quickly. Where Israel is growing at 2%-8%, we're seeing international growth in the 25-30% range. Part of the reason we just announced an acquisition of Cellocator was that its business is 90% export (outside of Israel). For our equipment business, we see Mexico, Turkey, U.K., and Germany as our strongest markets. In our operating business, we've got Argentina and Mexico as our biggest markets.
Can you tell us about your recently-announced acquisition of Cellocator?
YBS: It's an equipment company that does GPRS/GPS devices for fleet management, SVR and Pay as You Go. We felt the company had almost zero overlap with Pointer technology. Aside for the complementary nature of their business, we bought the company for 4x its profit and the acquisition is good for us, as we won't pay income tax on it for something like 10 years. We're currently working on integrating the two companies. We're moving the companies to the same place and there will probably be some cost cutting savings that will be an additional benefit. Cellocator should help us grow the equipment side of our business and provide cross sell opportunities on the operating side. It won't be until next year that the integration will begin to show its full effect.
What are the risks for Pointer?
YBS: Mergers and Acquisitions are not always easy to do. I have a lot of experience in integrating purchases and have been successful in most of them but there have been mistakes.
Technology advancement: We've got good products in hot markets. If we didn't keep our technology up-to-date, the company's revenues could suffer.

Competition: We compete in a pretty competitive market, which means that there is price pressure. This price pressure may affect us in the long term.

Geopolitical stability: We do a lot of business in emerging markets. If countries like Argentina suffer from political or economic instability, our revenues can be affected.
What are you doing to bring more awareness to your company and stock?
YBS: It's clear that we aren't receiving analyst coverage, and we are responsible for that, as our efforts have been focused on growing the business: with acquisitions and organic growth. We felt that it was more important to approach the investment community with a strong growth business. Now that we are finishing up the integration, I will be free to devote much more time and energy to the institutional investment community.
Just to let you know, last week I purchased 150,000 more shares to put my money where my mouth is. I now own about 24% of the company.
Thank you.