Introduction:
The Retirement Portfolio For Do It Yourselfers began an investment vehicle for my three children. Back in January of 2006, we invested the proceeds of an inheritance into a stock portfolio, holding 10 different companies, in equal dollar amounts.
By the end of 2011, the portfolio had grown from $100k to $174k with dividends reinvested. However, the portfolio was no longer in "balance." Each of the 10 original positions had changed from being an equal part of the portfolio and turned into either a larger or smaller part, over time.
So, we decided to dig into the portfolio, bring it into balance, and at the same time, expand our holdings to 15 companies. We did that through a search process. Each of us ran screens and looked at analyst reports. We came together one weekend and listed the 30 stocks that the 4 of us had "discovered" and at the end of the day we decided to add 5 new companies to our list-in equal dollar amounts.
That meant that we would have to sell off some of our existing positions, and that is what we ended up doing. We wanted to get each position close to 10k and we would "park" the remaining money to take advantage of situations as they arose in the new year, 2012.
Let's Look At Our Starting Point:
On January 4th, 2012, we began to sell of our existing positions, in order to raise money for the purchase of our 5 new companies. On January 6th, 2012, we had completed the purchase of those five new companies and our portfolio was "in play."
Where We Stand At The End of the 1st Quarter:
Here is a look at the portfolio as of April 30th, 2012.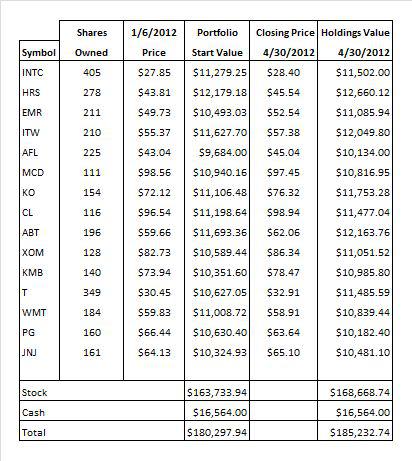 The portfolio grew from a value of $164k in January to $168k by the end of April, a gain of a little over 3%. We still retained our cash position as we did not purchase any additional shares of these companies.
Dividends Were Reinvested
Being a DG investor, we normally reinvest dividends. Some DG investors accumulate dividends as cash and then when they have a larger amount of money, they will reinvest. I tend to reinvest through my Schwab account by taking dividends as they are received and allowing Schwab to add additional shares to my holdings.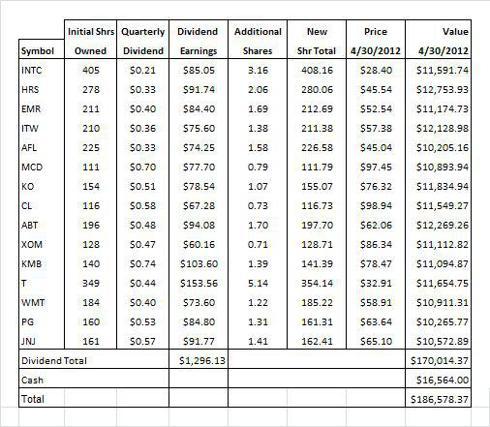 We received $1296.13 in dividends during the period and those were reinvested into additional shares of each company. The plan, for now, is to continue reinvesting the dividends and as we said in the last article, using the cash position to add additional shares of stock to the portfolio, when we see opportunities.
Moving Forward

Over the last two weeks, the stock market has been trending downward. Is this a harbinger of things to come? I don't know. Right now, I am content to sit things out. While the market ups and downs can be troubling, the reality is that we are in this for the long haul -- not for the short. Because of that, our primary focus is on owning good companies that have the ability to grow moving forward over the next 3, 5, 10, and 15 years.
As the children get older and start having regular income to add to the portfolio, they will do that. The portfolio is in a tax deferred account and as a result, we are not concerned about potential changes to the tax codes.
What I am particularly happy with, at this point, is the increasing dividend stream. Last year, the portfolio with 10 stocks threw off $4575 in dividends; this year we are projecting $5200, which will be a 13% increase in income. Not too bad.
Closing Thoughts
The market seems to be following a similar pattern to last year. Perhaps we are heading into the summer doldrums; perhaps not. What I do know is that we will look at pullbacks to add to our existing positions, particularly in McDonald's (NYSE:MCD), Intel (NASDAQ:INTC), Microsoft (NASDAQ:MSFT) and Aflac (NYSE:AFL), which we think offer some significant upside moving forward.
Our focus has shifted a bit. We were looking at earnings as a key decision point, and while earnings should never be overlooked, a more important key indicator moving forward is going to be revenue growth.
Why revenue growth? It has been my experience, working for Coca Cola (NYSE:KO), that the easy way to grow profits is to cut expenses. Getting "lean and mean" with headcount; eliminating unnecessary spending; and leveraging business partners is the course of action that many companies take.
However, most companies have done that already. There are few cuts to be made, in order to prop up earnings. Companies need to find ways to increase revenues, continue to operate lean, and have those revenue increases translate into earnings. If they can't do that, share prices will get soft.
Disclosure: I am long ABT, JNJ, CL, KMB, AFL, INTC, EMR, HRS, ITW, MCD, KO, XOM, T, WMT, PG.