The great thing about some dividend stocks is that you can buy them and not really have to worry at all about your future revenue streams. What's even better is that if you catch them at the right time, your yields could wind up being much higher than they ever should be, and this is an important point given the amount of volatility in the market right now.
As a brief example/case study: I bought PPG Industries (NYSE:PPG) in the fourth quarter of 2008 and at the time it was yielding roughly 4.9%. It had been trading around the mid-$60s which had the yield near 3.2%, but then the panic began and it dropped off a ledge. They say trying to call a bottom is like trying to catch a falling knife and I got it about 2/3'rds of the way down. Regardless, it was from there that PPG would triple over the next 3 years. Because of the price increase I declined to DRIP the dividends, which looking back probably was not the right play since I assumed that the stock would have to correct itself and therefore the basis of the DRIPs would be too high. That didn't really happen, but I am still gaining a 5.4% yield based on my basis and PPG's current payout.
My point is that there are certain stocks that you can put your full faith behind because of (1) their history in terms of both growth in revenue and dividend payout, (2) their size relative to their competitors, and (3) their brand equity. With these stocks the only remaining issues are when to buy and when to DRIP. I was very lucky with PPG as to this because I was very under-educated at the time as far as the stock market goes and was going off a Cramer recommendation, which I would do much more tentatively now. But there are still relatively easy ways to pick these stocks. Below I will use a graph to elucidate the above points, and following that is a list of 14 well-diversified stocks that can be considered for the long-haul because of their names and dividend histories.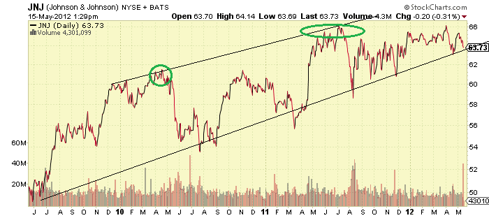 The graph above is a 3-year line chart of Johnson & Johnson (NYSE:JNJ) with a very loose trend channel drawn over it. It's safe to say that most people know of Johnson & Johnson and since it has shown that it can fight through wave after wave of media adversity, one can also assume that it will be around for the long-term. The graph shows that if you bought Johnson & Johnson sometime in the last 3 years you will have made money off it and that does not include the 3.8% dividend. But it also shows that it goes through many ups and downs. If a dividend is paid out during one of the ups rather than a down, then the DRIP will not look as profitable in the short term. This is represented by the green circles, both of which were followed by what I assume to be an earnings miss. In sum, Johnson & Johnson is a very sound company that will continue to grow earnings, but its price fluctuations have some cyclical attributes, so it is best to put off DRIPing until it is near the its support line. Below is a list of 14 stocks in a similar position that can be a great long-term investment. The first choice has a graph to show the difference from it to Johnson & Johnson.
Coca-Cola (NYSE:KO) - Coke is a top 5 brand in the world and it does not appear that Pepsi (NYSE:PEP) has what it takes to challenge them in the beverage game, especially if they are forced to divulge their recipe. Not much needs to be said about Coke. Their dividend is only 2.6% right now, but sitting on a purchase would be costly. Based on the chart below it would be best to just get in when you can to begin accruing the dividends, and based on its dividend growth it will not take long for your yields to rise. The graph is to show that the company does not take heavy swings the way Johnson & Johnson does, so DRIPing would be the best option.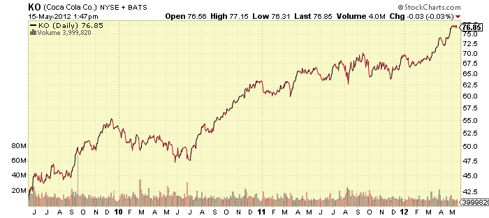 Abbott Labs (NYSE:ABT) - Abbott is one of the biggest names in medical devices, and they also do pharmaceuticals. If you're reading this then you probably know that they have a made an announcement to split into two separate stocks, and that is part of the reason why this pick is so tempting right now. Currently, Abbott is yielding 3.3% with a market cap closing in on $100 billion. Playing the split could result in some nice short term gains as well as a good basis to build future dividends on top of.
Exxon Mobil (NYSE:XOM) - Like Coke, this is not any sort of startling pick. If you are going to build a diversified portfolio there needs to be an energy stock in it, and why not go with the former largest stock in the world? Currently, Exxon is yielding 2.7% and trading at just over 6% off its 52-week high. A graph of Exxon would closer to that of Johnson & Johnson than Coke, and it would be prudent to load up the dividends and use them at the right time rather than DRIPing, so as to increase its utility.
Kimberly-Clark Corp (NYSE:KMB) - Conversely, a Kim Clark graph would look a lot more like Coke's because this stock has been on a tear recently. Even so, the stock is still yielding 3.7% at a P/E in line with competitors like Procter & Gamble (NYSE:PG) or Clorox (NYSE:CLX). In case you are unaware, Kimberly-Clark owns brands such as Kleenex, Scott, and Huggies/Pull-Ups, among others.
Wal-Mart (NYSE:WMT) - Wal-Mart has really jumped over the last 7 or 8 months. The old saying was that if you held Wal-Mart since the turn of the millennium you would have the same amount as when you started. Of course, this does not account for their dividend, which has been paying out for decades, and yielding 2.7%. For those interested, 2.7% compounded over 12 years would yield about 37%. Anyway, Wal-Mart is really putting an effort into cleaning up their stores and integrating more grocery items, which could lead to the closure of even more locally owned businesses and a bump to the bottom line.
McDonald's (NYSE:MCD) - Again, one of the tenets of this list was to look for the biggest brands and McDonald's certainly is just that. And with their recent pull-back it is a great time to purchase shares. Frankly, last December it looked like anything in the double digits would have been a good entry point, but now they can be had for only $91 and a yield of 3%.
DuPont (NYSE:DD) - DuPont is one of the safer plays in chemicals and they are trading at nearly 11% off their highs. Barring something drastic, it would appear that they have some support at this $50 level, so hopefully it will bounce upwards. If not, that 3.3% yield will just get larger.
Kellogg (NYSE:K) - Kellogg has some stiff competition with an equally impressive history, most notably General Mills (NYSE:GIS), but Kellogg's pays a slightly better dividend at 3.4%. Both brands will have to continue to innovate their offerings, especially healthy breakfast options, since I'm not sure that the younger generation really has time to eat cereal anymore. Either way, Kellogg is still recovering from what looks like a head and shoulders formation a year ago and some poor earnings reports, but both resulted in enticing entry points.
Intel (NASDAQ:INTC) - Like everything on this list, Intel isn't going anywhere and neither is their dividend. The problem is that they are up 35% since October so the yield has dropped down to 3%. Regardless, that is still one of the best in the technology sector, and Intel isn't really subject to fads since their chips are used in so many different brands; and their biggest competitor is barely treading water.
Pfizer (NYSE:PFE) - I have already discussed Johnson & Johnson and Abbott, but Pfizer is different since it is solely pharmaceuticals and not health care products. The 'baby boomers' remain the nation's largest demographic, and they are at the age where pills for various ailments are routine, among them Celebrex and Viagra. Even at Pfizer's recent highs it is still yielding 3.9%.
Verizon (NYSE:VZ) - Telecoms are important for any portfolio. People are more attached to their cell phones than anything else, and those Zooey Deschanel and Samuel L. Jackson Apple (NASDAQ:AAPL) commercials have been heard ad nauseam. So it's clear that spending on cell phones and their accompanying plans are significant and Verizon is the best name in the game, with a 4.9% dividend.
Waste Management (NYSE:WM) - Waste Management is in the middle of a mini drop-off in price and has been relatively stagnant over the last year, but it is the biggest name in its sector and has a yield of 4.2%. Over that time it grew its dividend yield by 6%, with growing revenue streams, so the price should catch up at some point.
Altria (NYSE:MO) - All of the cigarette stocks have dealt with a slight dip in the last few weeks, but that cannot detract from the past 9 months which has resulted in 24% gains for Altria. The recent sell-off makes sense considering the European sales, but what doesn't make sense is why that would affect Altria since Philip Morris (NYSE:PM) is its overseas equivalent. Hopefully, the market will chance on to that, but meanwhile it is yielding 5.2%.
Pepco Holdings (NYSE:POM) - I am finishing the list with an energy utility because, while they may not be as sexy as picks in other sectors, utilities play an important role in the functioning of our communities, and our portfolios. Originally I was going to go with Duke Energy (NYSE:DUK) here but Pepco has a higher yield at 5.7% and I didn't know what one calls the Carolinas area. The issue with utilities is that they do not necessarily grow their dividends the way that some may prefer, but at this yield it is good for current cash flows.
So there are 14 different stocks, with a few others immersed within, that cover essentially all of the important sectors for a diversified dividend portfolio. Banks and autos were specifically left off for particular reasons that there is not enough space to discuss. Anyway, I hope this provides some guidance for future dividend purchases as to what, when, and how much to buy.