The rundown from the eurozone is as follows: The bright star is German GDP (NYSEARCA:EWG) came in better than expected at .5% vs .1% expected. France (NYSEARCA:EWQ) reported a flat GDP report. Italian (NYSEARCA:EWI) GDP was -.8% and the Netherlands (NYSEARCA:EWN) -.2%. In Eastern Europe, Hungary, Czechoslovakia and Romania reported their economies in recession. Spain's bond prices continued to fall slightly and yields rose. All of this was reported as "better" news even as EWG fell sharply.
Meanwhile, back in the U.S. the CPI (if you give it any credibility) was reported as flat, Retail Sales (.1% vs .1% expected & prior .7%) was unremarkable, The Empire State Mfg Survey (17.09 vs 10 expected & 6.56 prior) beat and the Home Price Index (29 vs 26 expected & 25 prior) was positive. Retailers (NYSEARCA:XRT) will dominate the remainder of the week. Home Depot (NYSE:HD) reported earnings in-line with expectations and the stock was lower (you must beat) by 2%. J.C. Penney (NYSE:JCP) just posted a report after the close and they missed badly sending the stock lower in late trading by double digits.
The world awaits the Facebook IPO and the buzz is the shares are oversubscribed. At least that was the case until GM announced it was discontinuing its advertising there calling it "ineffective". That itself may cause an earthquake on the peninsula.
The dollar (NYSEARCA:UUP) continues to gain at the expense of the euro (NYSEARCA:FXE) as rumors continue to suggest a loss of a few members.
Did you know it was occasionally customary for Inuits in Alaska to leave their senior members, thinking them a burden, on an ice floe to die? This may be the way of some eurozone members or maybe even U.S. healthcare.
Markets everywhere are seriously oversold at least short-term and this may continue until we see a blow-off sell day. Current intraday buying is just so much wasted buying power. Bulls are waking out of their blasé slumber to come to grips with what so far is just a correction. But the hard reality seems that global economic news is killing them like a cancer. The best outcome for markets would be for some extended sideways action which in itself is frustrating.
Volume continued higher on more selling. Breadth per the WSJ was negative once again. One look at the end of this post at the McClellan Oscillator tells the tale of short-term oversold conditions.
Premium members to the ETF Digest receive added signals when markets become extended such as DeMark triggers to exit overbought/oversold conditions.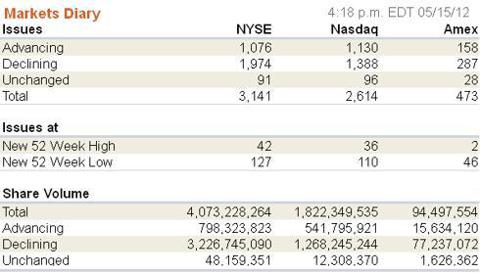 Click to enlarge
Join the banter with us on twitter and facebook.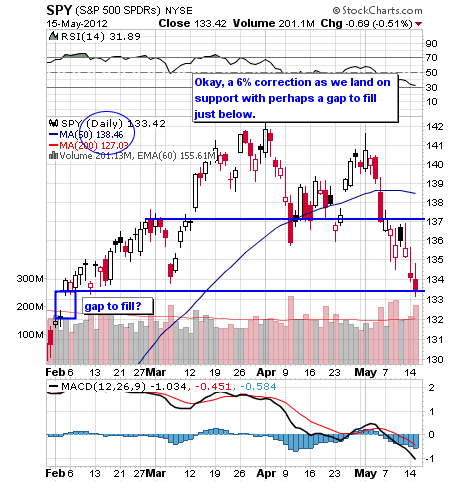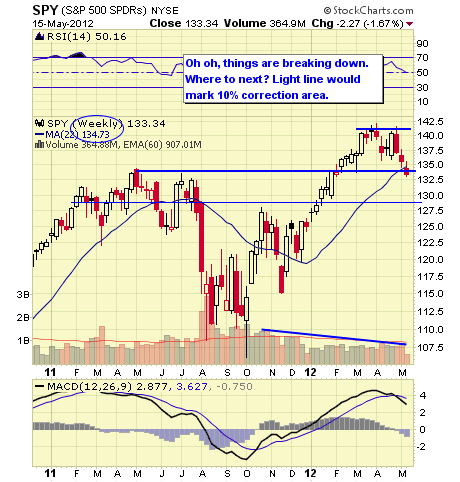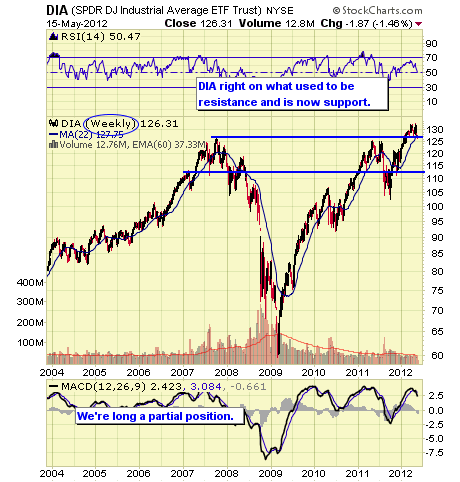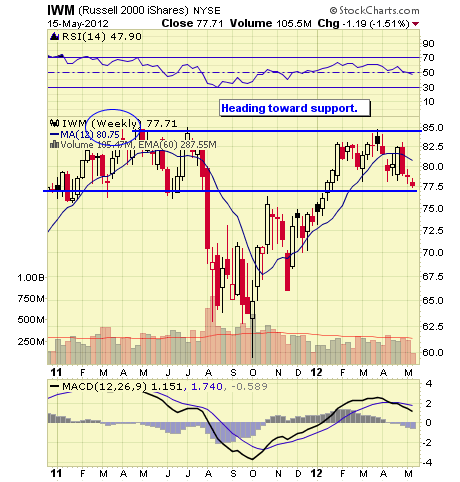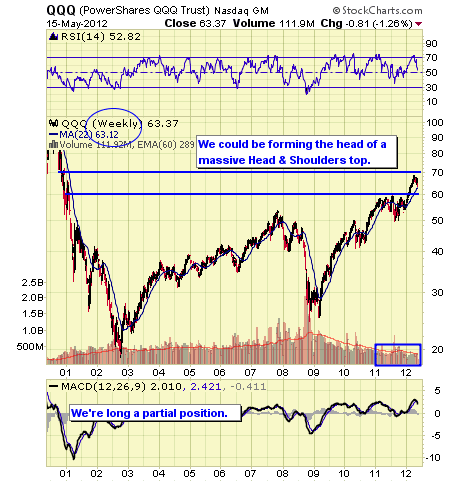 Continue to U.S. Sector, Stocks & Bond ETFs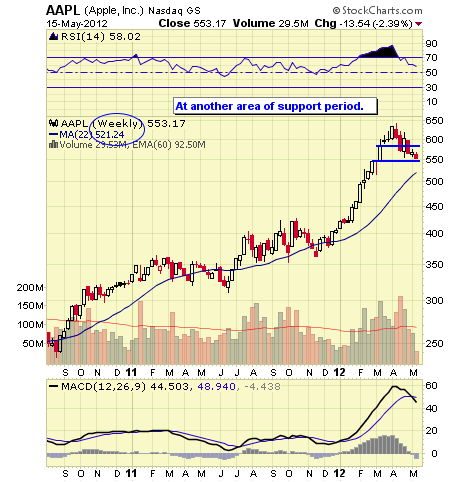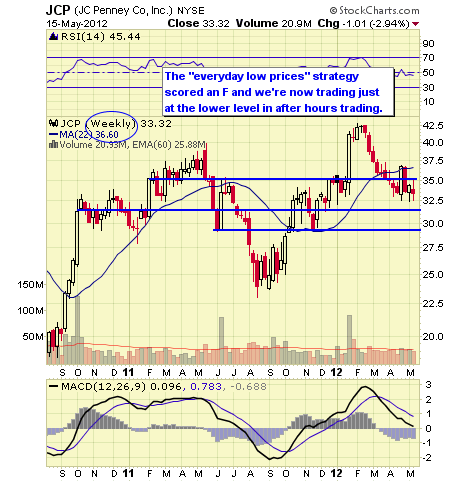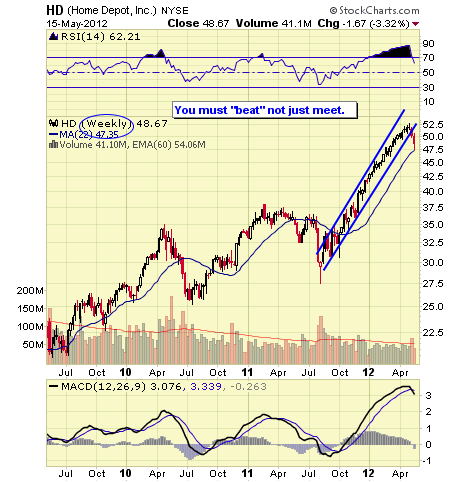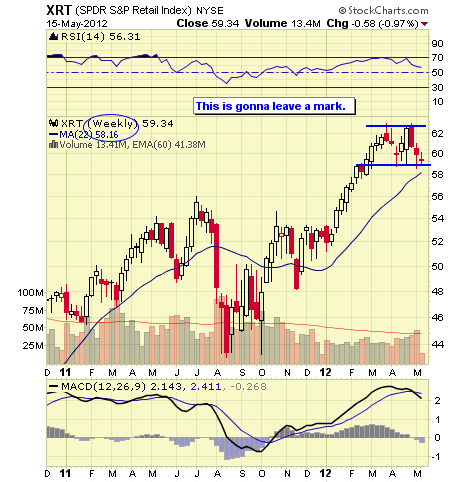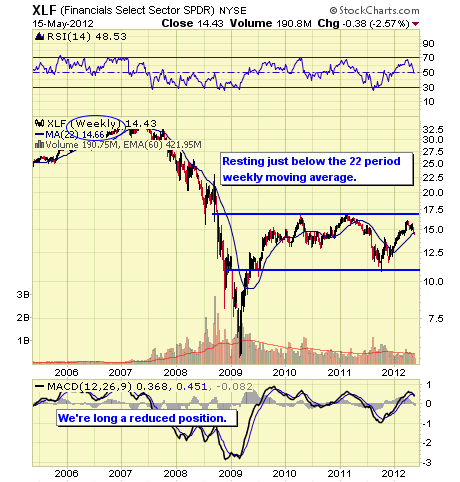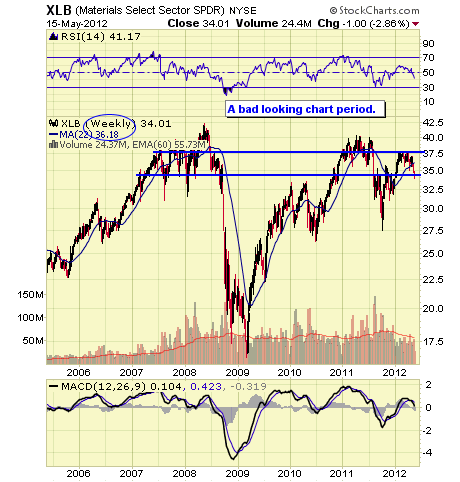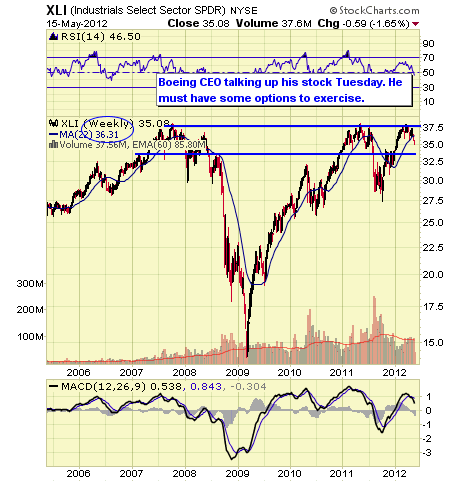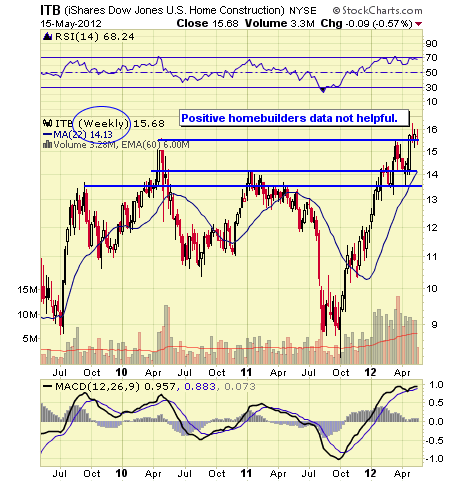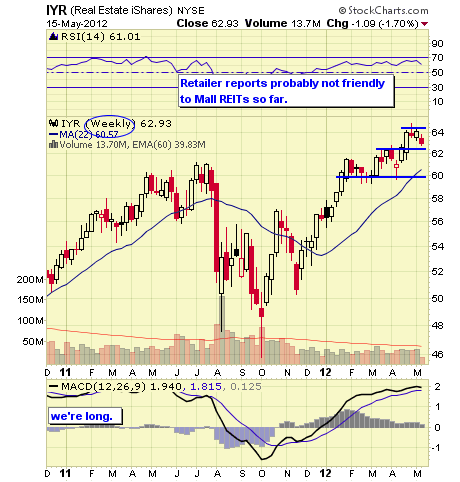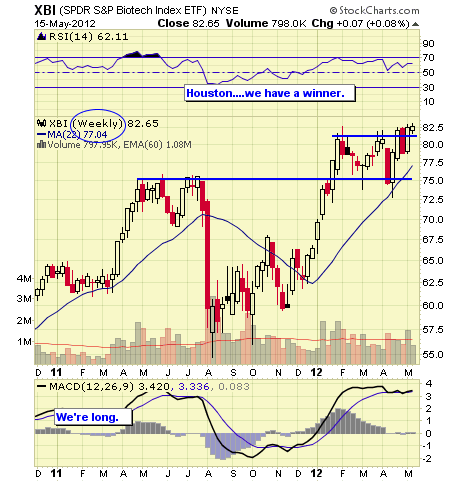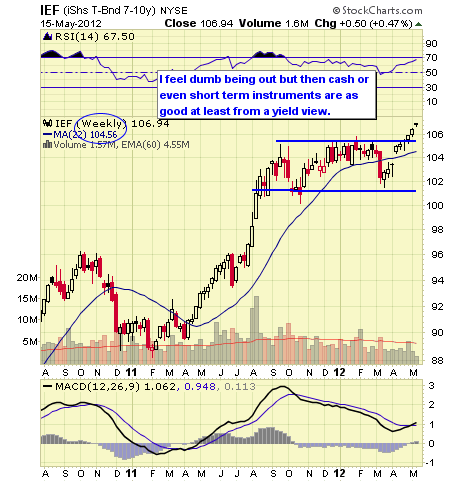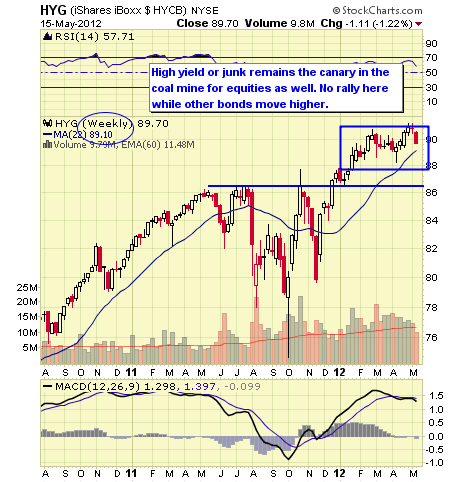 Continue to Currency & Commodity Market ETFs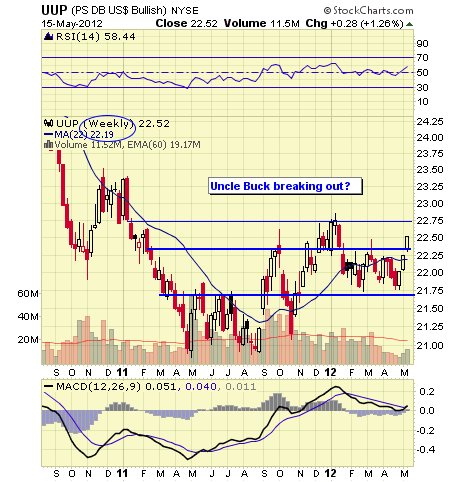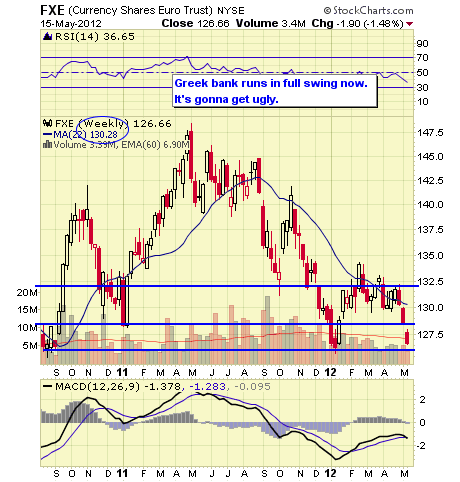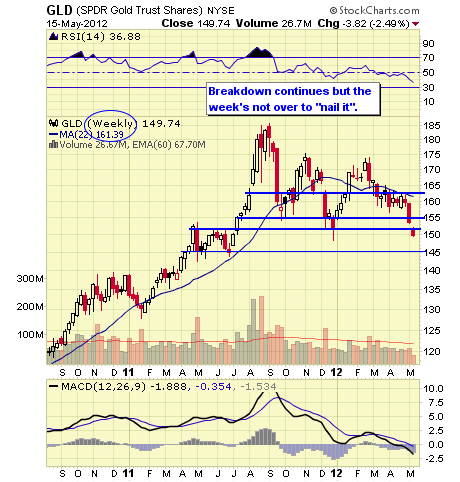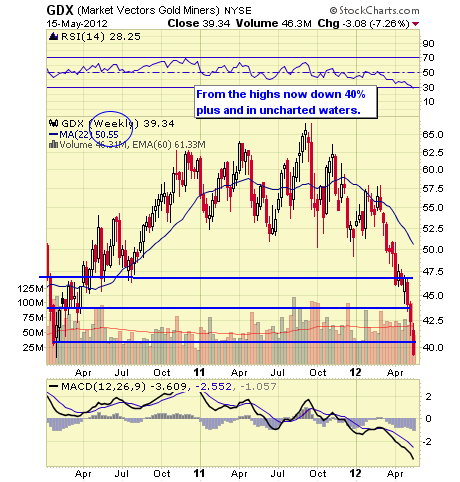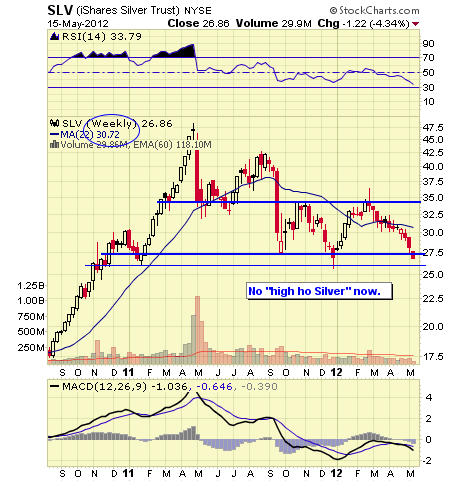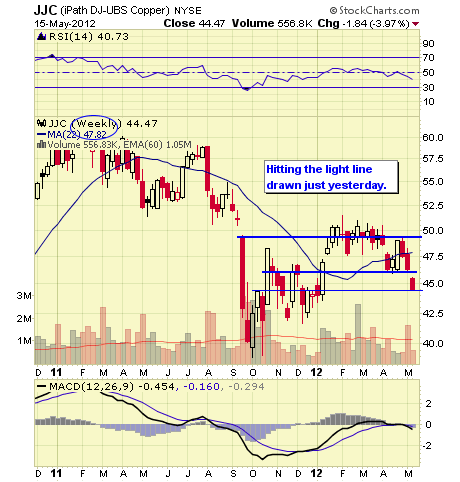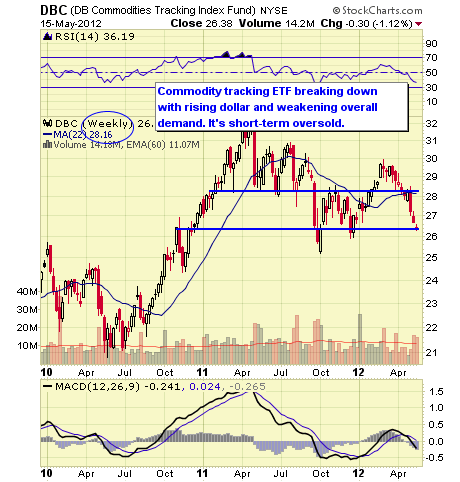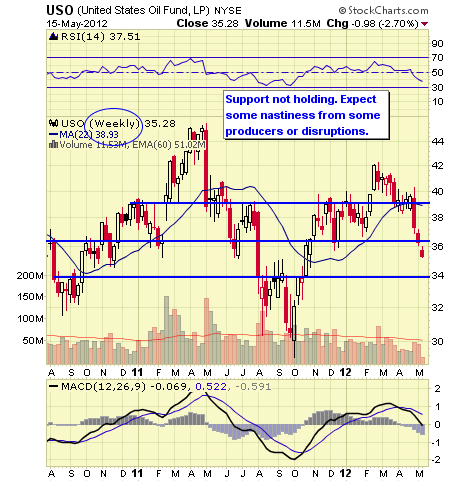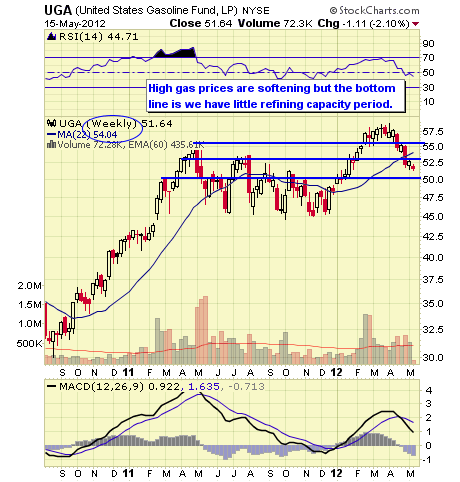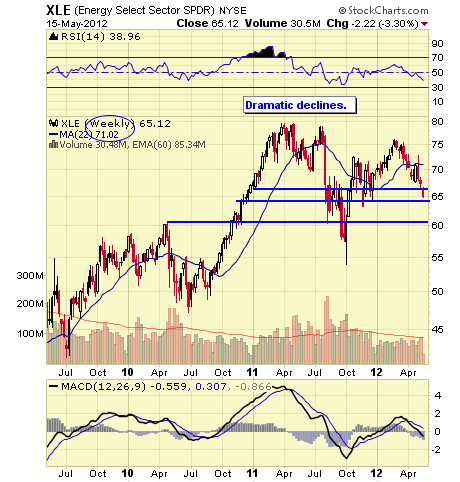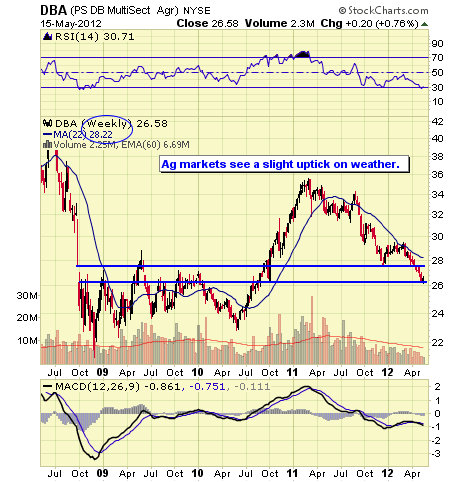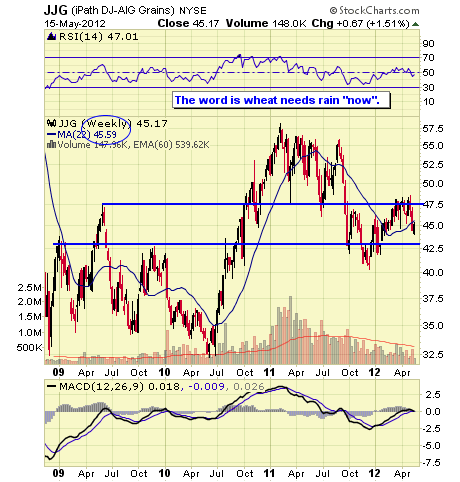 Continue to Overseas Sectors & ETFs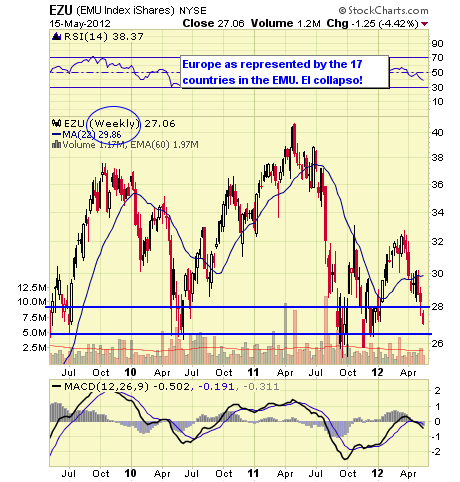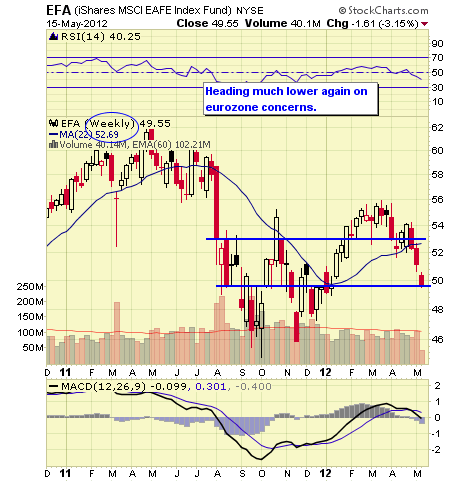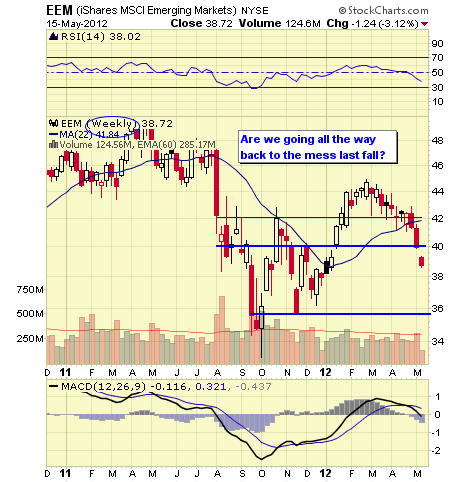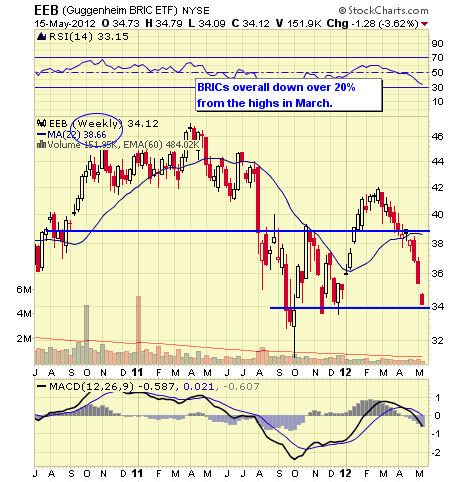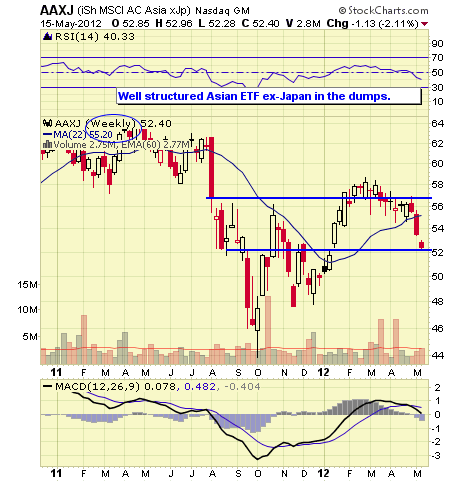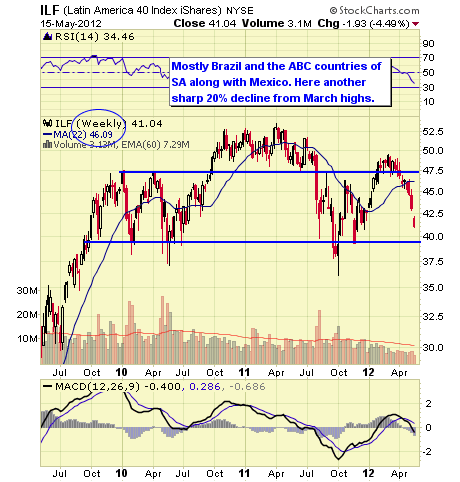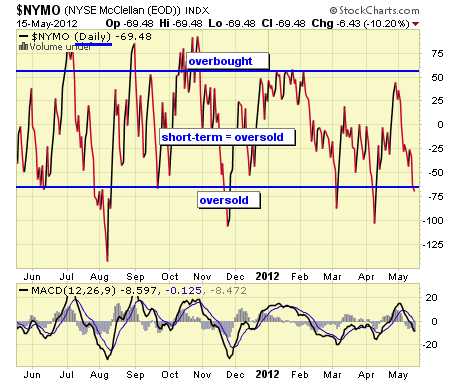 The NYMO is a market breadth indicator that is based on the difference between the number of advancing and declining issues on the NYSE. When readings are +60/-60 markets are extended short-term.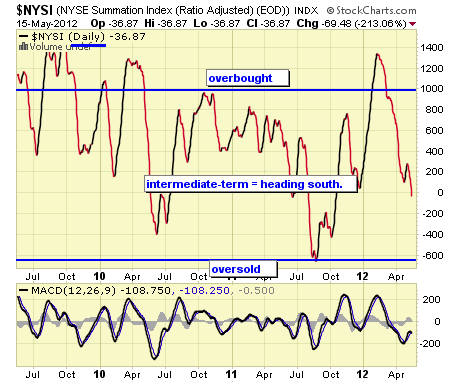 The McClellan Summation Index is a long-term version of the McClellan Oscillator. It is a market breadth indicator, and interpretation is similar to that of the McClellan Oscillator, except that it is more suited to major trends. I believe readings of +1000/-1000 reveal markets as much extended.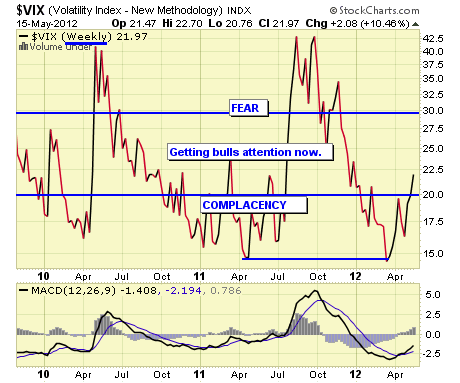 The VIX is a widely used measure of market risk and is often referred to as the "investor fear gauge". Our own interpretation is highlighted in the chart above. The VIX measures the level of put option activity over a 30-day period. Greater buying of put options (protection) causes the index to rise.
We're short term oversold. This can continue for awhile. I'd like to see markets just move sideways enough so fresh shorts can be entered. But what I expect is massive coordinated global central bank intervention into all markets. How this will be done but the lights will be on late tonight at 33 Liberty.
The big deal Wednesday is the review of Fed Minutes. This will be spun as those paid to do so will. It's old news though.
Let's see what happens.
Disclosure: I am long MGV, BND, BSV, VGT, VWO, VNO, IAU, DJCI, DJP, VMBS, VIG, ILF, EWA, IEV, EWC, EWJ, EWG.