I have covered several of the Bakken players over the past couple of weeks. I did this for the purpose of identifying how the play is developing in general, from each company producing there. EOG Resources (NYSE:EOG) may have had the best quarter based on information regarding its mini waterflood. Whiting (NYSE:WLL) has shown its ability to contain costs, while producing excellent IP rates. Denbury (NYSE:DNR) has shown it can create growth in oil production through its Bakken assets, while getting very good differentials from its EOR work.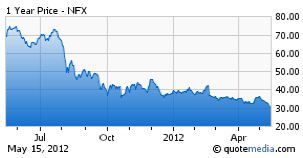 Newfield (NYSE:NFX) announced its first quarter earnings in April and beat EPS estimates. It accomplished this through a considerable increase in liquids production. Newfield has had some growing pains associated with the conversion from a gas dominated to a liquids dominated producer. In breaking apart its earnings we hope to find whether or not Newfield will be able to meet or beat these earnings going forward.
Leading this change to liquids are its Uinta and Bakken acreages. Liquids accounted for 47% of total volumes in the first quarter of 2012. Its oil production increased 35% when compared to the first quarter of 2011. Some of this increased production stems from Newfield's slowing its drilling to stay in the capital budget. By decreasing drilling days, it was able to catch up on its completions inventory. Much of these completions fell in the first quarter, which I find positive as management has been able to implement a strategy and execute. More importantly, Newfield was able to stay with in guidance with virtually all of its costs.
There are two areas where Newfield has been able to decrease costs. The first is drilling, as it has improved efficiencies. More importantly, Newfield has seen a decrease in service costs with emphasis on completions. This backs what other operators have said in the Bakken. The significant drop in the price of natural gas has decreased the number of new wells. This has freed up both rigs and completion crews. Newfield believes it will see lower costs, as there will be more slack in these areas going forward. It increased its full year 2012 guidance on production to 292 to 302 billion cubic feet equivalent.
Newfield's Malaysian acreage is producing 75000 Bo/d gross or 30000 net. This production sells at Brent prices. The Uinta Basin produces 24000 Boe/d and the Bakken 8000 Boe/d. The Uinta has low well costs decreasing payback times. Recent Bakken wells have had excellent results. Newfield will not be releasing much by the way of well results in its plays until mid-year as it does not release results from areas that only one or two wells are drilled in isolation. Those who have read some of my past articles on Newfield know it has some of the best producing wells in the Williston Basin. Of Newfield's wells completed in 2012, there are excellent results:
WEHRUNG 150-99-11-2-1H: IP rate of 2065 Bo/d
BERNICE 150-99-20-17-1H: IP rate of 2148 Bo/d
OBENOUR 150-99-21-16-1H: IP rate of 2327 Bo/d
SAND CREEK STATE 1-16H: IP rate of 2500 Bo/d
Of the wells listed, Wehrung only had a 6670 foot lateral with 23 stages on a 24/64 choke. Bernice and Obenour are approximately 9000 to 9500 foot laterals with 32 frac stages. Sand Creek State was also a short lateral with 4502 feet of length and 24 frac stages. These wells had either a 18/64 or 24/64 choke. The short laterals are by far the most important, as initial production was fantastic. In the Uinta, Newfield had a very exciting well result. This vertical well had an IP rate of a little less than 2500 Boe/d. It produced more than 2100 Boe/d over the first 10 days. The 8 most recent wells in Wasatch had an average IP rate of over 1000 Boe/d. The Uinta has multiple pay zones, which is why Newfield reports both vertical and horizontal results in the area. Of the 8 Bakken wells completed in 2012, the average IP rate is 2600 Boe/d. Bakken production guidance calls for a 35% increase in 2012 production year over year.
Newfield is seeing some specific decreases in costs across its plays. In the Bakken, pad drilling is providing savings of $400000 to $700000/location. Oil service costs here are flat, but towards the end of 2012 it expects further improvements. Bakken well costs on a short lateral are $6.9 million. On longer laterals, Newfield has an average cost of $11 million. Eagle Ford costs are flat at $8 million. The Uinta Basin well costs mirror that of the Eagle Ford, but it is early in the horizontal program.
In summary, Newfield is increasing liquids production quickly. Its current natural gas production is inexpensive and will keep producing even at $2 natural gas (I think this has bottomed). In the third quarter of last year, Newfield announced it was going to slow down its development in the Bakken. This was surprising, as its well completions were some of the best in the play, but Newfield had difficulties with cost containment. Right now Uinta and Malaysia seem to be the areas it is emphasizing. The Uinta is a stacked play, and is low cost given its shallow depth, and looks to be producing with shorter pay back times than the Bakken. Right now it is engaged in waterfloods with respect to the Green River pay zone. It is drilling the Uteland Butte and Wasatch.
Lastly, it will begin its horizontal program in the Black Shale. It seems the Uinta Basin is much better than it is given credit for, but I have some reservations about Newfield as a company. Those who bought this stock after it beat earnings may believe the Newfield has turned things around. Much of the earnings beat in the first quarter was due to its finally completing several of its Bakken wells that were supposed to be completed in the third or fourth quarter of 2011.
The drilling costs were realized in previous quarters with the revenue generated last quarter. Newfield just sold a decent amount of acreage in the Williston Basin. It has stated it wanted to concentrate on other areas of the Bakken that were held by production, but has had to sell acreage to pay for the development of the rest. I think Newfield looks better than it did the last three quarters, but I would play this conservatively until it can consistently execute.
Disclosure: I have no positions in any stocks mentioned, and no plans to initiate any positions within the next 72 hours.
Additional disclosure: This is not a buy recommendation.