Boston-based mutual fund powerhouse Fidelity Investments with $1.5 trillion in assets under management, including $555 billion in 13-F assets per its latest March 2012 quarter filing with the SEC last Wednesday, is one of the largest institutional investors, accounting for about 3% of the total market capitalization of the U.S. equity markets. Its investment in the healthcare and tech sectors alone amounts to over $170 billion, more than the entire 13-F assets of most institutional investors.
Fidelity holds over 2,900 positions in its 13-F portfolio, with positions in most mid- to large- as well as many small-cap tech and biotech companies. Hence, we focused our efforts on analyzing the equity holdings in its Q1 2012 13-F to determine its highest conviction bets by sector, selecting the largest buys and sells in size, where the buy/sell is also a significant proportion of its prior quarter position in that company. Based on that analysis, the following are its high conviction bullish positions in the tech and biotech that have strong growth and surging stock prices, and are also undervalued compared to the peers in their group (see Table):
TripAdvisor Inc. (NASDAQ:TRIP): TRIP is an online travel research company, aggregating reviews and opinions of members about destinations and accommodations such as hotels, resorts, restaurants, vacation packages and travel guides. It was spun-off from online travel services company Expedia in December of last year, when Expedia split into two companies, with the baseline online travel services business remaining under the Expedia name, and the TripAdvisor being spun-off as the only publicly traded, pure-play travel advertising services company.
Fidelity added $63 million in Q1 to its $108 million prior quarter position, making it the fifth largest institutional holder of TRIP, behind . Besides Fidelity, other large institutional holders of TRIP at the end of Q4 included Los Angeles-based mega fund Capital World Investors (8.2 million shares) and Vanguard Group, with $1.6 trillion in assets under management (5.3 million shares).
TRIP shares have been in a strong uptrend for most of the time since its IPO, with the latest surge coming after the company reported its Q1 (March), in which it beat revenue and earnings estimates (38c v/s 34c). The shares currently trade at 23-24 forward P/E and 15.8 P/B compared to averages of 27.0 and 4.0 for its peers in the Internet Content group, while earnings are projected to rise at a strong 16.9% annual rate from $1.34 in 2011 to $1.83 in 2013.
We wrote about TRIP in February, shortly after it reported a disappointing Q4 that took it down into the mid-$20s, opining that investors may want to look at the pullback as an opportunity to load up on this high growth name at discount prices before growth and prices ramp up again. TRIP prices have since appreciated almost 50% in the last three months since then.
Jazz Pharmaceuticals (NASDAQ:JAZZ): JAZZ develops specialty drugs to treat unmet medical needs in neurology and psychiatry. Fidelity added $226 million in Q1 to its $10 million prior quarter position. Besides Fidelity, other leading institutions that made large bullish bets on JAZZ in Q1 included New York-based Bank of New York Mellon Corp., adding 0.6 million shares to its 0.2 million share prior quarter position, and legendary billionaire investor Ken Griffin's Chicago-based hedge fund Citadel Advisers adding 0.5 million shares to its 0.1 million share prior quarter position.
JAZZ shares have been among the top mid-cap gainers in the biotech group since the market bottomed out in early 2009, with shares rising almost 100-fold from the lows in the 50c range at the nadir in spring of 2009. Its shares gapped up recently after the company announced in late April that it was acquiring privately-held EUSA Pharma, a deal that would add EUSA's leading drug for acute lymphoblastic leukemia (NYSE:ALL) to its portfolio, with the deal projected to be immediately accretive and adding $210-$230 million in revenue and 75c-85c in earnings in FY 2013. JAZZ shares currently trade at 8-9 forward P/E and 3.5 P/B compared to averages of 25.8 and 7.1 for its peers in the medical drugs group, while earnings are projected to rise at a strong 25.1% annual rate from $3.52 in 2011 to $5.51 in 2013.
We wrote about JAZZ in mid- to late-October after the company received an FDA warning letter citing multiple safety violations, opining in that piece that we viewed the sell-off as creating an opportunity to buy into this high-growth stock at discount prices, and recommended accumulating if prices fell into the low- to mid-$30s; since that recommendation, shares have risen over 35%.
The following are additional tech and biotech companies that Fidelity is bullish about, accumulating shares in them in Q1 2012 (see Table):
The following are Fidelity's high conviction bearish picks in tech and biotech, based on its Q1 selling activity (see Table):
Table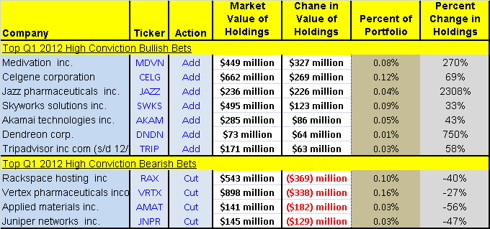 Credit: Fundamental data in this article and company descriptions are based on SEC filings, Zacks Investment Research, Yahoo, Thomson Reuters and Briefing.com. The information and data is believed to be accurate, but no guarantees or representations are made.
Disclosure: I have no positions in any stocks mentioned, and no plans to initiate any positions within the next 72 hours.
Disclaimer: Material presented here is for informational purposes only. Nothing in this article should be taken as a solicitation to purchase or sell securities. Before buying or selling any stock you should do your own research and reach your own conclusion. Further, these are our 'opinions' and we may be wrong. We may have positions in securities mentioned in this article. You should take this into consideration before acting on any advice given in this article. If this makes you uncomfortable, then do not listen to our thoughts and opinions. The contents of this article do not take into consideration your individual investment objectives so consult with your own financial adviser before making an investment decision. Investing includes certain risks including loss of principal.