I spent 30 minutes Sunday afternoon with Logitech (NASDAQ:LOGI) CEO Gerry Quindlen. No huge news, but he did run down the five new products the company is displaying at the show. Quindlen says one big theme for the company, which is best known for its keyboards, mice and web cams, is a push beyond the PC with products for the digital home.
The five new products:
The MX Revolution 5500 desktop: a wireless keyboard bundled with the company's popular MX Revolution mouse.
The Squeezebox Duet: a box and accompanying remote used to stream Internet radio and PC-based music around the home using 802.11 networking. There are going to be a lot of solutions like this at CES this year.
Dinovo Mini: Now this is kind of cool. The Mini is a small keyboard that links via Bluetooth to a laptop or other PC hooked up to a big screen TV. The idea is that you can more easily control what's on your big screen when you are watching Internet or PC based content. The Mini looks like a shrunken laptop, but with a clam-shell design. I don't how bit the market is, but it is a nifty product.
A nifty new universal remote called the Harmony One.
Z Cinema, a $299 surround sound speaker system which includes a big fat subwoofer. Perfect for watching Alien or shooting aliens.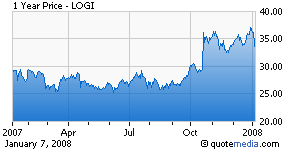 Quindlen also talked enthusiastically about the company's latest acquisition, a provider of affordable remote Web-enabled security cameras called Wi Life.
What Quindlen would not talk about is how the holiday selling season went, or how things went in the fourth quarter. (They report on January 16.) He also didn't want to talk about the economy. "I remain an optimist about 2008 at this point," he says. "Signs of trouble? I read the same things you do. I worry about things I can't control, like consumer psychology. If you talk about it [the possibility of a downturn] too much, people will start to act that way."
Monday, Logitech shares are down 81 cents at $33.15.