Recently, Pfizer (NYSE:PFE) attempted to survive the patent expiration of Lipitor by spending enormous amounts of money on marketing the drug, although cheaper alternatives are now available.
This is an interesting move on the drug company's part as I feel that the strategy of pumping $87 million into promoting a drug that you know is not going to sell as well as before is far from being the sensible thing to do. Most drug companies would give up on a drug and turn their attention to more profitable avenues when it hears that the patent has expired and that generics have become available. Not Pfizer. Pfizer tried to leach every inch of profit out of the drug before giving up.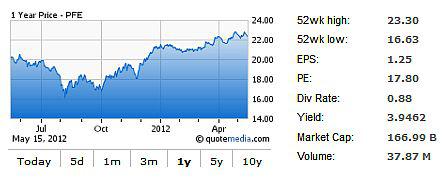 And there are signs that Pfizer is giving up on Lipitor, which as far as I'm concerned is the most sensible thing to do at this stage in the game. The release of generics is imminent, so it is important that Pfizer turns its focus to other areas of the pharmaceutical industry. In fact, the company recently went from aggressively marketing the medication to stopping all efforts to promote it at all. This includes the end of negotiations with health plans that are signing with generics for cheaper deals as well as an actual end to all marketing campaigns.
Some believe, however, that Pfizer may set an example with this strategy as this post-expiry plan allowed the company to hold onto revenue and avoid disaster. It's helped the company hang on to additional volume compared to other generic erosions. Other pharmaceutical companies facing the same problems may well follow suit.
The atmosphere for Lipitor sales is simply not conducive for success. There is likely to be a lot more hostility in the future, especially considering the high levels at which Pfizer marketed and sold the product in the past. This drug accounted for a huge portion of the company's revenue and without it I am not exactly sure how Pfizer plans to survive.
Moreover, The company's recent strategy is to become leaner. Recently, it sold its infant nutrition business and plans are in the pipeline for the sale of its animal health business as well. In addition to these sales, the company needs to focus on new drugs if it wants to grow even further and become a serious player in the pharmaceutical game once again.
There is a new drug soon to be on offer from Pfizer. An experimental pill used to treat rheumatoid arthritis should soon be approved by U.S. drug regulators. Tofacitinib will be prescribed to patients who do not respond to other forms of rheumatoid arthritis medication. A panel of advisers to the Food and Drug Administration recommended that the drug be made available by a margin of 8 to 2.
However, this is not a complete win as the FDA is not obligated to follow the panel's advice. This remains the best news at this stage of the game that Pfizer could hope to receive. This is one of the three drugs in the Pfizer pipeline that may rescue the company from the loss of Lipitor. Although the drug comes with some health concerns, these are, generally speaking, no better and no worse than the concerns raised about other drugs that are used for the same purpose.
Pfizer competitors Eli Lilly (NYSE:LLY), Novartis (NYSE:NVS), and GlaxoSmithKline (NYSE:GSK) are among the pharmaceutical companies named in charges stating that pharmaceutical companies have been colluding with Indian drug regulators to have drugs pushed through the approval phases and sold without proper measures being taken. In fact, many of the drugs being sold in India at present are not allowed to be sold in countries like the U.S., Canada and Australia. If the report is true, then Eli Lilly as well as others, will no doubt suffer a great deal in terms of stock price and reputation.
Novartis, among others, is looking into the allegations itself in order to determine their merits. The company claims that although two of its drugs, everolimus and aliskiren, had not undergone the "mandatory" Phase III clinical as required, the standard by which it approved drugs in India, namely by having non-medical staff determine the efficacy and safety of the drugs, was still sufficient to determine whether or not drugs should be marketed. The company stands by the safety and efficacy of its drugs. However, things could look bad for a number of drug companies in the upcoming months and weeks.
Sanofi (NYSE:SNY) is suffering from a string of bad luck. Recently, a cancer drug that it had developed that has shown to be effective in increasing the life span of those who use it was finally rejected by the National Institute for Health and Clinical Excellence (NICE) as a second line treatment for prostate cancer in combination with prednisone or prednisolone because it is far too expensive. This is an unfortunate reason to deny a number of patients access to this form of treatment which has, after all, been proven to be effective.
GSK is in a takeover bid to acquire Human Genome Sciences (HGSI), a company that it has worked closely with for many years on many different projects. The initial bid which GSK made was rejected by Human Genome, but now it may seem that the offer of $13 cash per share may just be accepted. In short, Human Genome does not appear to have a lot of options open to it, so it may just have to bite the bullet and take the offer. GSK hopes reach an agreement with Human Genome on friendly terms.
If there were a time for Pfizer to rebound post-Lipitor, it may be coming soon. With its competitors tied up in this collusion fiasco, it may just have the open market to itself. The success of its new drugs, as well as continuing sales of its other successful offerings may just be enough to boost Pfizer back up.
Disclosure: I have no positions in any stocks mentioned, and no plans to initiate any positions within the next 72 hours.