Back in September, I was neutral on a high-flying Celgene (NASDAQ:CELG). The stock has dropped 27% since then, and I feel now is a better time to get in on the stock.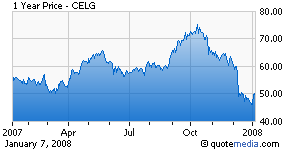 The last quarter of 2007 trading was not too kind to Celgene. The company offered lower guidance; the third quarter was disappointing; and then the stock lost 11% on December 10 as Millennium Pharmaceuticals (MLNM) announced that its multiple myeloma drug Velcade fared better in clinical trials than Celgene's Revlimid.
However, analysts came out afterward with bullish sentiment on Revlimid, and Monday Celgene said that Revlimid likely beat Street estimates for 2007 revenues, and the company upped its 2008 guidance, which is providing a boost for the stock.
This news makes Celgene my stock to watch for this week. The stock appears to have bottomed and is trading at more manageable levels. The Revlimid scare appears to be behind us, and growth for 2008 for Revlimid, as well as Celgene as a whole, should be good once again (around 40%).
Disclosure: I have no positions in the stocks mentioned.