Europe's rolling political and economic train-wrecks are still front and centre in Wall Street's psyche, especially with Greek politicians once again failing to come to an agreement on how to govern the mess over there. After the recent elections the situation in Europe is getting worse, not better, and that could have dire consequences for the U.S. financial markets. So some market strategists are advising their clients to stay defensive in consumer staple sectors of the market, meaning that these clients would lose their money more slowly than they otherwise would.
The peripheral countries over there are still creating too much debt without having enough income to take care of it. Meanwhile, their citizens are growing mad as hell about their imposed austerity programs and vow not to take it any more, and that can lead to some dire consequences for the global financial markets. On this side of the pond, for three years in a row, the U.S. is wallowing in trillion dollar type deficits resulting in a flagging economy which can't come up with anything better than a lousy two percent GDP, despite the U.S. Treasury throwing billions of dollars at this thing, hoping to bail out the economy. But sooner rather than later the U.S. government has to end prime-pumping the economy, and that could cause the market to slip off the cliff.
Topping off this bleak scenario is the question that if the brightest brains in the business at JPMorgan (NYSE:JPM) can screw up by losing billions of dollars in a few trades, what chances do mere mortal investors have in this market? Actually, their chances are pretty good in that this recent selling squall is shaping up to be an excellent buying opportunity for the North American equity markets. While much of Europe remains a basket case, the U.S. economy is broadening and picking up speed because it is based primarily on a domestic recovery benefiting from an ongoing expansion in capital goods formations like technology and manufacturing.
So it is no wonder that the latest U.S. consumer sentiment report came in better than expected, rising to its highest level in more than four years. Meanwhile, these three Troika charts are reflecting a bifurcated market in which investors' preoccupation with the Eurozone's political and fiscal fiascoes overshadow the improving U.S. economic developments. This is why this bull-trend BGU, along with the S&P 500 index, have slipped into a bearish MA line configuration, which is not yet strong enough to signal a sustained down trend in the market. (click to enlarge)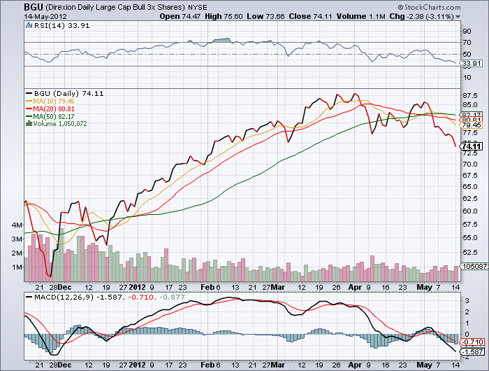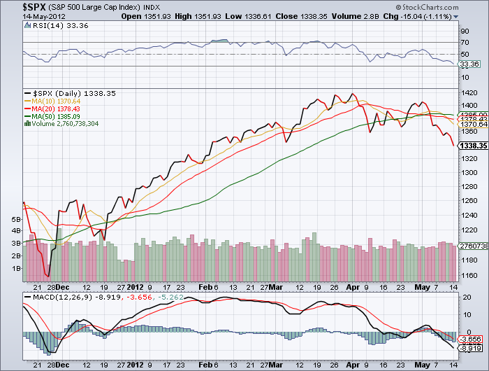 Meanwhile, this bear-trend index BGZ has lifted itself out of the hole at the bottom of a deep pit it was stuck in since last March, but it is still at the bottom of the pit. This is a sign that this recent selloff is way overdone and about to blow over. Only if its green, red and yellow MA lines form a positive configuration for the bears can this current selloff turn into a sustainable down trend.
A telling chart at this stage of bearish market behavior is this VIX futures ETF UVXY which acts much like the bear-trend. If this current market contraction were the beginning of a genuine down-trend, this ETF would be way up around the 100 level on its scale. Also, its green, red and yellow MA lines would be in a positive configuration, instead of the current negative one. This is another indication that this present selloff squall is only temporary, and that the market will soon return to its rally mode.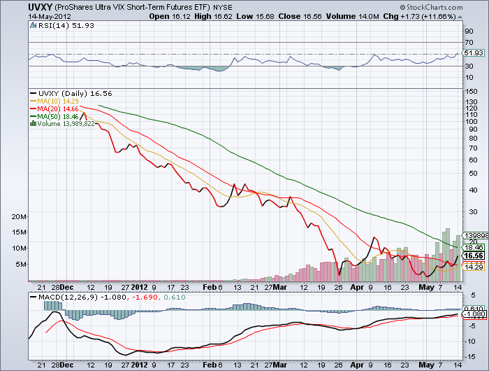 But for now take advantage of this down-draft and stick with the Bear ETFs which have performed so well over the past few sessions. Still, Bear ETFs do not perform as well even in a down-trend, as Bull-ETFs are when the market rallies. In either case, these ETFs belong on a favored list.
Leveraged shorts: 3xDUST 3xDXD 2xDUG 3xFAZ 3xMWN 2xSKF 3xSOXS 3xXPSU 3xSQQQ 3xSRTY
Non leveraged shorts: EUM SEF DGZ EFZ SH RWM HDGE DOG PSQ
Leveraged longs: 3xSOXL 3xDRN 2xURE 2xMVV 2xROM 3xUMDD 3xTYH 3xUDOW
Non-leveraged long ETFs are still gunshy and in hiding.
Disclosure: I have no positions in any stocks mentioned, and no plans to initiate any positions within the next 72 hours.