Like most of the solar industry, JA Solar (NASDAQ:JASO) posted sizeable losses in 2011. With average selling prices ("ASP") tanking by as much as 70% throughout last year. U.S. GAAP losses were practically unavoidable as higher carrying cost inventory needed to be worked down. Despite a 2011 annual net loss of $89.7m, JA Solar made substantial progress in evolving its operational structure, which should enable it to not only survive but thrive after the industry's latest consolidation period draws to a close.
Similar to other large U.S.-listed Chinese solar companies such as Yingli Green Energy (NYSE:YGE), Suntech Power (NYSE:STP), and LDK Solar (NYSE:LDK), JA Solar's 2011 fourth quarter was messy at the headline level. Although JASO's end of year impairment charge on long-lived assets were considerably less than some peers, its $48.2m write down of less than two year old wafer capacity contributed to most of its U.S. GAAP $68.3m Q4 net loss.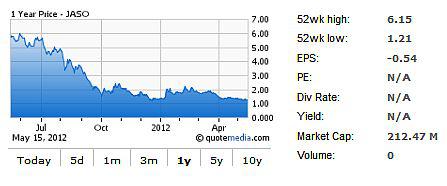 The company also took a small $3m accounts receivable provision which once again was much smaller in magnitude than charges taken by direct peers. Although a $29.8m one time non-cash negative goodwill gain on its recent Solar Silicon Valley purchase helped narrow the company's Q4 loss, JA Solar did an excellent job managing its operations on factors it could control throughout 2011.
Operationally, JA Solar posted a negative surprise in the fourth quarter of 2011. JASO's Q4 gross margin of 0.5% was much lower than my estimate of 8.2% due to both lower than expected product ASPs as well as higher than expected production costs. While solar cell ASPs were close to my $0.58/watt estimate, solar module ASPs of slightly below $0.97/watt were below my $1.00/watt estimate. With quarterly module revenues surpassing cell revenues for the first time in the company's history, the impact of lower than expected module ASPs only magnified the negative gross margin surprise.
However, the bigger surprise on JASO's fourth quarter gross margin came on the cost side. Most likely, JA Solar generated slightly negative gross margin on its solar cell business due to higher procurement costs on silicon wafers. Despite extremely dysfunctional silicon wafer market pricing, JASO was unable to take advantage of low spot market prices due to a high reliance on contracted wafer sourcing. While JASO's management has indicated silicon wafer procurement costs have come down, it is doing so at a much slower rate than peers with higher exposure to the spot market. JA Solar's Q4 earnings conference call indication of first quarter 2012 wafer costs declining by another 20-25% only highlight how slow the company's blending down of inventory towards real time procurement levels has been.
Yet despite these negative surprises which led to a higher than expected Q4 2011 net loss, JA Solar made tremendous progress strengthening its position within the solar industry. As noted in JASO's Q3 2011 earnings review, the company has been rapidly expanding its downstream module capacity. Fourth quarter module shipments expanded to approximately 179MW from approximately 120MW in the prior quarter and represented 45% of overall unit shipments. For 2012, the company expects module shipments to expand to over 50% of its overall shipments and plans to increase its module capacity to 2GW, representing a much higher level of integration than prior years.
Although JA Solar has continually labeled itself as a leading cell manufacturer with downstream module business solely due to customer requests, its aggressive module expansion perhaps marks an admission that higher degrees of integration are required as ASP declines compress per watt gross margin. As seen throughout the industry, single verticals could no longer maintain corporate profitability in the past year. In many cases, single vertical suppliers could not even maintain positive gross margin.
Although JASO's 2011 gross margin was largely affected by high carrying cost inventory as well as inventory provisions, its recently released annual report showed its solar cell business had -0.3% annual gross margin relatively inline with my previous estimates on this single vertical segment. In contrast, JA Solar posted annual gross margin of 7.6% on its module business, which represented the bulk of its annual gross profits.
In addition to more profitable module segment expansion, JA Solar has also been entering the balance of system ("BOS") segment. Started only since the third quarter of 2011, the company recorded $23.3m in EPC ("engineering, procurement, construction") revenues last year of which the bulk was most likely recorded in the fourth quarter. More importantly, this segment generated gross margin of 26%. While margins will likely decrease, its EPC business could increase considerably due to its regional exposure in China as the Chinese solar market matures.
JA Solar also indicated in its Q4 earnings conference call it expects to build over 100MW of solar projects annually, which the company expects to sell for $1.6-2.0/watt at a cost of $1.50/watt or lower. With China expected to consume over 30% of JASO's annual module shipments, or potentially over 300MW in 2012, EPC revenues and profits in China alone could contribute materially to the company's bottom line.
Most of solar project work in China is back half weighted and thus JA Solar is unlikely to recognize much in terms of systems revenue in the first half. Combined with the first quarter being seasonally weakest for the solar industry, the company will likely continue to post weak near-term results. For Q1 2012, JASO guided total shipments to range between 320-350MW, down from 398MW posted in the fourth quarter of last year. With inventory still in the process of being blended down towards real time procurement costs, the company's margins will likely remain pressured.
Unlike many peers, JA Solar discloses very little information on its operations. With only relative magnitude in changes disclosed, most of the company's operating metrics have to be derived and thus are rough estimates at best. With this in mind, a first quarter estimate for JASO's earnings has been compiled below and as usual represent mostly operational earnings and excludes unannounced gains or charges the company may take. Although non-operational foreign exchange as well as derivative changes linked to the company's convertible bonds will alter U.S. GAAP figures, estimates below exclude these items.
JASO Q1 Earnings Estimate:
Revenues: $220m

Shipments: 175MW cell, 10MW tolling, 150MW module

Asps: $0.50/watt cell, $0.25/watt tolling, $0.85/watt module

Unit Costs: $0.50/watt cell, $0.20/watt tolling, $0.82/watt module

Gross Profit: $5m

Gross Margin: $5m / $220m = 2.3%

Operating Expenses: $26m

Net Interest Expense: $19m

Tax Benefit: $5m

Net Loss: -$35m

Share Count: 196m

EPS: -0.18
As noted, certain non-operation items, such as net foreign exchange translations as well as the change in mark to market value of derivatives linked to the company's convertible bonds, will most likely appear in the first quarter. With a small first quarter gain in the euro vs. the U.S. dollar, JASO should post a small gain in the first quarter. In addition, with only minor changes in the company's stock price during the quarter, the mark to market change in value of its convertible linked derivatives should be minor as well. Any convertible bond repurchases at current discounted levels would also incrementally add to the company's profitability on a U.S. GAAP basis.
Looking ahead in 2012, JA Solar's profitability will be linked to its continued progress in downstream integration in both its module as well as systems businesses. As industry consolidation continues, gross profit, if any, in its legacy single vertical solar cell vertical will likely be minor. As conditions normalize from a distressed environment caused by sector wide bankruptcies and inventory liquidations, JA Solar should eventually be able to maintain a small gross profit from this vertical. As the world's largest crystalline-based solar cell manufacturer, the company's scale as well as leading technological edge has clearly been a differentiator and has allowed JA Solar to maintain high levels of shipments when other single vertical peers witnessed significant business volume contraction.
Among other U.S.-listed Chinese solar companies, JA Solar's second generation solar cell production is at much higher ratios, with 50% of its module shipments already comprised of higher efficiency solar cells. This advantage (at least in the near-term until peers catch up) combined with an OEM module strategy, could allow JASO to expand market shares in stringent but fast growing markets such as Japan. The company's self branded module approach of working with utilities and project developers also differentiates from peers which sell into a wholesale distribution channel. As a result, and despite JASO's more recent entry into the module segment, the company should have fairly high visibility on its expected annual demand for solar modules.
Whether JA Solar can turn a quarterly profit in 2012 will largely depend on its system business, which is highly concentrated in China. The magnitude, but more importantly the revenue recognition of self developed project sales, could potentially be enough for the company to post a quarterly profit some time in the second half of 2012. While the timing of its profitability is still uncertain, JA Solar has taken a lot of steps to strengthen its position in the industry which should not only ensure its survival, but its earnings potential as the industry's recent brutal consolidation cycle winds down.
Disclosure: I am long YGE, LDK.
Additional disclosure: No position in JASO and STP.