Oilsands Quest Inc. (BQI), which explores for, and develops oil sands deposits in the provinces of Saskatchewan and Alberta, continues to receive a "top pick - speculative" rating from Desjardins Securities. Analyst Adam Zive recently reiterated his $7.50 price target on the shares and said investors should expect "substantial near-term catalysts" in 2008.
One of these comes from the company's Axe Lake discovery in Saskatchewan. Mr. Zive noted that the project is progressing toward commercialization and negotiations are expected to begin with potential partners.
Oilsands Quest is also pursuing a listing on the Toronto Stock Exchange that could come as soon as the first quarter of 2008, he told clients in a note.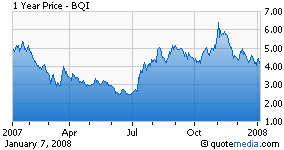 The analyst's price target represents upside of roughly 80% above Friday's closing price of $4.16. However, he said if commercial production levels are achieved, the stock could provide value of up to $20 or more per share.
Oilsands Quest has an attractive combination of the largest contiguous oil sands land position, significant resource potential, material near-term catalysts, a more favorable operating environment in Saskatchewan compared with Alberta, M&A potential, and a team of directors and management with a proven track record and 20% ownership of the company, Mr. Zive added.